Ralph Lauren's Plaid Collection Fall 2008
Why Ralph Lauren's Fall 2008 Collection Is Relevant Right Now
The rich plaid looks from Ralph Lauren's Fall 2008 collection have been stuck in my head — does anything say glamour, coziness, and hunting-lodge chic like this? They're looks that would be just as relevant now — I mean, look at how cool the structured jackets are with their oversize collars, especially as we go into the holidays. This collection is an oldie, but such a goodie, so I went on the, ahem, hunt, for some pieces that could work now. Keep reading to see what I found and how you should wear it now.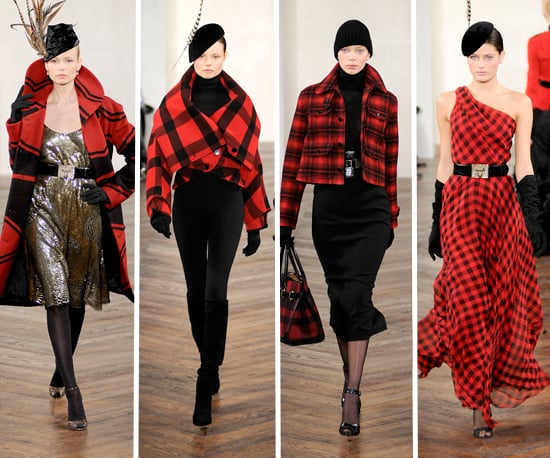 Plaid Outerwear: I love the idea of a boxy red plaid jacket over something black and superskinny, whether it's a black turtleneck with skinny pants and lace-up booties, or a fitted ribbed sweater dress. If you fall in love with a fitted plaid jacket, try it over a flowy black chiffon gown for an evening look . . . by way of Scotland. Also it's pretty genius to layer a cozy plaid blanket coat over a slinky sequin dress ($979) for a party-in-the-mountains look.
Dresses: Dresses are pretty easy to wear, but good ones, especially for evening, are hard to find. I couldn't find a one-shoulder gown that looked like Ralph Lauren's brilliant runway rendition, but you can create the effect by layering a plaid shawl over a solid black gown ($225) and belting it. Or try a maxi skirt and pair it with a gold sequin tank or anything black.
Skirts: I found some fabulous skirts, and all they really need is a skinny crewneck top if they're full, or a slouchy sweater if they're skinny like this Rick Owens ($600) version. Finish it with a pair of booties, and you've got the look.
Remember to Accessorize: A belt is a genius way to break up a big print and also to create shape: one of the things that worked so well about this collection was using a belt to create beautiful, curvy silhouettes. The use of feathers was also dramatic, giving it that English hunting expedition feel, so capture that with a clutch or earrings — or even a hat.