Real Punk Fashion at the 2013 Met Gala
Thematic Dressing: Who Looked the Most Like a True Punk at the Met Gala?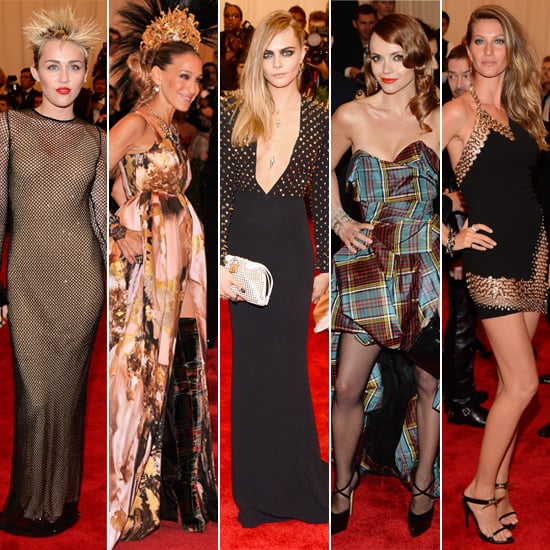 Not everyone who attended the 2013 Met Gala, which celebrates the Costume Institute's Punk: Chaos to Couture exhibit, went full punk. In fact, a lot of the looks that went up the steps of the Metropolitan Museum of Art Monday night were anything but punk — but a handful of dedicated women tried their best to work the theme into their looks. Miley Cyrus's spiky, bleach-blond hair telegraphed Sid Vicious as much as as her sparkly mesh gown by Marc Jacobs, which had a seemingly unfinished hem, and Sarah Jessica Parker's tartan boots and mohawk headpiece spoke to two major components of the style.
Cara Delevingne's custom Burberry dress, festooned with studs, was an elegant treatment of the movement's focus on hardware, and so was Gisele Bündchen's Anthony Vacarello gown, which was held together by what looked like grommets. Christina Ricci's plaid gown was created by Vivienne Westwood, one of the designers credited with bringing punk not only into the public consciousness, but also into high fashion.