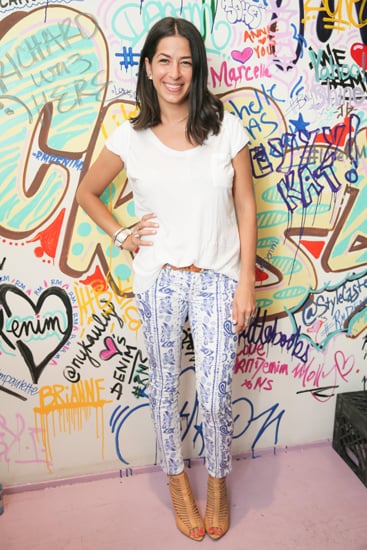 At the moment, Rebecca Minkoff is heading into quite a bit of uncharted territory. This week, she launched her first-ever denim line, put her skills to work on a new beauty campaign, and is primed to open a flagship store in a 3,800-square-foot space in NYC's SoHo neighborhood by the Fall. And just last night, the fashion designer — decked out in denim, of course — hosted a launch party of her latest pop-up shop. We chatted with the designer on all things jeans, and learned one very important reason why you should buy a pair.
POPSUGAR: It's a big deal when any designer moves into the denim market. What made you decide to do it?
Rebecca Minkoff: I love denim, and I wanted to give my customer another casual staple to add to her wardrobe. It was important to me that the jeans be a premium quality but also a great price for my customer. Our price range for the denim and t-shirts is $48 to $128.
PS: What is your absolute favorite piece from the new line?
RM: It's hard to choose just one! I'm currently living in our Jane skinny jean in dark gray and our Mercer boyfriend style.
For the rest of our interview, keep reading.
PS: The denim you use in your new line is all locally sourced. What about the actual process; are you trying to do it differently?
RM: All of our Rebecca Minkoff DENIM is made in the heart of downtown Los Angeles with the finest-quality, locally sourced, power-stretch fabrics.
PS: How do you incorporate denim into your personal style?
RM: Denim is probably the easiest thing to add in because you can really make it your own with the right top and accessories. It's also fun to dress up and to dress down!
PS: Now it's time for the hard-hitting questions: if you were stranded on a deserted island and could only bring one pair, what would it be?
RM: I'd bring boyfriend jeans or maybe the Crosby boyfriend shorts. It's important to be comfortable and chic while on a desert island!
PS: What was your first memory of denim?
RM: I remember a pair of jeans that I had to have in middle school — light stone wash. They were a little baggy and a must have for that moment in time!
PS: And what was the first designer pair of jeans you bought? Do you still own them? When did you finally toss them?
RM: There was a near-and-dear pair of jeans that I owned in high school that traveled with me to NYC for college. I wore them so much they ended up falling apart, but they were a great pair!
PS: You're passionate about ending childhood hunger and forged a partnership between your new line and No Kid Hungry. Tell us about it.
RM: As an entrepreneur and mother, this problem in our country is devastating to me. To expect our children, our future, to learn under the burden of hunger is awful to me. My mission is to help end this problem so that we can educate and grow our next generation without the pain of hunger getting in the way. For this venture, we are partnering with Share Our Strength's No Kid Hungry Campaign. With each purchase from the collection, a donation will be triggered to No Kid Hungry, which can connect a child in need with up to 20 meals, such as school breakfasts. What else is better than getting a new pair of great jeans and, at the same time, making steps towards ending childhood hunger?
PS: That's as good as it gets! The launch for your denim line was held at your future flagship store. What made you decide to get your own brick-and-mortar at long last?
RM: We've done quite a few pop-ups with so much success! We have a store in Tokyo and a shop-in-shop in LA, but we're a New York-based brand, and it's time we have a presence here for our customers. When it opens, it will be huge for the brand! We're all very excited!
PS: Your loyal customers can get a sneak peek of the space now with your denim pop-up. What can they expect?
RM: The feel is very downtown. We had a graffiti artist come in and tag the space, and at the launch party, our guests also were able to tag with markers! It felt right for the denim pop-up shop, and we'll definitely have some personalized touches once the flagship opens.