Reese Witherspoon's Cap-Toe Pumps and Bulgari Bag in LA
Reese Witherspoon Gets Classic Right Again — It's All in the Details
As POPSUGAR editors, we independently select and write about stuff we love and think you'll like too. If you buy a product we have recommended, we may receive affiliate commission, which in turn supports our work.
Reese Witherspoon has always been a reliable source for easy, sophisticated style, and her eye for great handbags knows no bounds. So when we spotted her running errands in LA, clad in the chicest version of black and white, we weren't surprised by her impeccable outfit, so much as we were by her insanely cool, albeit subtle, accessories. In fact, we'd go so far as to say that this is the kind of no-fail ensemble that proves perfect for a home-for-the-holidays look. The crisp white pointed-collar button-up blouse, black crewneck sweater, and skinny black jeans are not only (probably) in your closet already, but who can deny this style combination's timeless appeal? Now, what we really want to delve into are Reese's add-ons.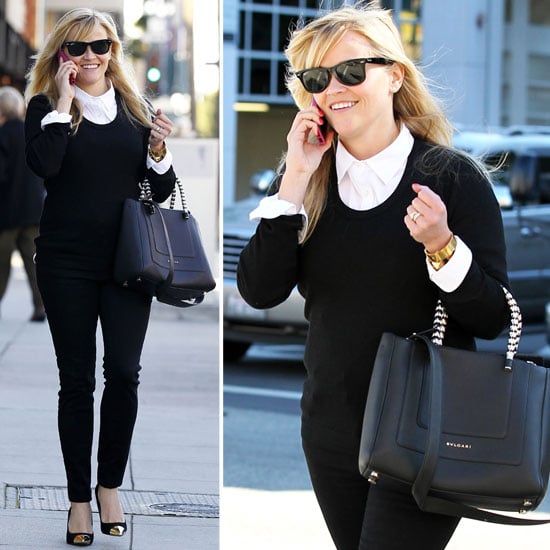 The cap-toe pump has had a big year, and her Louis Vuitton heels show just how fast a sleek metallic detail can punch up a dark look. It's a more interesting choice in terms of polished footwear, but it never reads as loud or trendy. Her Bulgari bag is, in a word, gorgeous, but the key thing here is to find a classic shape that also features something dynamic — whether it be a hint of zipper or a pop of metal in the handle, it's about keeping your arm candy eye-catching. Her final plays on accenting are even easier to emulate. Just add a gold bangle and throw on your favorite pair of black sunglasses, and you've just given yourself the Reese Witherspoon treatment. Feeling her classic approach to accessorizing? Shop our key pieces below.