Responses to Suzy Menkes's Circus of Fashion Article
Word Wars: Bloggers Respond to Suzy Menkes's Complaints About Bloggers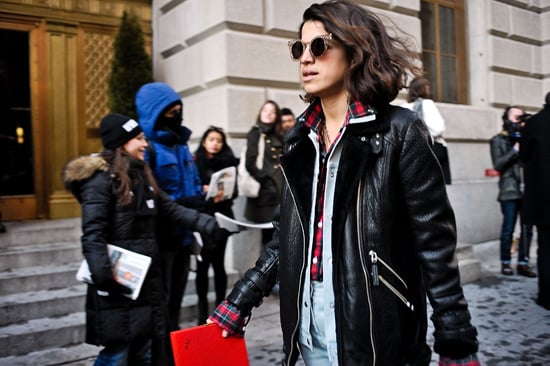 Consider it a master class in how to start a media firestorm. Suzy Menkes's recent T Magazine essay about the changing nature of Fashion Week has elicited passionate responses from the people she fingers as the cause of that change: bloggers.
And how could it not? In The Circus of Fashion, Menkes laments that the focus of the biannual Fashion Weeks has shifted from the actual presentations to the people who stand and "peacock" outside them, waiting to be captured in outfits seemingly engineered to make photographers pay attention.
"You can hardly get up the steps at Lincoln Center, in New York, or walk along the Tuileries Garden path in Paris because of all the photographers snapping at the poseurs," Menkes writes. "Cameras point as wildly at their prey as those original paparazzi in Fellini's La Dolce Vita. . . . I can't help feeling how different things were when cool kids loved to dress up for one another — or maybe just for themselves."
Menkes's article, which ultimately questions whether bloggers have been good or bad for the industry, received so many responses that the International Herald Tribune issued a press release. To date, Susanna Lau of Style Bubble, Leandra Medine of Man Repeller, Isabel Wilkinson of The Daily Beast, and Khadijat Yussuff of Youth Savage have penned or promised responses. Here's a look at just a little of what's been said.
Leandra Medine: "It doesn't seem quite fair to peg the bloggers that have actually become 'famous' as such just for being famous. When I think Tavi Gevinson or Susie Bubble or Emily Weiss or, on the street spectrum, Tommy Ton, I think recognition based on the merit of astounding work."
Susie Lau: "I do want to address this issue after Fashion Week hubbub has died down, as I haven't quite figured how I feel yet, but for now, I suppose I have nothing to do except to go right ahead and confirm Menkes's exact suspicions: that we are all peacocking, however much we doth protest."
Isabel Wilkinson: "You can't hate on all the fashion bloggers in the world just because you can't get into your seat at a fashion show without having to walk past a few of them. And they may be swaddled in astrakhan when you see them, but not all fashion bloggers have had it easy. . . . Many have started their blogs from scratch and invariably hustled to make money off of them. Some are real entrepreneurs."
Khadijat Yussuff: "I think she fails to take into account the fact that a lot of these people are dressing for one another and themselves. . . . The point of personal style is that there is a trademark that is uniquely yours that you have developed and edited over time. And so what if it's out there, crazy, or impractical?"