Rick Owens Hires Steppers For Spring 2014 Show
Step Up! Dancers Battle in Rick Owens's Spring 2014 Collection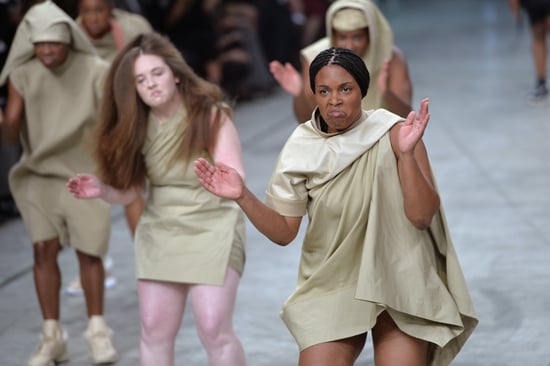 Talk about diversity on the runway. For his Spring 2014 collection, Rick Owens decided not to use a single model and instead hired a troupe of athletic steppers to perform in his designs.
The looks were monochromatic, and the competitive dancers Owens flew in from the United States for the show fell naturally into teams. The dancers wearing black were the first to come down a set of double stairs and perform for the assembled editors followed by women wearing white and cream. The whole thing culminated with the dancers linking arms to form a human chain that snaked backstage.
Reactions from the editors in the crowds were strong and immediate. Susie Bubble tweeted that the display was "the most powerful and provocative statement this season, nay in the last decade," while Bergdorf Goodman's Linda Fargo called it the, "Fiercest, realist, wildest show ever!"
In an Instagram caption, Cosmopolitan's newly minted fashion market director, Shiona Turini, wrote she was glad to see the teams "representing a culture so often overlooked in this industry. This meant so much to me it's unreal."
Take a look at videos from Owens's runway show here.