Rick Owens Stepper Interview
A Step-by-Step Account of Rick Owens's Spring 2014 Show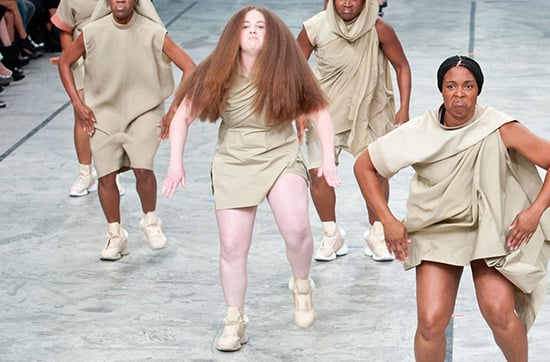 From the moment the first step hit Rick Owens's runway, Instagram and Twitter lit up with activity — the most buzzed about show of Paris Fashion Week had begun. One of the performers was Tess McHugh (center), who, along with her eye-catching hair and fellow teammates from New York based group Soul Steps, proved the power, strength, and "viciousness" of the Spring 2014 collection.
We caught up with McHugh, who got her start stepping in sixth grade before performing at Williams College and ultimately going pro in New York City, and talked about everything from grit faces to just how long they practiced before the house lights went down in Paris.
A personal photo album and the story behind the show that Rick Owens called "more wonderful than I could have dreamed!" right here.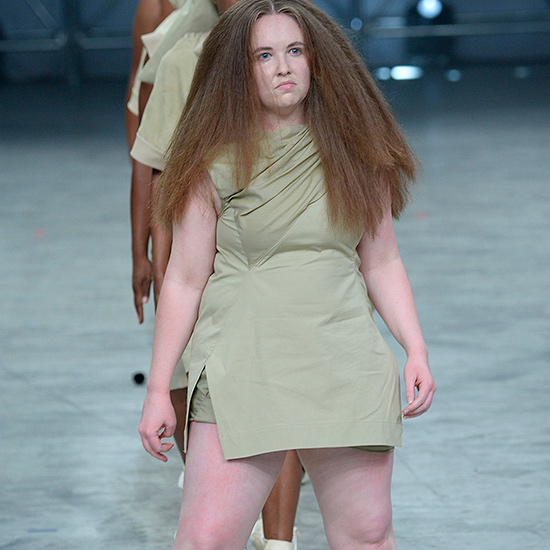 Were all the steppers one team? Who initially reached out to you?
There were actually four separate teams. The clothing for the show is divided up by color according to each team . . . I'm the one with the massive blondish brown hair (which took three stylists about two hours to complete). We, along with the group in black, are based in New York City. The other two groups are sorority step teams from colleges in the Washington DC area.
Rick's team reached out to Leeanet Noble, who was in STOMP on Broadway, to gather 40 female steppers. Our first contact with his team was in May when they held a preliminary fitting with clothing from previous Rick Owens collections. We met Rick at the end of July and had another fitting at that point.
How familiar were you with Rick Owens and his clothing?
To be honest, I wasn't very familiar with Rick Owens clothing. I'm really not very in touch with the fashion world in general, but as soon as I started researching him, his style, and his perspective, I knew that he was the perfect (and, perhaps only) designer who could make something like this happen.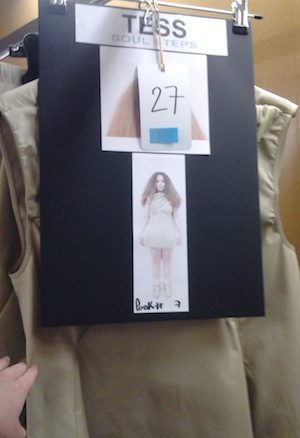 How long did you have to practice? What was the choreography process?
We started practicing in May, and we had rehearsals every couple of weekends between then and now. The choreography for each individual team was done by the individual team leaders — for Soul Steps, our artistic director, Maxine Lyle. The group choreography for the ending of the show is by Leeanet Noble.
How many times did you go in for fittings? Did you know what you were wearing?
We had three fittings in New York before Paris, in May, July, and the end of August, but we tried on clothes that were either from previous collections or mock-ups, so we did not know for sure what we'd have on until we got to Paris last Tuesday . . . I actually tried on three different tops during the final fitting, so I only found out the final choice the day of the show.
What sort of direction was given in terms of mood and facial expression?
From the very first rehearsal, we were asked to give "grit faces" while we were stepping. It was explained to us that the theme of the collection and our performance was to be "vicious," which definitely helped me understand our motivation. Some of the articles I've read have criticized our expressions because they're too "angry," but I don't think it's about anger. It's about power, ferocity, and being a strong woman.
What statement do you think Rick Owens was trying to make with his decision to have a step performance instead of a traditional runway show?
One thing I love about Rick is how he didn't reveal anything about the show in advance. He could have so easily had so much buildup ahead of time to create a lot of hype, but that's not the point. He is the most supportive, encouraging person you can imagine — when I'd be wondering if the clothes could possibly work with my body the way it is, he'd exclaim, "that looks amazing!" with such warmth and honesty. I just really felt that he had such faith in us and what we were doing. After he first saw our run-through in the space, he said, "more wonderful than I ever could have dreamed!"
I think with this show he really wanted not only to break convention with diversity of race and body type but also by showing that the clothes can really move and work on any woman, no matter what shape or size. As he has said, he wants to make sure he sends this message of inclusivity. Anyone can pull off a Rick Owens Vicious look — and we proved it.
What else did you do in Paris?
We were only there for about four days, and most of it was taken up with fittings (including one at Rick Owens's apartment!), rehearsals, and the show.
And, lastly, did you get to keep the clothes?
[Laughs] I'd love to have kept the top I got to wear. It was so pretty. All of the outfits were! Unfortunately, we didn't get those clothes, but we each got a customized Rick Owens sweatshirt with "Vicious" on the sleeve and our names on them — definitely the coolest thing I will ever own.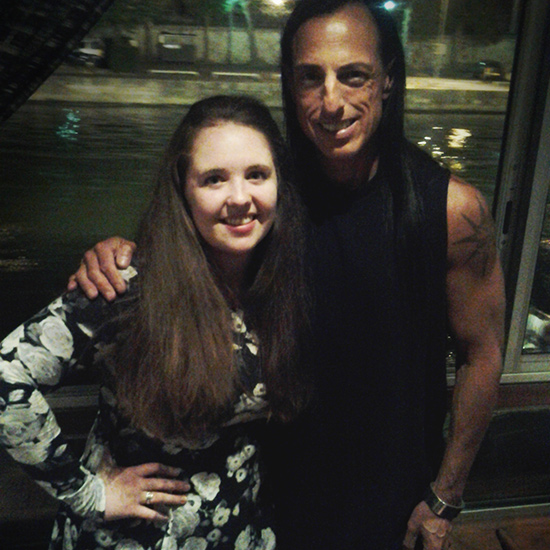 Photos courtesy of Tess McHugh and Sam Reed