Rihanna Graphic Tee Topshop Lawsuit
Rihanna Confirms It: 2013's the Year of the Controversial T-Shirt!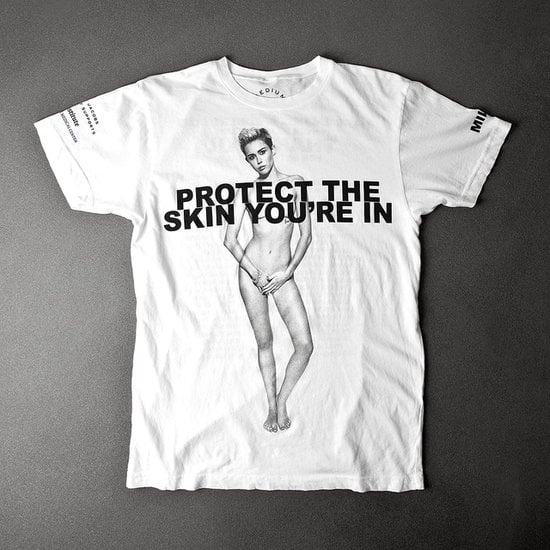 Think there's nothing scandalous about a plain white tee? Think again! The latest uproar to come out of the shirtmaking industry was today's decision that Rihanna has won her legal battle against Topshop. The British retailer can no longer produce the tee design printed with her image, which the singer claimed could be misconstrued as official merchandise. The ruling from Justice Birss stated, "Topshop's sale of this Rihanna t-shirt without her approval was an act of passing off."
Gone are the days when judge's chambers were restricted to suits and ties — t-shirts are having their day in court with not only Topshop, but also litigious streetwear from Dolce & Gabbana. The Italian label (which, let's be honest, has its hands full) is currently facing a lawsuit with Nordstrom. The case was lodged by Peter Fonda, who was none too pleased to see his image on an Easy Rider shirt produced and sold without his permission. We're spotting a trend here!
Hey #swifties we no longer sell the tshirt. We <3 Taylor's music and think she's awesome!

— Abercrombie & Fitch (@Abercrombie) June 19, 2013
Some shirts have been submitted to another court: that of public opinion. Earlier this summer, Taylor Swift's fans came to her aid when Abercrombie & Fitch released a white shirt screen-printed with the phrase "#more boyfriends than t.s." Seeing red, the Swiftees started a grassroots campaign, and the shirt was inevitably pulled from stores.
Adding Miley Cyrus's Nude Marc Jacobs design (above) to the list and another buzzed-about Taylor Swift print (this one, a Bad Kids Clothing tank forced to remove Cory Monteith's name from a list of exes after the actor's death), who would have thought the classic American tee could be so controversial?