Rose Gold Jewelry February 2012
We're a Little Obsessed With Rose Gold Jewelry
Lucky magazine is one of our favorite sources for great shopping tips. We're thrilled to share this fabulous story on pretty rose gold jewelry from our friends at Lucky!

We love jewelry of all kinds, so picking one metal over another seems a little futile. But there's something about rose gold that's just so cool. It's rarer than yellow gold and more eye-catching (we think) than silver and other common metals. Simply put, rose gold makes an imprint, and we're a little obsessed.
But while we're pretty familiar by now with which clothing colors and styles mix well with silver and yellow gold, we're not so sure what the rose gold mandates are. What can you wear it with? What can't you wear it with?
After a little deliberation, here's our verdict: the metal's pink glow can make pairing it with blues and purples feel like a Katy Perry in Candyland imitation. Instead, we prefer the blush-colored metal with warmer tones (military green, rich oranges, chocolatey browns) or crisp whites and blacks, like the combinations below: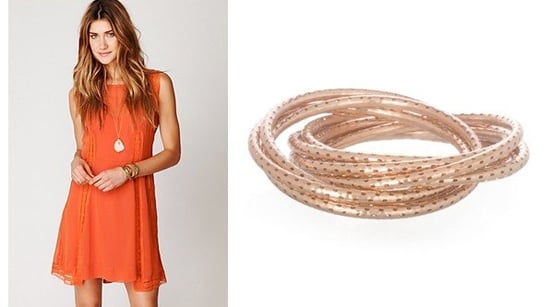 Click over to Lucky to see and shop the whole story
For more fashion and style from Lucky, here are more Lucky stories.
Related Links:
Last-Minute Valentine's Day Gifts
Athletic-Inspired Fashion
Valentine's Day Deal: Piperlime.com Is Offering 15 Percent Off Everything Until Tomorrow at Midnight