Rosie Huntington-Whiteley Airport Style | November 2012
Behold, What a Great Bag and Boots (and a Hat) Will Do For Your Style
With the change of seasons, we have this overwhelming desire to give our wardrobe the overhaul, but Rosie Huntington-Whiteley's latest is a lesson in fine-tuning rather than dismissing what we already have. Her impossibly cool travel style isn't actually that impossible to re-create — it also proves that it's not so hard to give your jeans and t-shirts a winterized twist. The foundation of her style is totally basic, leaving plenty of room to play up her accessories. In fact, it's her accessories that do all the talking. Behold, how one great blazer, an autumnal-hued Burberry satchel, suede boots, and a fedora become the focus. Just how did she make it all work? That's all below; just read on as we break it down: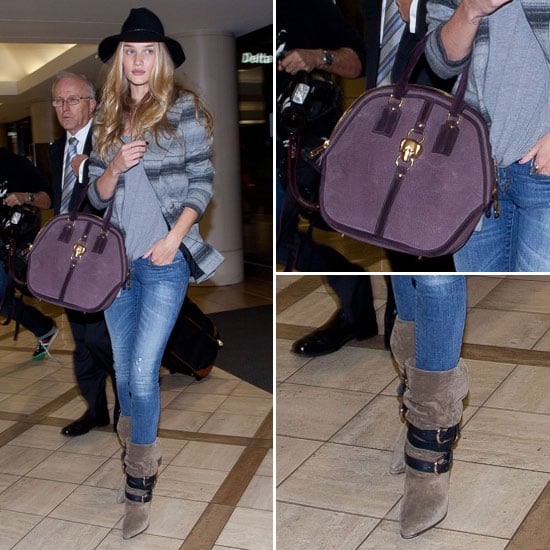 Fall and Winter call for rich hues, textural intrigue, and great boots. You don't have to spend a lot on new jeans or sweaters; invest instead in luxe-feeling accents that you can get more mileage out of by pairing with a multitude of the pieces already in your closet.
Channel a nod to the season with the right hues. Rosie's look speaks perfectly to Fall with a great bag in the season's favorite burgundy hue. She keeps the rest basic with a gray palette, but her bag is a perfect pop of brilliant color that furthers the seasonal appeal.
Don't be afraid of hats. Rosie's cool-girl fedora practically makes the outfit all on its own, and it's a cinch to pull off. Fedoras are flattering on practically all face shapes, add a little outfit intrigue, protect your hair from the snow, rain, or sleet, and happen to be an awesome solution for a bad hair day. Need we go on?