The Row Fur Backpack
The Row Tops That $39,000 Alligator Backpack . . . With a Patchwork Fur Backpack
Lucky magazine is one of our favorite sources for great shopping tips. We're thrilled to share this fabulous story from our friends at Lucky!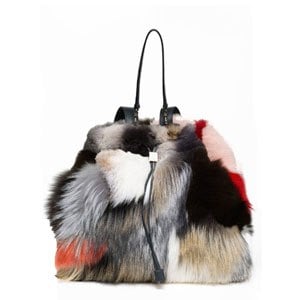 Man, Mary-Kate and Ashley Olsen sure do love themselves a fancy knapsack. Last year, the twin designers behind CFDA-winning label The Row made waves when they released an incredibly luxe alligator backpack priced at a whopping $39,000. Oh, and it actually sold out.
Clearly, the former actresses realized they were onto something—because they've just released a second-generation version of the much-coveted carryall, this time done in colorful patchwork fur. The posh pack is featured on today's Zoe Report, and considering how over-the-top this particular piece is, we're not exactly surprised '70s-obsessed stylist Rachel Zoe is "dying" over it.
As for the price of The Row's new backpack? It's $16,900—but hey, that's less than half the cost of its reptilian cousin. What do you think about the multicolored, shaggy bag? Would you spend the sticker price of a car on something that kind of resembles a Muppet Baby? (A very cute one at that?)
For more fashion and style from Lucky, here are more Lucky stories.
Make Room For Fashion: Fedoras
Did Katy Perry Get a Makeover in Anticipation of Her Film Debut?