The days grow ever closer toward Prince Harry and Meghan Markle's wedding date [1], so while we bide our time waiting to lay eyes on Meghan's choice of wedding dress [2], there are (luckily) several decades-worth of gorgeous royal bridal gowns to pore over. So which newly-minted princess opted for over a quarter million beads, and which requested bees on her train? Whose dress was based on a painting, and who had charms stitched underneath her skirts — and how much did they all cost? Read on for everything you need to know.
Princess Elizabeth, 1947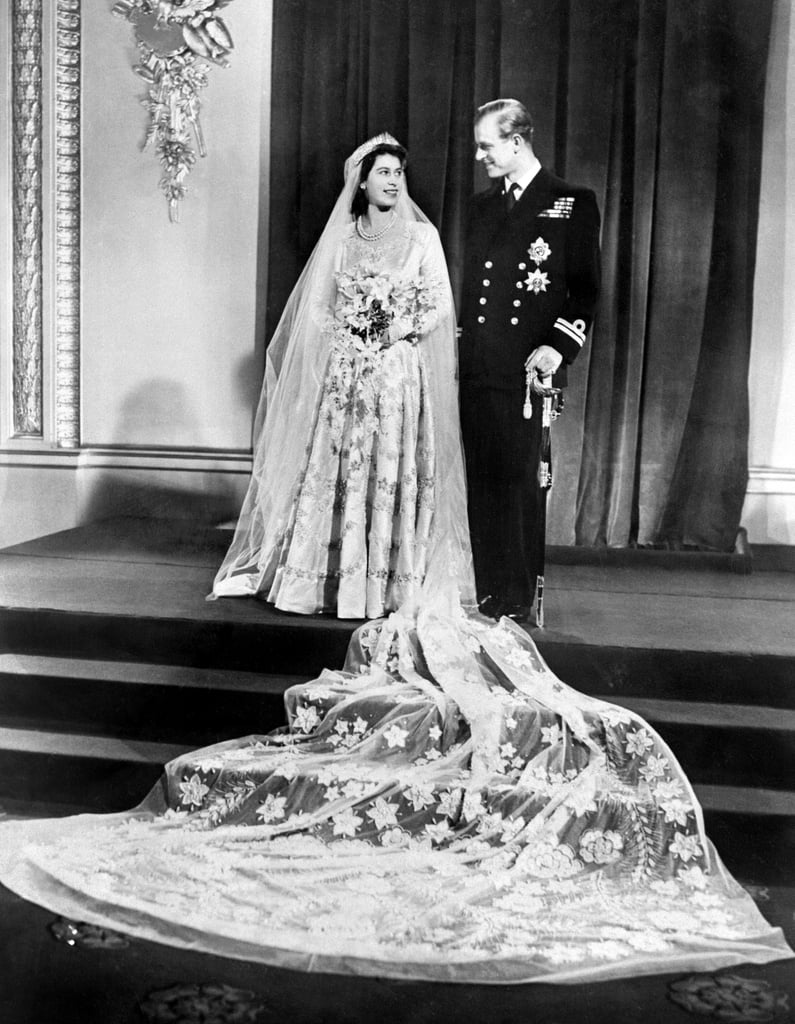 When the future queen married Prince Philip [3], she chose royal couturier Norman Hartnell to design her dress. Wartime rationing was still in place, which meant coupons were saved up to pay for the dress, and the young princess received 200 coupons from the government. The exquisite gown with its 15-foot train was made from lustrous cream duchess satin, and stitched with 10,000 seed pearls, silver thread, crystals, and tulle appliqués. Hartnell took inspiration from the Botticelli painting Primavera, and smothered the dress in jeweled orange blossom, syringa and jasmine, ears of corn to represent fertility, and flowers and leaves to represent England and the Commonwealth countries including roses, thistles, and maple leaves.
In a highly sensitive post-war era, rumors circulated that "enemy" Japanese silkworms were used for the royal gown, but it was later confirmed the silk was generated from Chinese silkworms. It has never been disclosed how much the dress cost, but the exact recreation of the gown that was made for the first season of The Crown cost $37,000.
Princess Margaret, 1960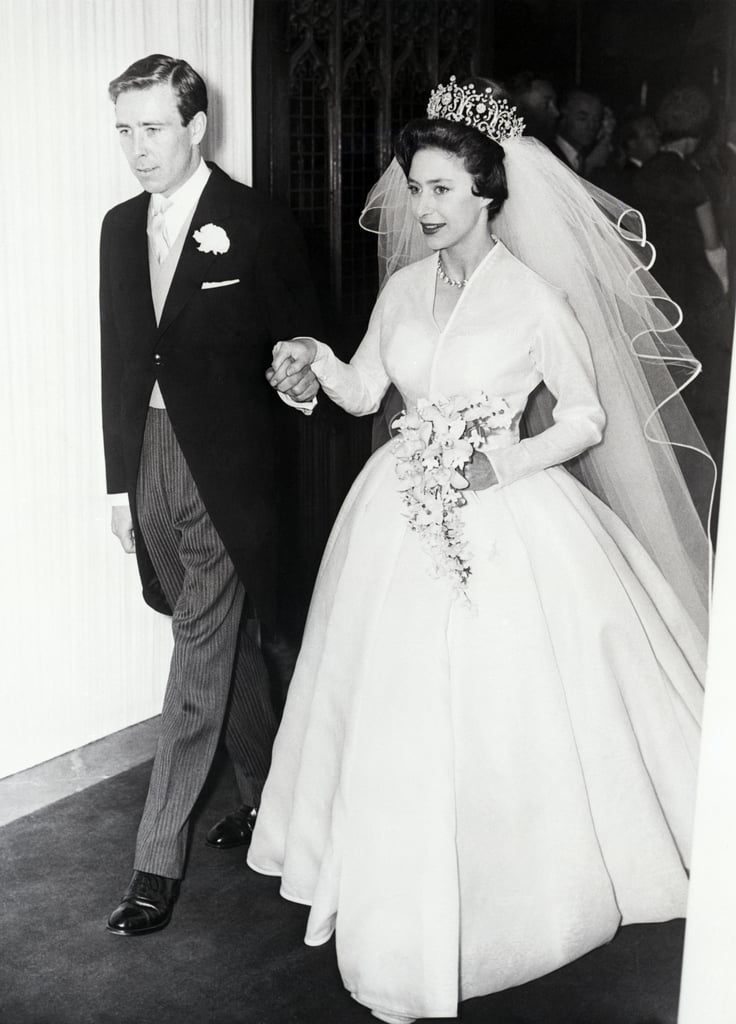 For her wedding [4] to Antony Armstrong-Jones, the queen's sister Princess Margaret [5] went for a simple and stylish silhouette. She too employed the services of royal couturier Norman Hartnell, but her wedding gown could not have been more different. Where the queen's was lavish and ornate, Margaret's was made from white silk organza, with a fitted bodice, cinched waist, and ballgown-style skirt. There were no adornments, and no train for the uncharacteristically pared-down princess.
Princess Anne, 1973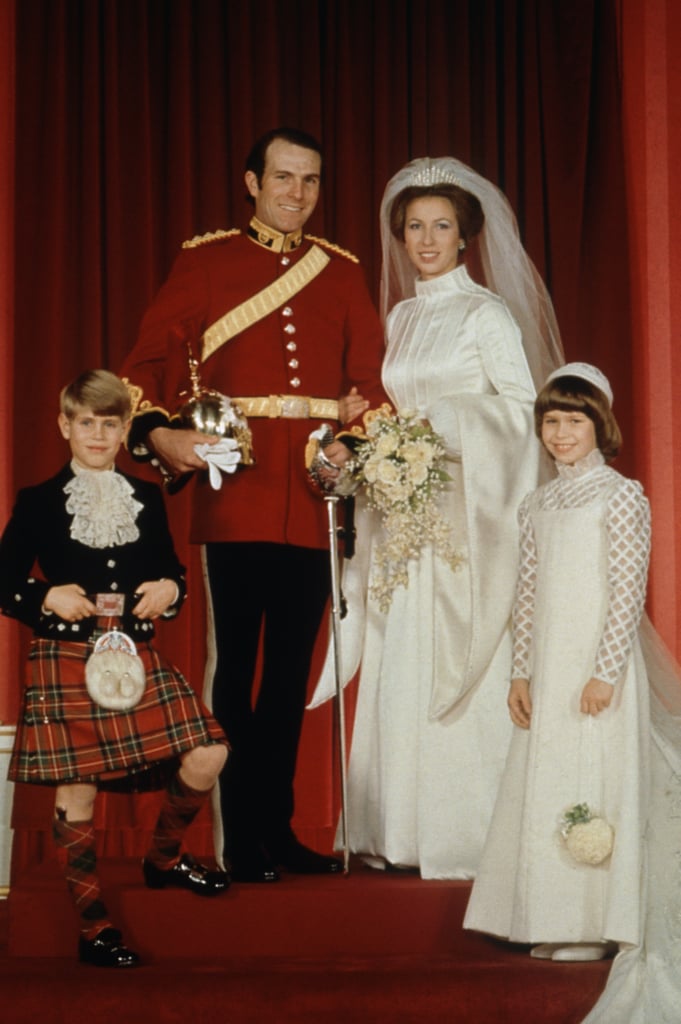 When Anne married Mark Phillips [6] her choice of dress was a little left field for a princess. She very much stamped her own style on the creation, working with designer Maureen Baker on all of the details. Anne opted for a Tudor-style dress which covered her from neck to toe, and which featured trailing medieval sleeves that were puffed to the wrist underneath. The dress featured seed pearls running in lines from the collar down through the bodice, and swept into a seven foot train.
Lady Diana Spencer, 1981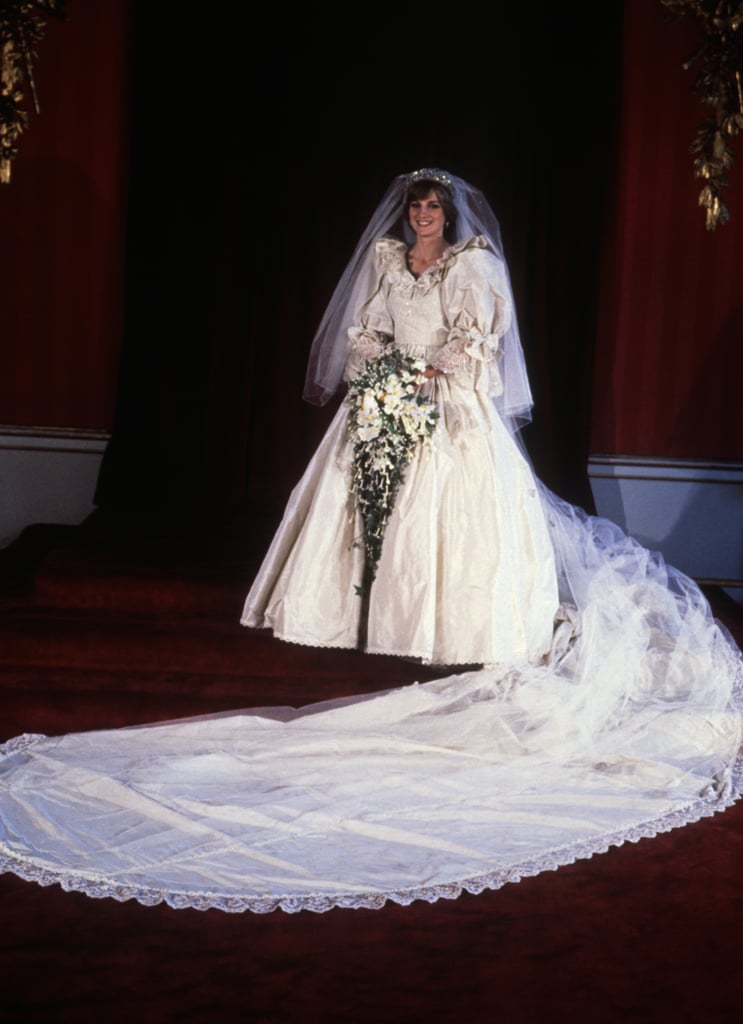 The big day of Lady Diana Spencer and Prince Charles was billed as 'the wedding of the decade' [7], and the dress didn't disappoint. Designers Elizabeth and David Emmanuel decided to aim for the stars with their creation, and Elizabeth recalled later [8], "We wanted her to look like no princess had ever looked before, so we set out to discover the length of the longest royal wedding [9] dress train there'd been, and discovered it was 23 feet. We joked that we could go one better — in fact, two feet better — and make one that was 25 feet. She loved the idea."
The dress was made from ivory silk taffeta and Diana's "something old" was lace that had belonged to Queen Mary incorporated into the bodice. The gown was stitched with 10,000 seed pearls and mother-of-pearl sequins, while the voluminous puffed sleeves were decorated with hundreds of tiny ribbons, and the frilled neckline was set off with taffeta bows. Diana's "something blue" was a bow stitched into the underskirts of the dress, and the Emmanuels also stitched a tiny horseshoe into the underskirts for luck.
It's thought that the dress cost $12,000, which would be around $33,000 today.
Sarah Ferguson, 1986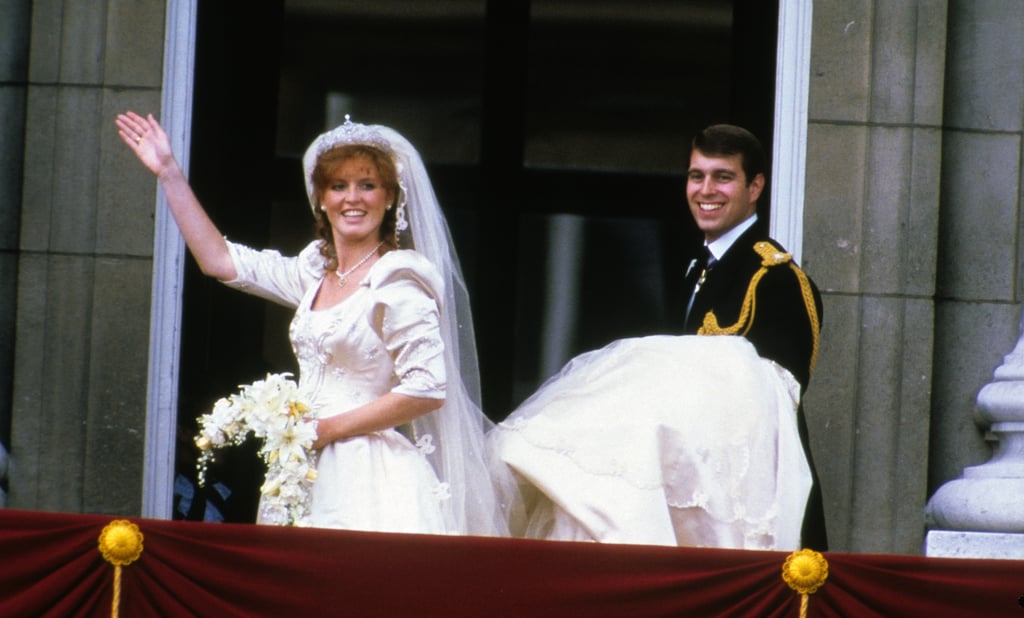 At her wedding [10] to Prince Andrew [11], Sarah followed in the footsteps of her new mother-in-law the queen by choosing cream duchesse satin for her dress, using silk worms from the same farm in Dorset. Designer Lindka Cierach created a fairy tale gown with a fitted bodice, three-quarter length sleeves with shoulder pads and bows at the shoulders, and a 17-foot train. Sarah requested that waves and anchors be embroidered into her train, to represent her husband's naval career, as well as their intertwined initials, and bees from her family's crest.
Princess Anne, 1992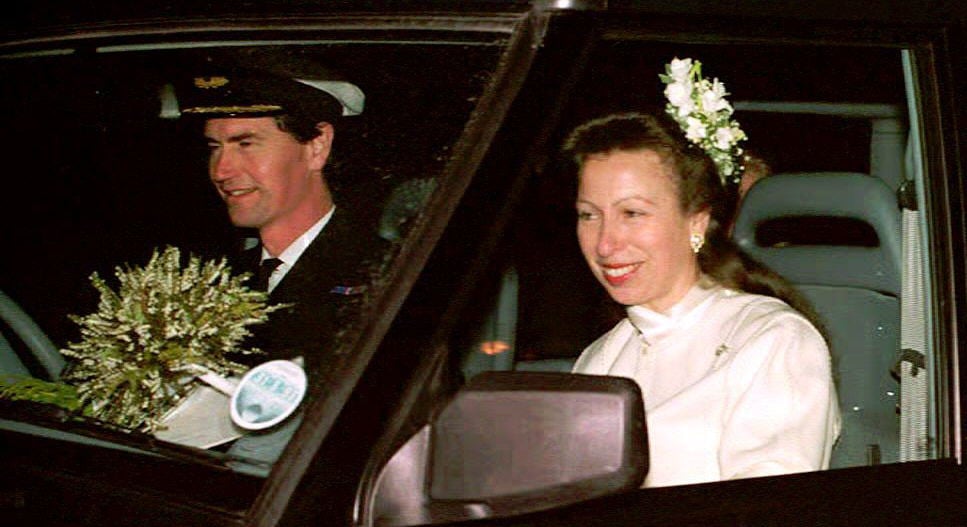 It was her second wedding [12], but stylish Princess Anne [13] looked elegant in her ivory high-necked dress and matching jacket.
Sophie Rhys-Jones, 1999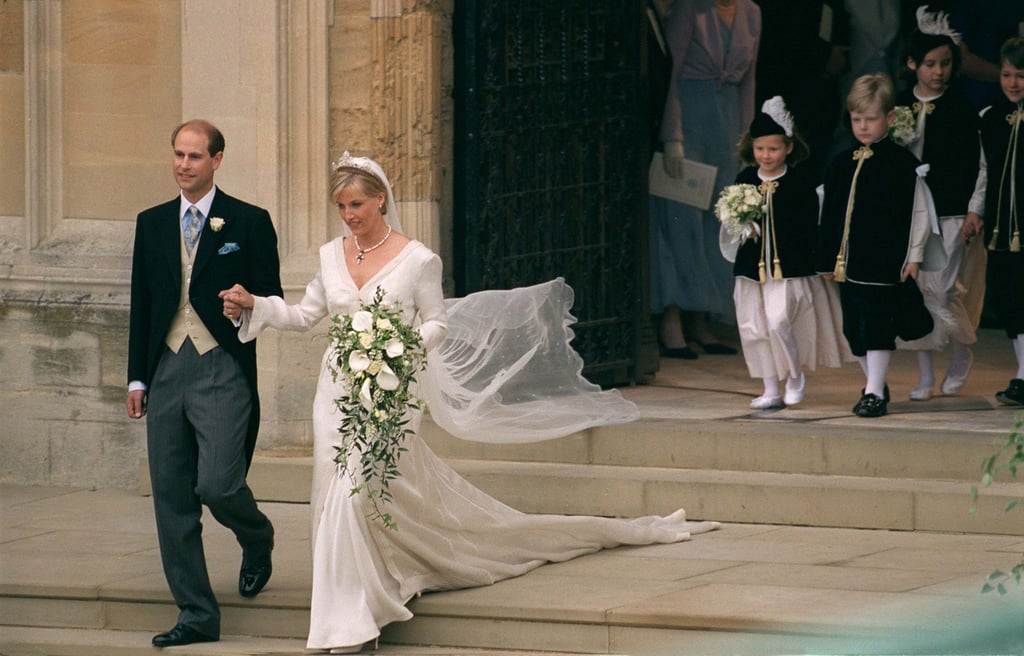 When Sophie married Prince Edward [14] she opted for a slim silhouette that was very much on trend in the 1990s. Like her new sister-in-law Princess Anne at her first wedding [15], Sophie opted for a Medieval feel, and her organza, tulle, and silk crepe Samantha Shaw coat dress featured 325,000 pearls and crystal beads.
Camilla Parker-Bowles, 2005
When Camilla and Prince Charles finally married [16], Camilla chose an elegant ivory Robinson Valentine outfit for her civil ceremony. The silk chiffon dress was hemmed with rows of appliqued woven disks, and she wore a matching silk basket weave coat over the top.
Camilla Parker-Bowles, 2005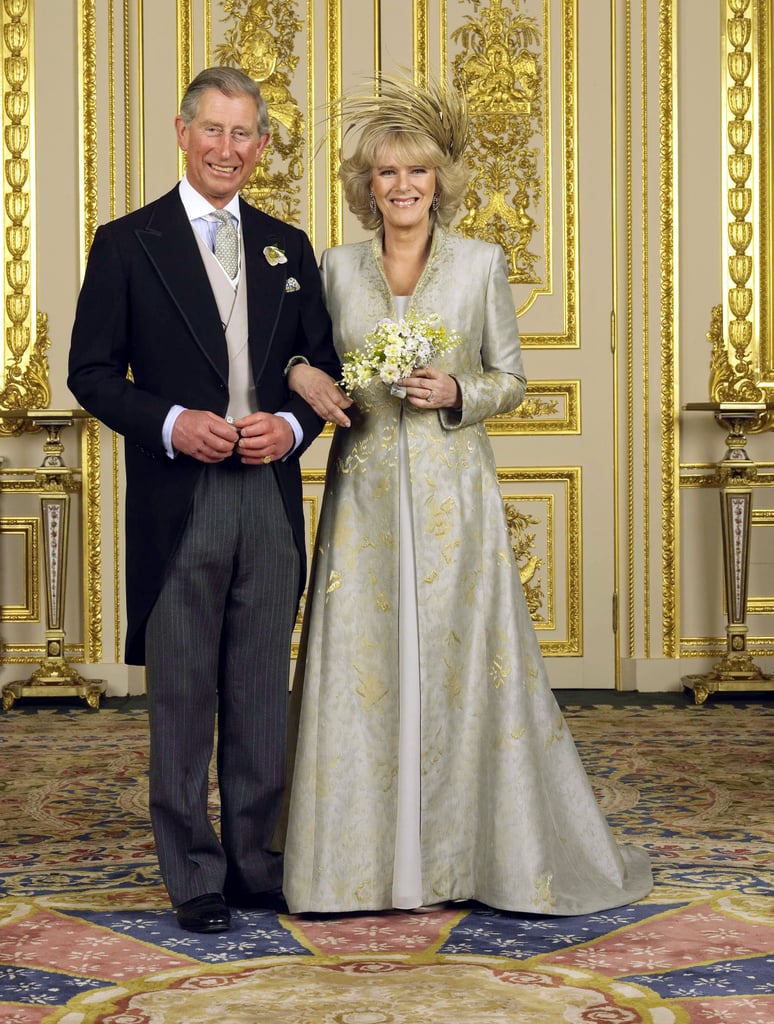 For the post-civil ceremony blessing the new Camilla, Duchess of Cornwall [17] wore another coat and dress by one of her favorite design houses Robinson Valentine. The second outfit was more lavish and formal, featuring a pale blue and gold embroidered damask coat over a matching chiffon gown.
Autumn Kelly, 2007
For her wedding [18] to the queen's eldest grandchild Peter, Autumn Kelly [19] opted for ivory duchess satin – the same fabric as the queen and Sarah Ferguson, but in a different shade. Autumn's gown was designed by Sassi Holford, and also featured a beaded bolero of ivory Chantilly lace. Even though the front of the dress was simple and understated, the back featured Chantilly lace inserts and hand-tied bows. The dress was said to have cost $4,000.
Kate Middleton, 2011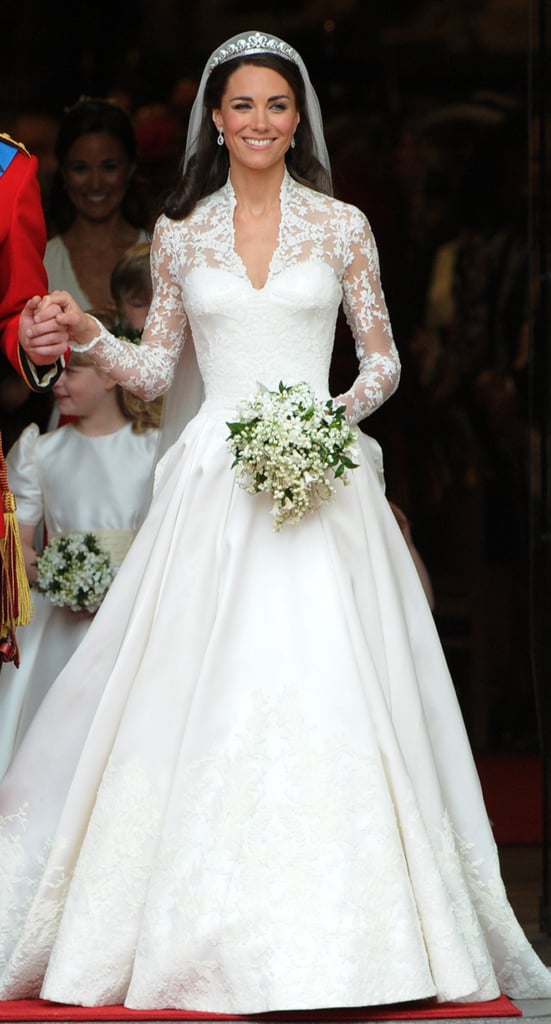 After months of speculation, Kate's choice of dress was revealed on the morning of her marriage to Prince William. It was the first time Kate had worn an Alexander McQueen design [20], and the gown was the vision of creative director Sarah Burton. The theme of Kate's wedding [21] was "the language of flowers", and not only did the Chantilly lace of the gown feature roses, daffodils, thistles, and shamrocks to represent England, Wales, Scotland and Northern Ireland, but even the shape of the skirt was designed to emulate the petals of a flower opening.
The dress featured a nine-foot train, and was made from ivory satin gazar with a fitted bodice, slight padding on the hips to accentuate the cinched in waist, and long sleeves that buttoned at the wrist. To ensure Kate's dress was pristine, lace-making needles were changed every three hours, while workers washed their hands every 30 minutes. The dress is reported to have cost $334,000.
Zara Phillips, 2011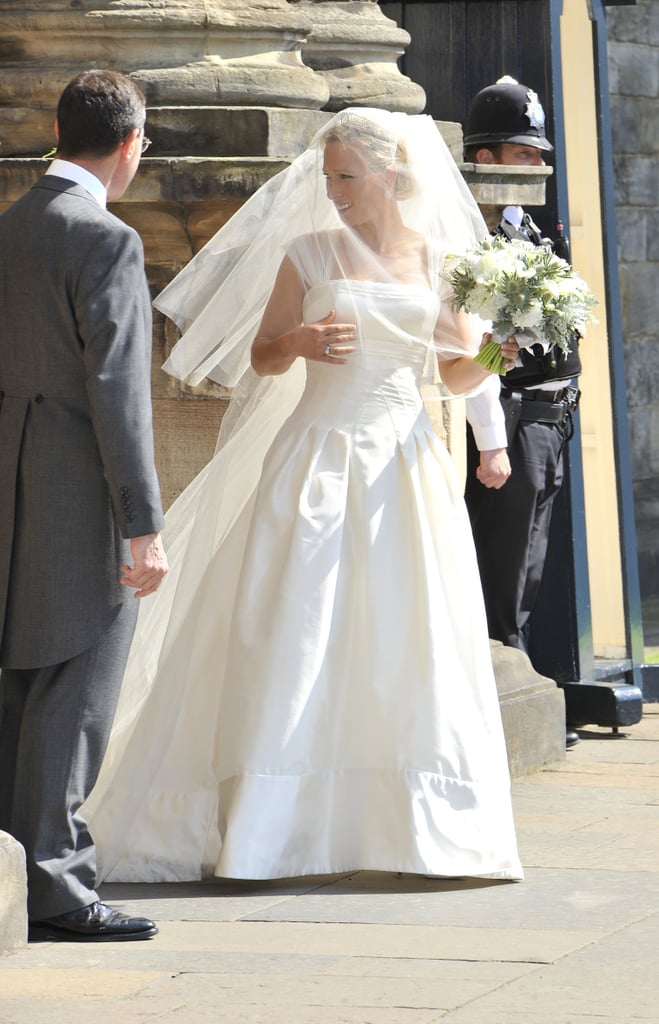 Low-key Zara chose a minimal dress for her wedding to Mike Tindall [22]. The ivory gown [23] was made of silk faille and silk duchesse satin, and created by royal couturier Stuart Parvin. The structured bodice featured an empire waist detail leading into chevron pleats, while the bell-shaped skirt was finished with a contrasting band at the hemline. A row of covered buttons ran the length of the dress at the back, and the skirt featured pockets.