Ruched Skirts
The Look For Less: Antik Batik Ruched Skirt Jersey Dress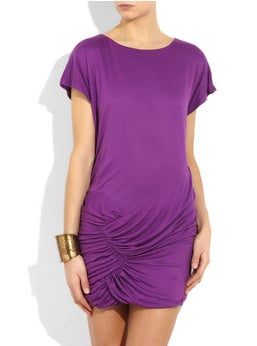 The twisted sister trend — skirts being ruched left and right — has no end in sight. Burberry is at the forefront of it. It's made its way onto dresses, like this Antik Batik Ruched Skirt Jersey Dress ($295); I love the contrast between the simple top and the twisted skirt. This one is quite pricey for something trendy, let's move on.

To see the look for less,
I loved this ASOS Ruch Panelled Skirt Slouch Dress ($45) so much, I got one for myself! It doesn't have the vivacious purple hue, but it does have the slammin' silhouette. And the price is much more palatable. I can't wait to rock it.