SJP Debuts Lori Goldstein For Fred Leighton Necklace
SJP Debuts Lori Goldstein for Fred Leighton Necklace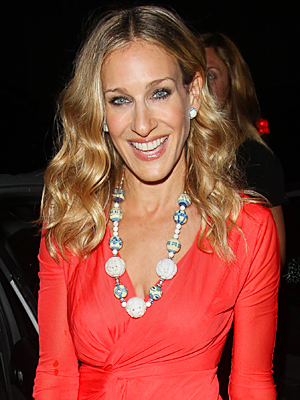 We're thrilled to present our favorite InStyle story here on Fab!
Sarah Jessica Parker was on hand for the unveiling of Halston's Spring 2011 collection last night (and modeling it head-to-toe) and while we loved her red-hot look, it was her necklace we couldn't take our eyes off of! Parker complemented her jersey dress with a white jade necklace with precious and vintage-painted wood beads from Lori Goldstein for Fred Leighton. The necklace is part of a 25-piece collection that the super-stylist designed for Fred Leighton. The collaboration, which debuted on Fashion's Night Out, features one-of-a-kind bead necklaces comprised of faceted diamonds, Tahitian pearls, vintage glass, sapphires, hand-painted Czechoslovak wooden beads and a Victorian crystal heart. The line ranges from $3,500 to $25,000 and is the fine jeweler's first-ever collaboration.
—Christina Rutherford
For more fashion, beauty, and style buzz you need to know, read What's Right Now! at InStyle.com.