Saks Fifth Avenue Sold to Hudson's Bay For $2.4 Billion
Get Ready, Canada: Saks Fifth Avenue Is Coming Your Way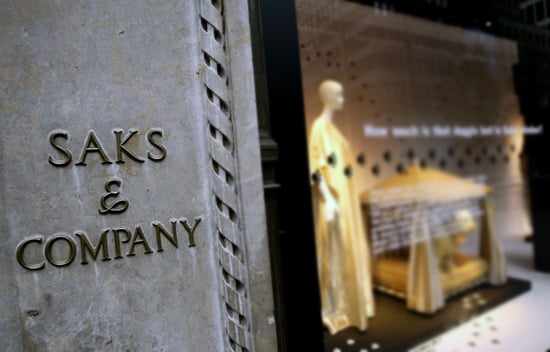 Saks Fifth Avenue announced Monday that it has agreed to let Hudson's Bay Company — the Toronto-based firm that owns Lord & Taylor and Hudson's Bay — buy the company for $2.4 billion. This means one of America's most famous department-store chains is now owned by a Canadian business, and it also means Saks will soon expand into the Great White North.
The chain's new owners plan to build Saks Fifth Avenue locations and its Off Fifth outlet stores throughout Canada, according to Dealbook. These stores will join Saks's other international outposts in Mexico, Dubai, Bahrain, and Kazakhstan.
"We are excited about what this opportunity and being part of a much larger enterprise can mean for the future of the Saks Fifth Avenue brand," said Saks CEO Steven Sadove in a statement.
Technically, Saks still has a 40-day "go-shop" period, during which it can still entertain other offers before officially becoming part of Hudson's Bay. Earlier bidders for the retailer included Kohlberg Kravis Roberts, a private equity firm that might have merged Saks with Neiman Marcus, and the Qatar Investment Authority, which owns stakes in Tiffany & Co. and LVMH, among other holdings.