Sally LaPointe Interview
What Designer Wants Babies to Wear More Leather?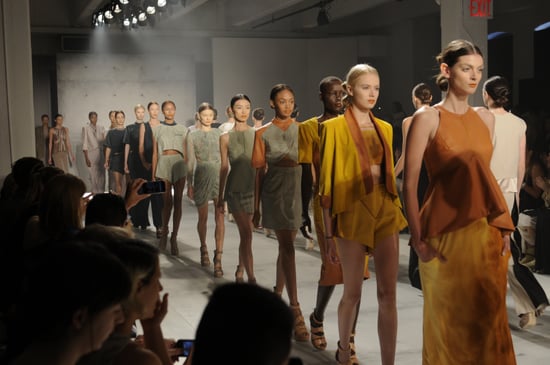 There's a reason everyone from Katy Perry to Alessandra Ambrosio has turned to designer Sally LaPointe: it's because her clothes are just plain cool. LaPointe, perhaps best known for her futuristic design sense — and her relationship with Lady Gaga — talked with us recently about everything from her dream client and how to build a fashion brand to whether or not there's ever a time when leather is inappropriate.
For the record, LaPointe thinks leather is indeed always appropriate, adding, "Leather will always work. I think babies should wear more leather. Leather for all."
Click here for more of our interview with LaPointe.
POPSUGAR: What is it like working with Lady Gaga?
Sally LaPointe: I have a great working relationship with her and her team. They are incredibly open and the process is very collaborative. They know exactly what they are looking for when they approach me for a design and I am able to interpret it in my own way. That is when the magic happens.
PS: Is there another star you'd love to dress? Or a personal style icon?
SL: Susie Bick is my style icon at the moment. She screams silent confidence, and I admire that. I would love to collaborate with Tilda Swinton (pictured left). She also possesses that quality and I would be honored to be able to create a look for her that emphasizes it.
PS: Your Spring 2014 collection was inspired by flowers from a deli. What's the most offbeat place you've found inspiration? And how do you translate that into your designs?
SL: I find inspiration in a very organic way. Sometimes I worry that I will not find it and then it just appears, as long as I am patient and let it come without trying to force it. It surprises me and that is when I know it is good. Translating something into design has a lot to do with the emotion and feeling I want to portray for the season. I want my viewer to feel it with me.
PS: As a young designer, how do you approach your career in the long term? Where do you picture your brand in five or 10 years?
SL: Starting a fashion company is and will always be about the long term. From the very beginning we knew that we wanted a steady and strong growth. Not just to be a flash in the pan. We knew exactly what we were getting ourselves into and have set ourselves up for longevity. In five to 10 years we see ourselves being a very large and well-oiled machine. We look forward to expanding and will be fully ready for it when the time is right.
PS: What's the most surprisingly feminine piece of clothing you own?
SL: I think that as a woman there is something very important about expressing the "delicate nature" underneath your shield. As a New York woman, I dress myself with strength every day, but it is important to not lose sight of your feminine self — behind closed doors.
— Reporting by Melissa Liebling-Goldberg