Sessilee Lopez on the Cover of Jones Magazine
Fab Exclusive! Model Sessilee Lopez on Her Fave Fall Trends, Go-to Online Shops, and More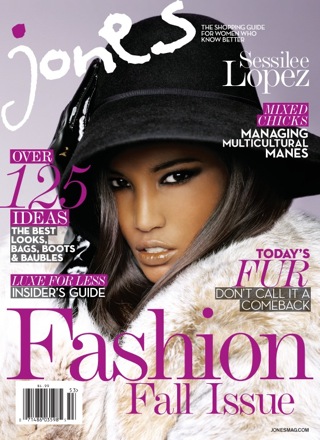 Jones Magazine recently announced the release of its first Fall Fashion issue — with one of our favorite American models, Sessilee Lopez, on the cover! Besides being a fabulous cover girl, Sessilee was also honored with the Model Award at the first annual The Jones Awards during New York Fashion Week. We got a chance to chat with the beauty about the award, her cheap thrills, and top five Fall trends every girl should rock. Read on.
FabSugar: Congratulations on receiving the Jones Award. How exciting! What does this honor mean to you?
Sessilee Lopez: This award means so much! I am very humbled to be honored by such a positive magazine and how it empowers black woman. I am beyond appreciative of this honor and so thrilled that they chose me to receive this award and to be on the cover of Jones Magazine.
FS: What's your style uniform? Your go-to pieces.
SL: My style is sexy, confident, comfortable but chic. I'm usually in skinny jeans and a t-shirt and heels.
To hear more from Sessilee, including her favorite online shops, read more
FS: Where do you head for great cheap fashion thrills?
SL: I love H&M. The clothes are very trendy, fashion-forward, and, the best part of all, they are extremely affordable.
I also love Zac Posen's new line at Target, it's great!
FS: What are your online shopping destinations and what do you love about them?
SL: I enjoy online shopping at Sephora, Victoria's Secret, Topshop, Aldo. I love shopping online because I can shop at my favorite places anywhere in the world at any time. I can get pretty much everything I need without stepping foot in a store.
FS: We would love to know your top five Fall trends that every woman should rock right now.
SL: Military boots with cute dresses, blazers, animal prints, classic tees, and big statement jewelry.
FS: Obviously your svelte figure makes it easy to pull off any look. What advice — practical and motivational — would you give more curvy readers on how to pull off a trendy look?
SL: The most important advice is to have confidence!