Sheer Skirt Trend | Spring 2013
Designers Give Us Sheer Skirts For Spring '13 — But Will You Wear One?
We see London, we see France . . . Yes, there are most definitely visible underpants on the latest Paris runways, thanks to the sheer skirts cropping up in quite a few Spring '13 collections. While sheer bottoms aren't exactly groundbreaking — Spring 2012 gave us sheer pants after all — these sheer pencil skirts and minis are a sexier twist, some sexier than others. Stella McCartney took a more modest approach to going sheer with a streamlined pencil skirt and a see-through hemline that begins at the thigh and travels down. Offering a little more, shall we say, visibility, Giambattista Valli introduced a light-as-air sheer pencil that left little to the imagination. Chloé's iteration is more of a compromise, with frilly, see-through layers that help to distract from any overt peek-a-boo effect. Obviously, there's a time and place to slip into something this revealing — as we've already learned with sheer blouses and semisheer dresses — but we want to know if will you be slipping into these skirts? Word to the wise: if you do, pay extra attention to your undergarments! Now tell us: will you be taking this trend for a test drive come Spring?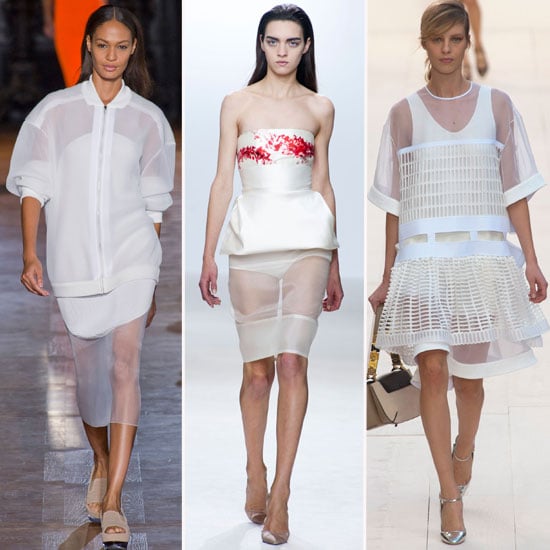 From left: Stella McCartney, Giambattista Valli, Chloe