Shoes of Prey Designer Jodie Fox Interview
Shoes of Prey's Jodie Fox on Trends, Brides, and Why Her Company Is "About You"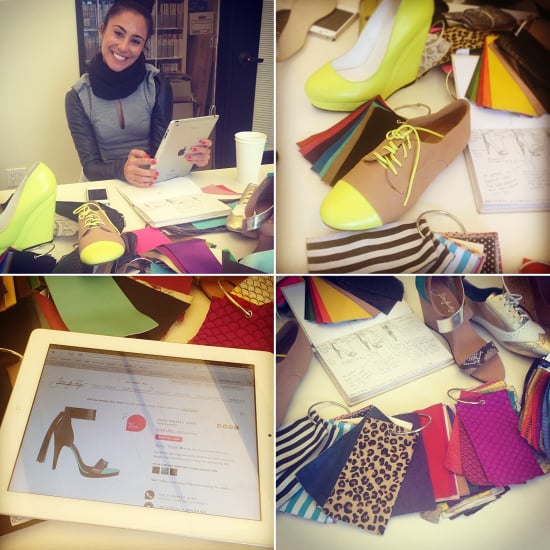 The Shoes of Prey philosophy is pretty simple: every woman deserves to have the perfect pair of shoes, whether she prefers a lower heel, likes a pointier toe, or needs a bigger or in-between size. Since launching the design-your-own-shoe company in 2009, founder Jodie Fox has brought her footwear problem-solving skills to the masses. The designer has opened four global offices, created two runway collections for Jonathan Simkhai, and built custom shoes for Rihanna, Carly Rae Jepsen, Elle Macpherson, and Kate Middleton. Jodie popped by our POPSUGAR offices in San Francisco recently to show us how Shoes of Prey works — and not only did we get a personal online tour through the shoe-designing process, but we also picked Jodie's brain about her design beginnings, celebrity style icons, and her own shoe collection.
POPSUGAR: How did you get your start, and where did the idea for Shoes of Prey come from?
Jodie Fox: I come from a long line of Sicilian women who always loved shoe shopping and being around beautiful leather goods — I definitely developed the same taste! I went to law school, became a lawyer, and was never able to find shoes that I liked, let alone ones that worked well with the suits I had to wear every day. I then began learning about leather and shoe construction and decided to delve into my creative desires. For my business partners and me, it doesn't matter that we didn't start out as cobblers. It matters that we're solving a problem. This is about you; every woman should have the perfect shoe.
PS: What are your favorite upcoming shoe trends?
JF: I love anything sculptural — anything that goes "beyond the foot" and looks like a piece of art. Also, brogues and oxfords are the new ballet flat. If you don't have a pair of oxfords, you're in trouble.
Find out Jodie's ultimate style crush, shoe tips for brides, and more when you keep reading.
PS: Good to know we're not late to the oxfords game! If there was one celebrity you'd love to have make her own shoe, who would it be?
JF: Alexa Chung, hands down. She's an icon for me. Her style is just so chic and effortless, and most importantly, it seems like she has a lot of fun with fashion.
PS: It's probably a ton of fun to get to design your own shoes all the time, so we have to know — how many pairs do you own?
JF: Well, it fluctuates. I make every sample in my size and wear them around to make sure they work out, so my personal collection varies. But I would say there's always around 150.
PS: We would have guessed more, but OK. So, with wedding season coming up, do you anticipate being extra busy? What are your shoe tips for brides?
JF: We do a lot of bridal shoes, not only for brides, but for bridesmaids, as well. I get many brides wanting their party to all have the same shoes, but obviously having to deal with different shoe sizes, widths, etc. And not every bridesmaid wants to wear four-inch heels! So we do the same styles with varying details, and that way it doesn't matter who has wider feet, who's taller, and so on.
PS: Do you have a favorite shoe-building experience? Any memorable customers?
JF: Yes! Sort of continuing with the wedding theme — I had a man email me saying that his girlfriend loves heels, and he wanted to propose with a special shoe. We designed a 4.5-inch Italian silk pump for her with an embossed insole reading, "Jessica, will you marry me?" He surprised her with them on vacation and sent along photos afterward letting me know that she said "yes." I still have the sample of the insole in my office!