Shop Katniss's Hunger Games Gray Scarf
The Perfect Gift Idea For Any Hunger Games Enthusiast
Lucky magazine is one of our favorite sources for great shopping tips. We're thrilled to share this fabulous story from our friends at Lucky!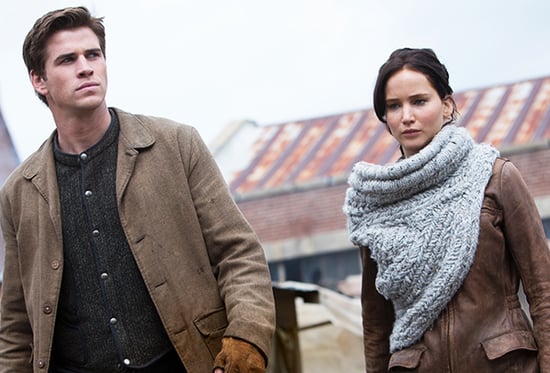 One of the many things we did over the holiday weekend was see Catching Fire a second time — in IMAX, no less — and we're so glad we did. Not only did the immense screen allow us to better savor each and every one of Jennifer Lawrence's perfectly-acted facial expressions (seriously, we smell a second Oscar in this girl's future), but it also gave us a much-needed second look at Trish Summerville's incredible wardrobe work.
And while it's hard to pick a favorite look from the film — though Effie Trinket's monarch butterfly dress and Katniss's wedding gown are both strong contenders — all of us on Lucky's web team haven't been able to stop raving about the amazing one-shouldered grey knit cowl the story's heroine wears in the first scene. We were sad to see it curiously absent from Net-a-Porter's Capitol Couture collection — but now, Etsy shop The Great North has answered our YA-lit-loving prayers, having recreated the wooly accessory in perfect detail. At $130, we think the Katniss cowl would make a perfect holiday gift for your favorite Hunger Games fanatic—and hey, it's a heck of a lot more wearable than Effie's gilded eyelashes.
Click over to Lucky to see the whole story.
For all the fashion and style from Lucky, check out even more of the magazine's best stories.