Shop the Red Carpet Dresses Celebrities Have Worn
These Red Carpet Dresses Are on Sale!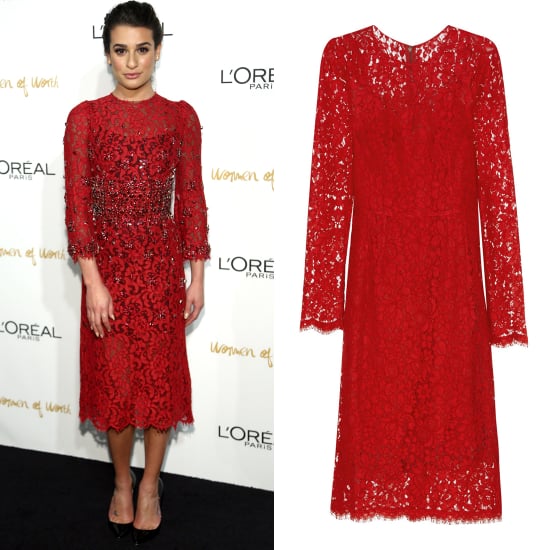 Superspecial and often straight from the runway, the dresses paraded down the red carpet all year can seem to exist outside of the stratosphere of normal shopping. But not always. While perusing Net-a-Porter.com's huge designer sale, we spotted a few items that looked suspiciously familiar, like the above Dolce & Gabbana dress ($2,328, originally $3,325) that's basically an unembellished version of the one Lea Michele wore earlier this week. Even if the sale price tag still isn't exactly wallet-friendly, a girl can dream. See the other looks we've unearthed here — including one that belongs to a very famous member of the British royal family.

Nicole Richie shimmered in a long Marc Jacobs gown at this Summer's CFDA Awards. We loved the pick because it perfectly suited her personal style. If it's your vibe, too, you can score one ($1,920, originally $3,200) for your closet.
The lace Lover dress Molly Sims wore to the LA premiere of Oblivion is currently included in the sale in a more demure black version ($665, originally $950).
Kate Middleton stepped out on the red carpet at St. James's Palace as a newly engaged woman, and instantly, the fashion world was buzzing. The Issa wrap dress she wore seemed to sell out immediately, but lucky for us, there's a very similar style ($390, originally $650) available in red that won't put a huge stress on your wallet — something we think the budget-conscious duchess would approve of.