Should Prada Marfa Be Closed?
Should Prada Marfa Stay Open?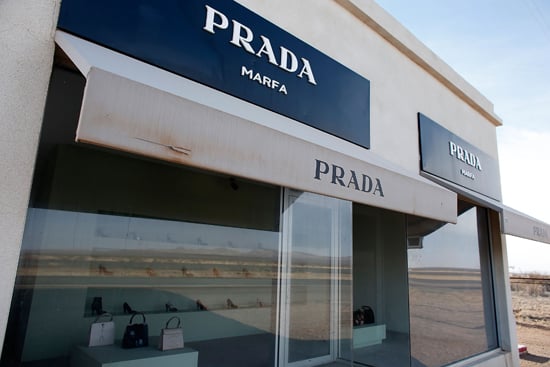 The artists and supporters behind Prada Marfa, the eight-year-old outdoor art installation made to look like a miniscule Prada boutique, have responded to claims that the structure is an illegal advertisement.
Just last week, the Texas Department of Transportation declared that the store, which bears the brand's logo and is filled with shoes and bags it produced in 2005, doesn't count as artwork but as a promotional tool for Prada. In a statement today, artists Michael Elmgreen and Ingar Dragset said they were surprised by the decision and pointed out that while Miuccia Prada donated the shoes and bags in the store, her only other contribution to the installation was giving the artists permission to use her logo.
"It is advertisement only when a company either commissions someone to make such a sign, pays for its execution, or makes a sign themselves in order to promote the company's products," they said in a statement. "And this is not the case here since Prada Marfa never had any commercial link to the fashion brand Prada."
While the Transportation Department hasn't decided yet what to do with Prada Marfa, it recently ordered that a Playboy sign put up nearby be taken down for the same reason. But Playboy was much more involved with the building of that sign than Prada was with Prada Marfa.
With that in mind, we're wondering if you think Prada Marfa should suffer the same fate.