Silver Heels | Jerome C. Rousseau For Oz Movie 2013
Jerome C. Rousseau Designs Heel Inspired by Oz (and Gives Us the Scoop)
Inspired by Oz the Great and Powerful, designer Jerome C. Rousseau has created a gorgeous new heel to be exclusively sold on Shoescribe.com starting March 7. The debut of this limited-edition open-toe pump, which is covered in glitter-infused mesh fabric and a gold leather spiral, not only coincides with the film's release the next day, but also marks the first anniversary of Shoescribe.com. And we couldn't think of a better way to celebrate this unique shoe than by showing it to you here — and catching up with Rousseau himself.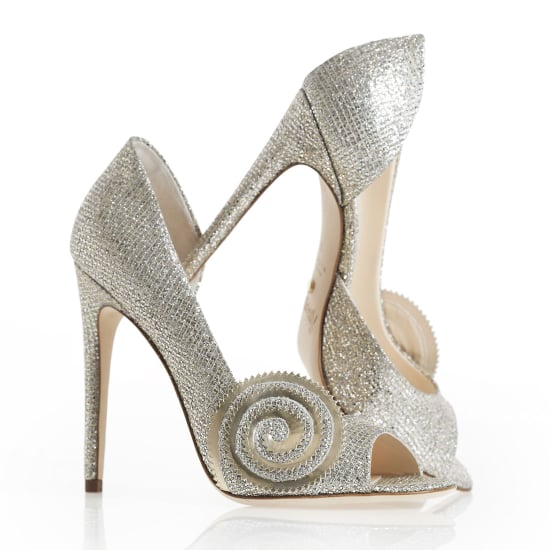 On which Oz the Great and Powerful actress he had in mind when designing: "My thinking was more focused on the overall fantastical and whimsical nature of the film. I was inspired by the landscapes, costumes, and characters, so I thought of each Oz witch when I worked on the exclusive design. I think there are elements of each character represented in this style — it's fierce, magical, elegant, and daring all at once."
On which witch — the good or the bad — should wear this heel: "I love the idea of good vs. bad witches in Oz. I'm definitely a bad witch myself, so I'd rather see a bad witch in this design. Or a good witch that's finally looking for trouble!"
Rousseau dishes on Dorothy's red slipper and Spring trends inside.
On whether or not Dorothy's ruby-red slipper influenced his design: "Not so much. It was a choice to focus on elements of the new film and story rather than the original story and ruby slipper."
Of course, we couldn't resist asking Rousseau what shoe trend every woman should try for Spring 2013.
On the style you should try this season: "Adios, platforms! Spring 2013 marks a clear return to single-sole sandals. I love the lighter silhouette it created. Go for a high stiletto heel and an intricate design . . . and dance."