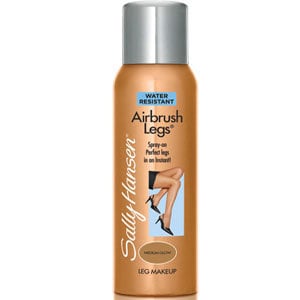 We're not psychic, but we'll bet your booked-to-the-brim Summer social calendar means that higher hemlines are in your future forecast. With beach vacations, bridal and baby showers, street festivals, and happy-hour engagements filling up your Summer agenda, you'll need the style — and skin — to match each occasion. Whether you're busting out a minimalist bikini, maxi or miniskirt with a sky-high slit, or a chic pair of preppy chino shorts, one thing is certain: you better be ready to flaunt those sexy legs!
We're talking about exposing some serious leg action this season, and we've found an affordable way to get flawless gams in 60 seconds. Sally Hansen Airbrush Legs®is the latest innovation in lightweight, easy-to-use, safe-for-your-skin, and imperfection-concealing leg makeup. Simply spray Sally Hansen Airbrush Legs® into your palm, rub upwards from your ankle, wait 60 seconds for this breakthrough formula to dry, and you've got glowing, sexy legs in no time at all. Skip the tanning salon and say no to harmful sun rays. With Sally Hansen Airbrush Legs®' foolproof application process and water-resistant recipe, higher hemlines and confident swaggers are Summer's no-brainers. Click
here for more information.