Spring 2011 New York Fashion Week: DVF 2010-09-12 21:00:04
2011 Spring New York Fashion Week: Diane von Furstenberg
The "Goddess"-titled Spring collection was described by the wonder woman herself as being about living your fantasy, expressing freedom, and celebrating beauty. The concept didn't surprise at all — I wouldn't expect anything less than a deity floating down the runway, especially if it comes from the creative genius of von Furstenberg.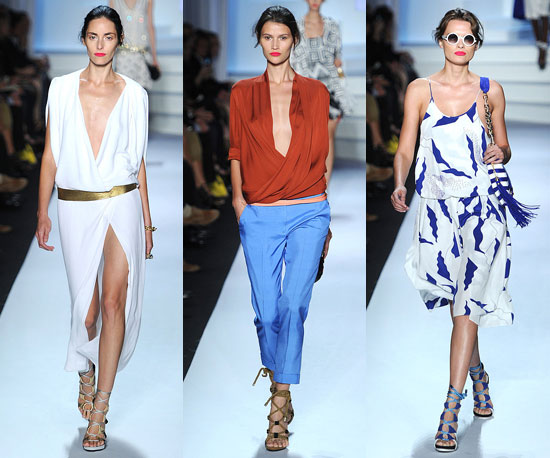 There were 50 looks and each piece delivered a powerful pattern punch. Bold black and white graphic prints were embellished with gold and silver metallic accents, while neon green and yellow made a standout entrance on the catwalk. The DvF-signature wrap was painted in mix-and-match "broken wave" and "broken clouds" designs. We loved seeing von Furstenberg's playful touches in the form of giant cape hoods and coke-bottle sunnies. But as with any crème de la crème collection, you have to save the best for last — we couldn't take our eyes off the glimmering gold silk lamé evening gown at the very end.
To see all of the pics from the DVF show,
.