Spring 2011 New York Fashion Week: EDUN
2011 Spring New York Fashion Week: EDUN
Today's Edun presentation during Spring Fashion Week managed to make earth tones look rather chic. Under the watchful eye of founder (and wife of Bono) Ali Hewson, its Spring 2011 show went down underneath the High Line in West Chelsea in a space that's usually a parking lot. The brand's new designer, Sharon Wauchob, sent models down the stone-paved runway in gorgeous black and white patterned gowns, as well as deconstructed sweaters, and those earth-toned separates. There were also some offerings for the guys — though many of the male models strutted their stuff delightfully looking shirtless.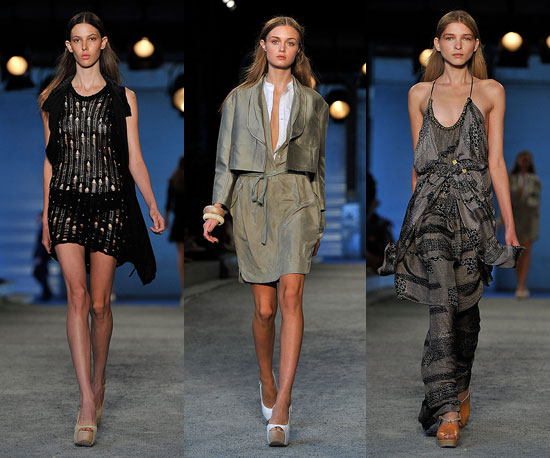 The front-row crowd included a few celebrity babies — Gavin Rossdale turned out with his oldest son, Kingston, while Wendi Murdoch brought one of her two daughters. Dasha Zhukova and Julie Gilhart were also in attendance. We caught a minute with Gavin following the presentation, and he revealed he's only attending the shows from Edun and his wife, Gwen Stefani's, L.A.M.B. Ali, meanwhile, spoke about the growth of the label she created following their partial acquisition last year by LVMH. She's trying to maintain the brand's commitment to ecological practices despite the conglomerate's existing business models, but she said, "in order for our business to work sustainably, we have to be a sustainable business."
To see all of the pics from the Edun show,
.