Spring 2011 New York Fashion Week: Monique Lhuillier 2010-09-13 16:02:02
Spring 2011 New York Fashion Week: Monique Lhuillier
Close your eyes and imagine a faraway land, complete with Garden of Eden touches, glistening landscapes, and dreamy fabrics. The models at Monique Lhuillier looked as if they were come-to-life fairies. There were some daytime looks — camel high-waist trousers, cherry blossom blouse with skinny belt detail, a sage Chantilly lace one-shoulder cocktail dress — that felt more laid-back. But the real drama took flight once the evening gowns stormed in one by one. Every floor-length dress billowed and draped the form to perfection, very reminiscent of a modern-day Cinderella.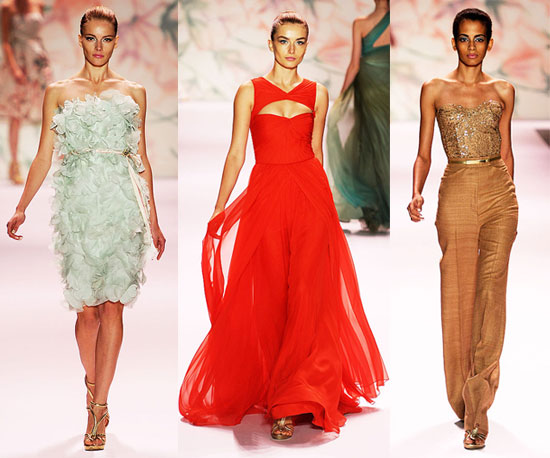 Lhuillier used soft watercolor shades on divine materials: blush ombre and pink floral chiffon, toffee sequin, ivory embroidery, mint organza, stardust silk, and poppy raffia. There were a handful of red apple, electric blue, emerald green, and deep rose gowns that provided that lasting pop of color. I can't wait to have my princess moment with one of Lhuillier's Spring creations — a girl can dream.
To see all of the pics from the Monique Lhuillier show,
.