Spring 2011 New York Fashion Week: Rachel Comey
Spring 2011 New York Fashion Week: Rachel Comey
The mood at Rachel Comey this season was peaceful and serene — only further enhanced by the wafting sounds of St. Vincent's violin and Pier 59 Studios' low lighting and bare walls. The clothing, on the other hand, was more along the lines of awe-inspiring. Comey combined elements of Americana with a dash of Asian influence; all at once, you feel ready to run across the open prairie or the lush rice fields.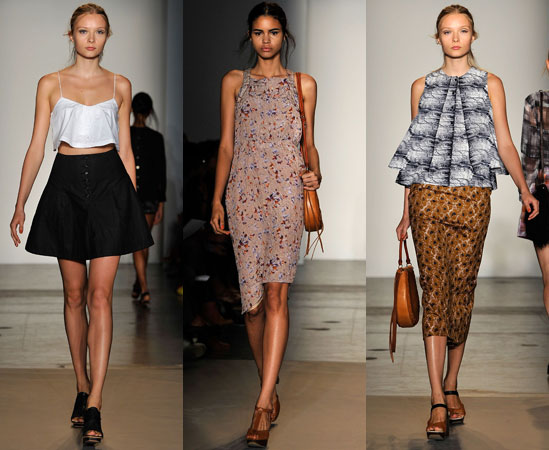 As a self-professed shoe loyalist, I should warn you that you will want to get your hands (and feet) on a pair of the color-blocked square heels. You can wear them comfortably as a refined day look or wear them at night for a subtle hint of sexiness. Let's call it "geometric perfection." Now, the pieces positively exuded her recognizable charm and quirk. Models were adorned in flirty chiffon dresses with side slits, crisp white poplin cropped tops, romantic nude A-line frocks with her signature button-down detailing, mix-and-match prints in warm pinks and blues, and high-waisted, loose-fitting camel trousers. Add in a sprinkling of gingham, eyelet separates, and unexpected silhouette cut-outs, and you have yourself Spring romance in bloom!
To see all of the pics from the Rachel Comey show, read more.