Spring Outfit Ideas | Julianne Hough and Olivia Munn in LA
Your Weekend Style Agenda, Inspired by Julianne Hough and Olivia Munn
Thanks to Julianne Hough and Olivia Munn, a trip to the nail salon has never looked so good. But more than their collective ability to look amazing en route to a mani-pedi appointment, the well-dressed pair have inspired us to follow suit on their Spring-minded styling, perhaps as soon as this weekend? Hough's soft pastel look — distinguishable by its accents — and Munn's vibrantly printed Lovers + Friends Kitty Cat dress ($206) supply our next round of warm-day dressing with two ways to wear the season's prettiest pieces. See our quick takeaway tips below.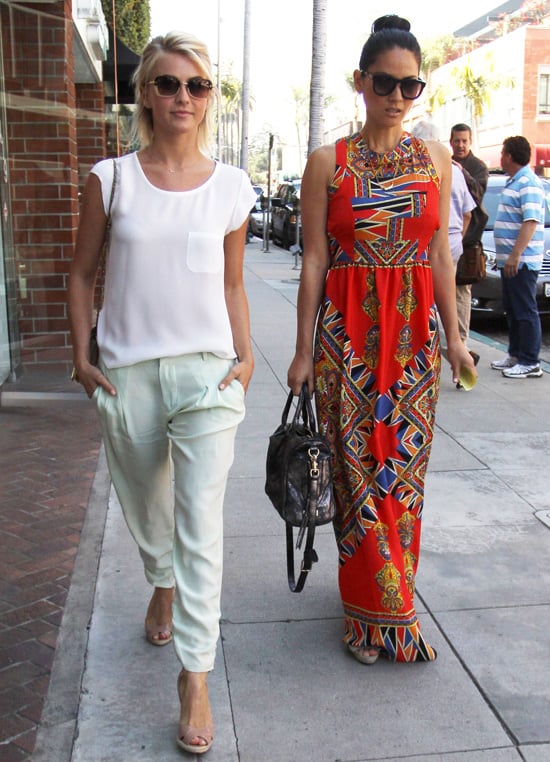 Pastel Play
Julianne Hough's perfectly proportioned combo really came down to a great white-and-mint pairing. To get the same look, try this Vince Sheer Pocket Tee ($195) or a similarly loose-fitting white top that does well by the half-tuck. Then, add a tapered ankle-cut pant (which flatters most body types) in a minty hue à la Aryn K's pant ($79). You can play with your own accessories or play copycat with a pair of nude jute-soled sandals, oversize sunglasses, and a blush-colored snakeskin chain-strap bag.
The Bold Route
Olivia Munn didn't waste any time making an outfit statement, and all she needed to do it was one very bold printed maxi dress. We're currently loving this MinkPink Scorpio Sleeveless Maxi Dress ($99) as an alternative version. To finish with equal parts subtlety and finesse, add your favorite pair of black sunglasses, a neutral-toned tote (like her Botkier Aldyn satchel, $300), and sandals.