Stacy Keibler is at it again — in all black — at the Macallan Masters of Photography launch in NYC. This time, though, with considerably less cutouts and overt sex appeal. Sure, we may never be able to completely forget that stunning Azzedine Alaia number, but this particular ensemble proved sleek, sophisticated, and surprisingly dynamic. Here's the thing: her layered-up look got its standout polish via its close-cut silhouette, silky proportions, and oh yeah, that bright watermelon-hued envelope clutch definitely added a little something extra. It's another flawless style performance from Stacy, and the best part? It's an outfit that we (and you) probably already own. With just a few tweaks and styling tips, this slick monochromatic uniform is already looking like an early contender for Friday night.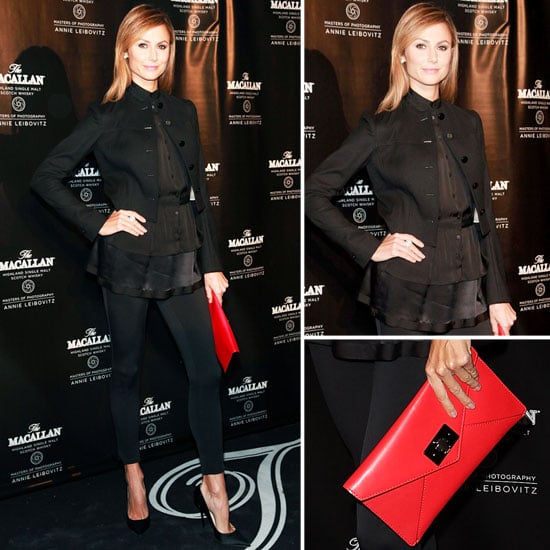 Like we've said before (and it's worth repeating), not all of us share Stacy's lanky figure. So, it doesn't make sense to emulate the leggings look if it's not going to work for you. Instead, opt for denim. A form-fitted pair of black jeans — but cut at ankle length, like hers — will shape your legs and butt with a little more fabric support.
We're loving her long silky blouse-and-cropped jacket combo, but if you're looking to try the inverse proportion that will work just as well. Tuck in your black button-up blouse — or do the "half tuck" for a little on-trend styling — and pair it with a black leather jacket that hits just below the hip. That way, you're still playing with the juxtaposition of lengths, and when it comes to all-black looks, you can certainly keep things interesting just by nailing that proportion equation.
As for accessories, there's no doubt that Stacy did right by that vibrant red envelope clutch. It immediately drew our eye into the rest of her outfit, and well, it's the definition of a statement piece. If you don't own a red clutch, that's OK. Our mission to you is this: grab the boldest bag in your closet, provided it's something you'd actually want to wear, and make your ensemble pop with that one item. Trust us, it worked for Stacy. It will work for you.