Which man is powerful enough to pull together the likes of Kim Kardashian [1], Justin Bieber, Kate Moss [2], and Naomi Campbell [3] on one single island? That man would be Givenchy artistic director Riccardo Tisci.
Of course, this was no ordinary occasion that commanded the gathering — it was to celebrate the megadesigner's 40th birthday [4], which happens to be today. And given his red carpet résumé, quite frankly we're shocked that the turnout wasn't even bigger. Creating gowns for all of life's major moments from weddings to the Oscars, Tisci has done it all since being appointed to the French fashion house in 2005. So much so that playing favorites was as difficult a task as paring down the guest list for Tisci's Ibiza, Spain, birthday weekend — but life is filled with difficult decisions, so here are the stars who made our cut.
Source: Getty [5]
Zoe Saldana at the 2010 Academy Awards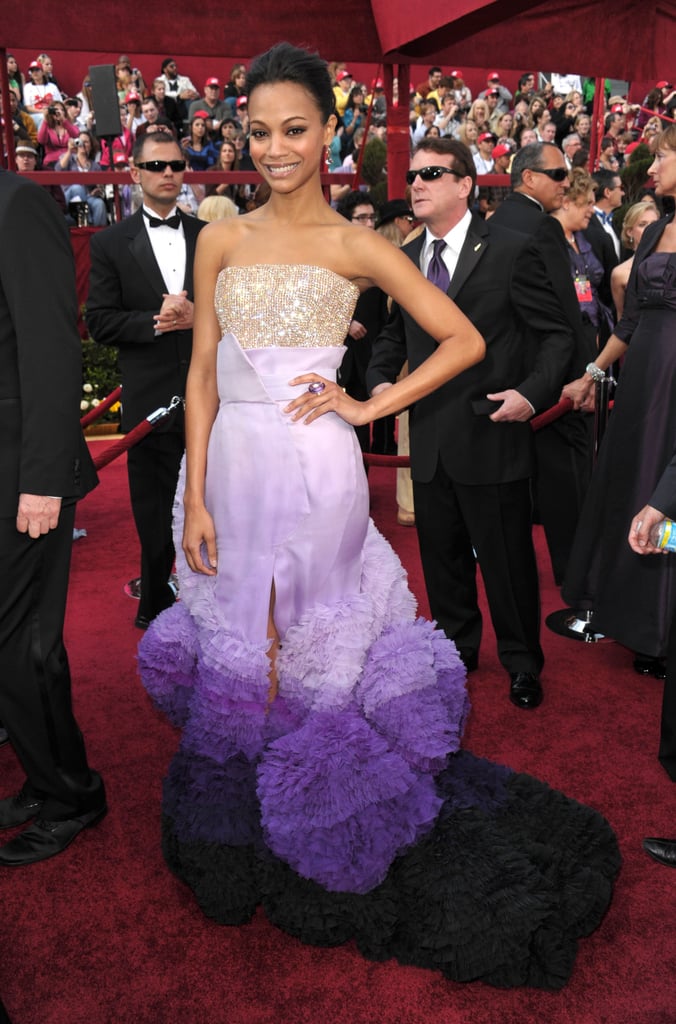 Only a fashion-forward star could pull off a high-concept gown like this Givenchy number. Tufted and emblazoned in rhinestones, some might fear making a "worst dressed" list, but bold Zoe Saldana [6] took the risk and won.
Beyoncé at the 2012 Met Gala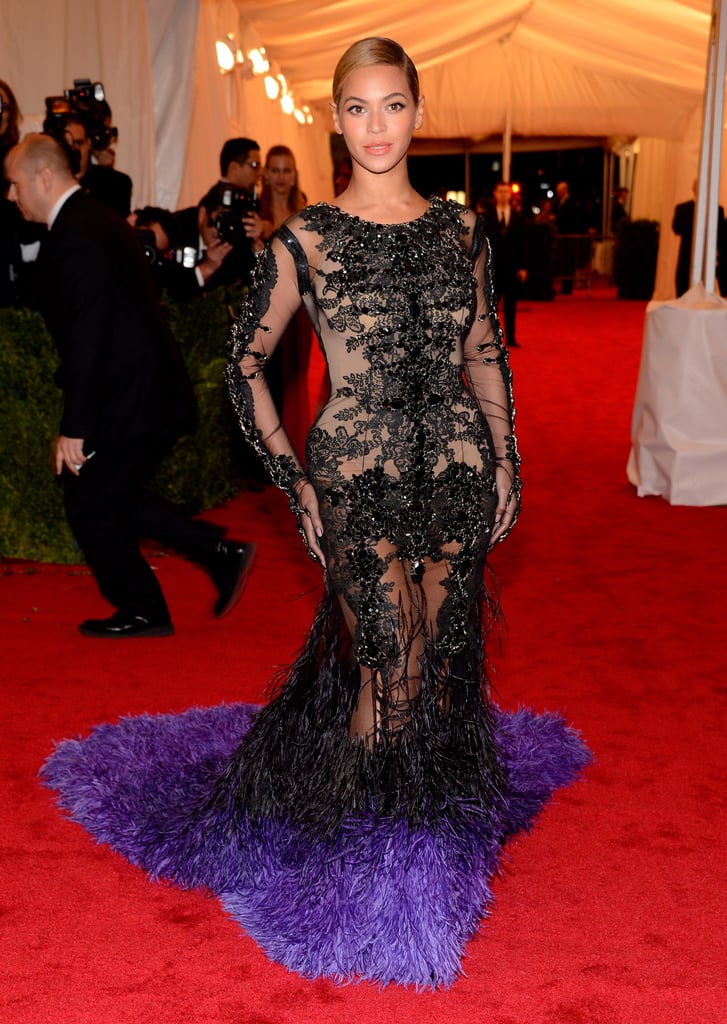 What better way to flaunt your postbaby body than with a sexy, sheer Givenchy gown? Beyoncé did just that when she returned to the red carpet just four months after giving birth to Blue Ivy.
Kim Kardashian at the Spring 2014 Givenchy Runway Show
Speaking of postbaby bodies, Kim Kardashian [7] also chose to flaunt hers in a sheer Tisci design. Never one to be outdone, Kim beat Beyoncé's recovery time when she arrived to Paris Fashion Week just three months after having North West.
Kim Kardashian and Kanye West at Their May 2014 Wedding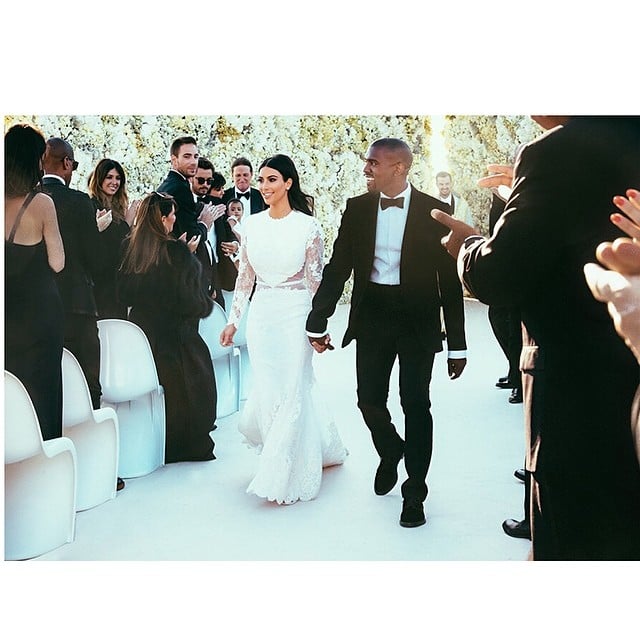 Of course that wasn't the only time Kim Kardashian [8] made a statement in Givenchy — far from it [9]. But no moment could top her wedding [10] day when she said "I do" in a custom Givenchy gown.
Source: Instagram user kimkardashian [11]
Lily Collins at the Spring 2014 Givenchy Runway Show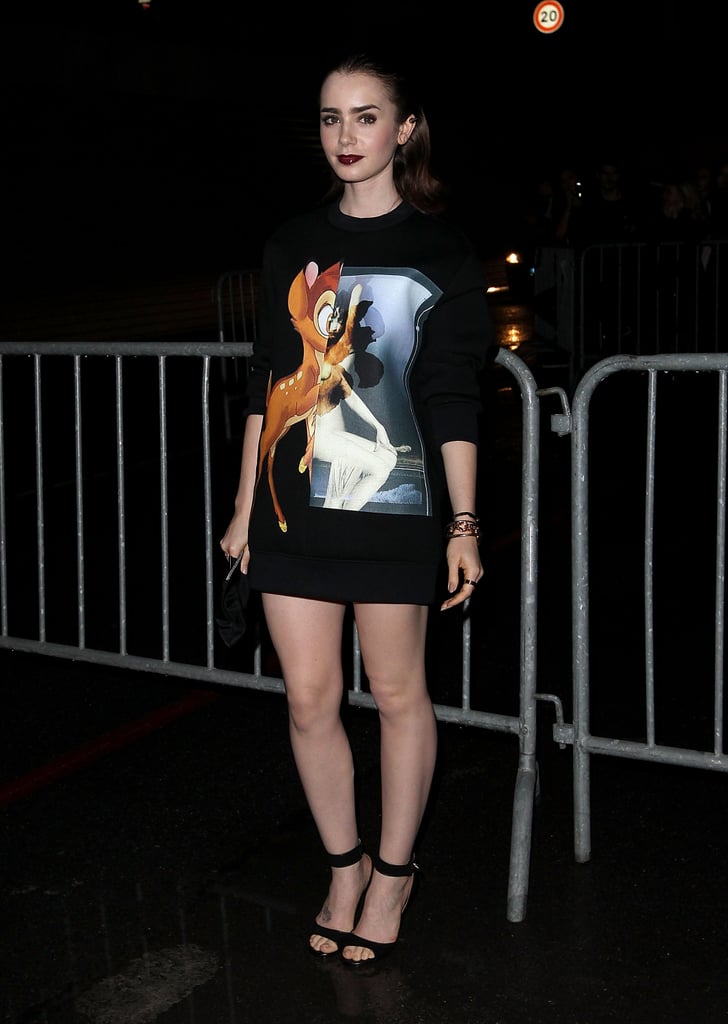 Only Tisci could make Disney look so cool as he did when he created last Fall's street-style staple: the Bambi sweatshirt.
Kanye West at the Fall 2012 Givenchy Runway Show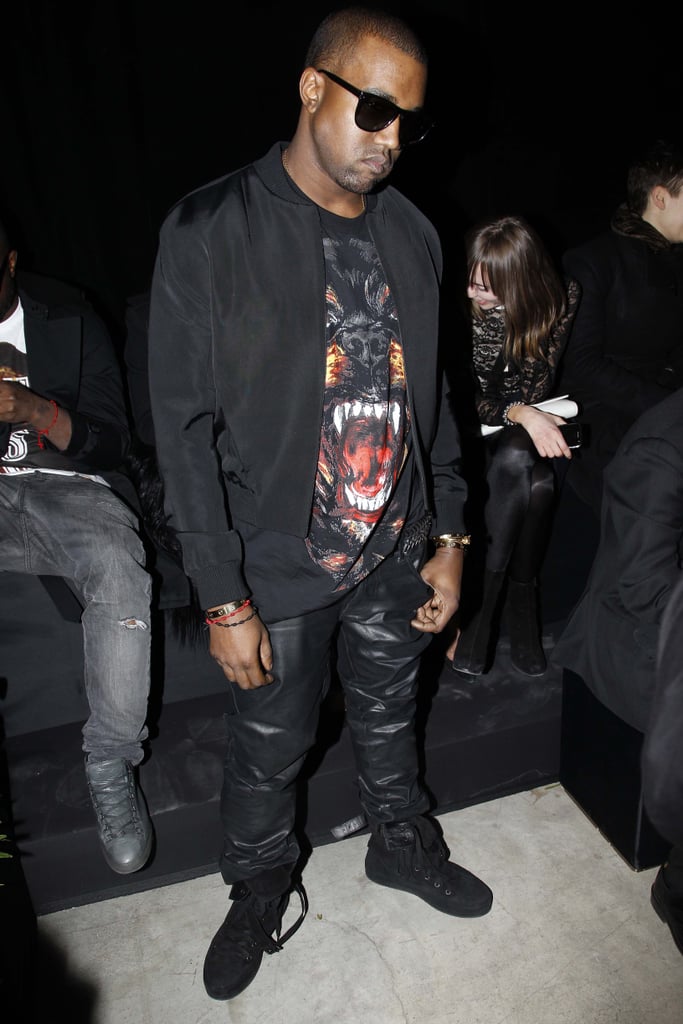 But before there was Bambi, there was the Rottweiler.
Natalie Portman at the 2008 amfAR Cinema Against AIDS Gala
Not all Tisci designs are edgy. Case in point: Natalie Portman [12]'s sculptural white cocktail dress that she wore to the Cannes film festival. It's fitting that even a more ladylike star like Portman could find a way to wear Givenchy, as she's often been compared to the label's most iconic client, Audrey Hepburn.
Christina Ricci at the 2008 Met Gala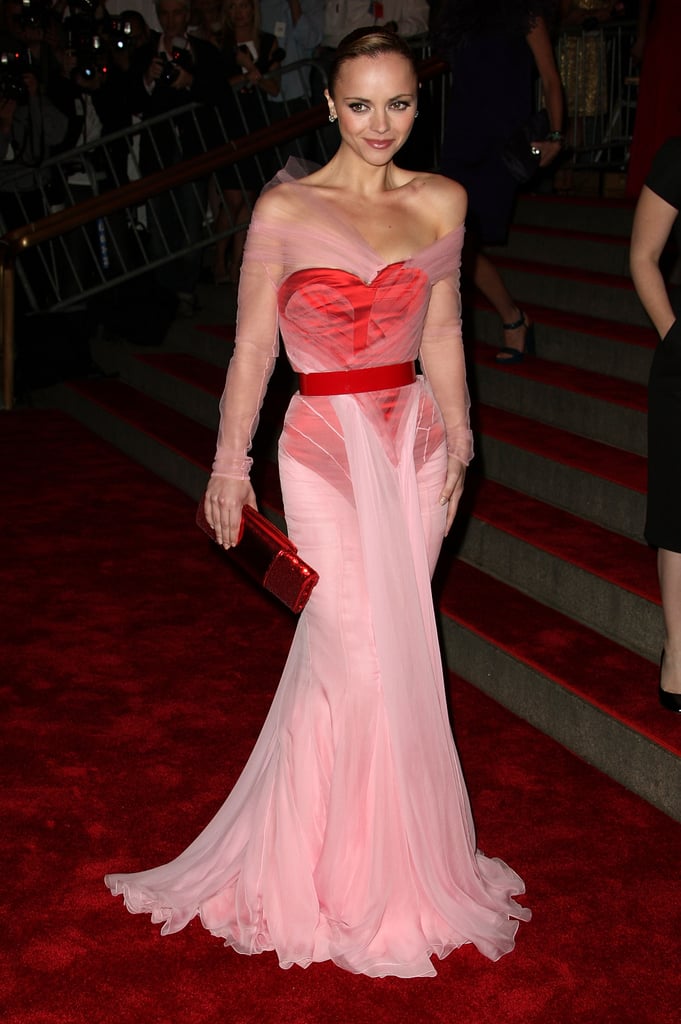 Drama is what Tisci does best, and stars like Christina Ricci [13] do him proud time after time in his intricate red carpet designs.
Madonna at the 2012 Super Bowl Halftime Show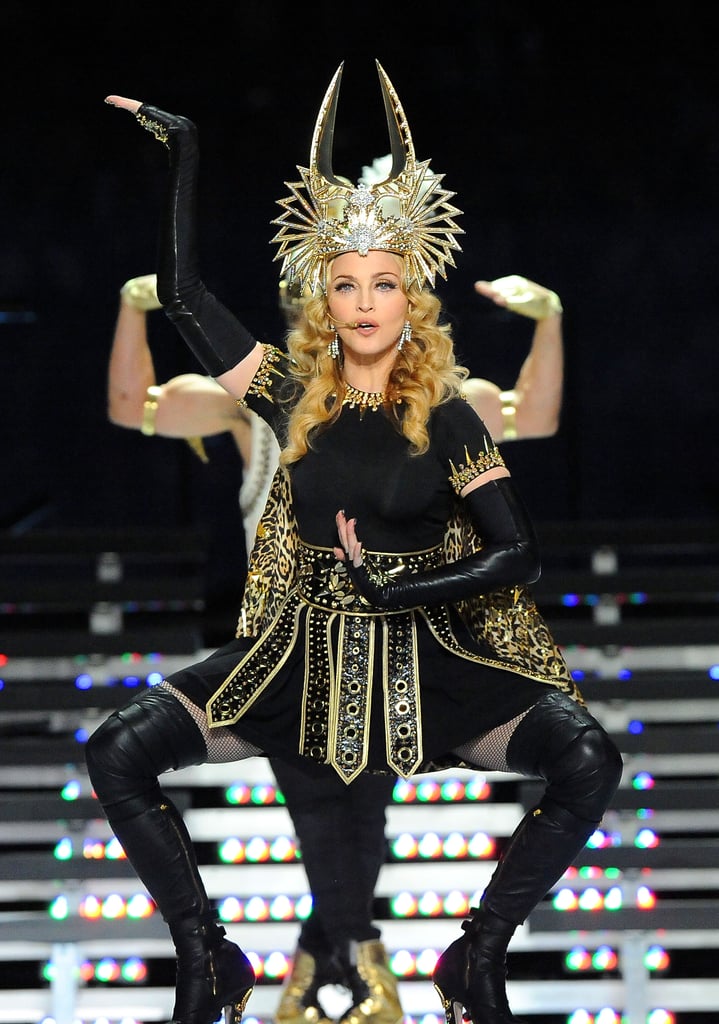 And when it comes to drama, nobody does it better than Madonna [14]. Though she's had personal relationships with many designers over the years, when she needed a costume bold enough to captivate a crowd of millions (114 million, to be exact), she turned to Tisci. And it doesn't get bolder than custom haute couture gladiator gear.
Florence Welch at the 2013 Grammy Awards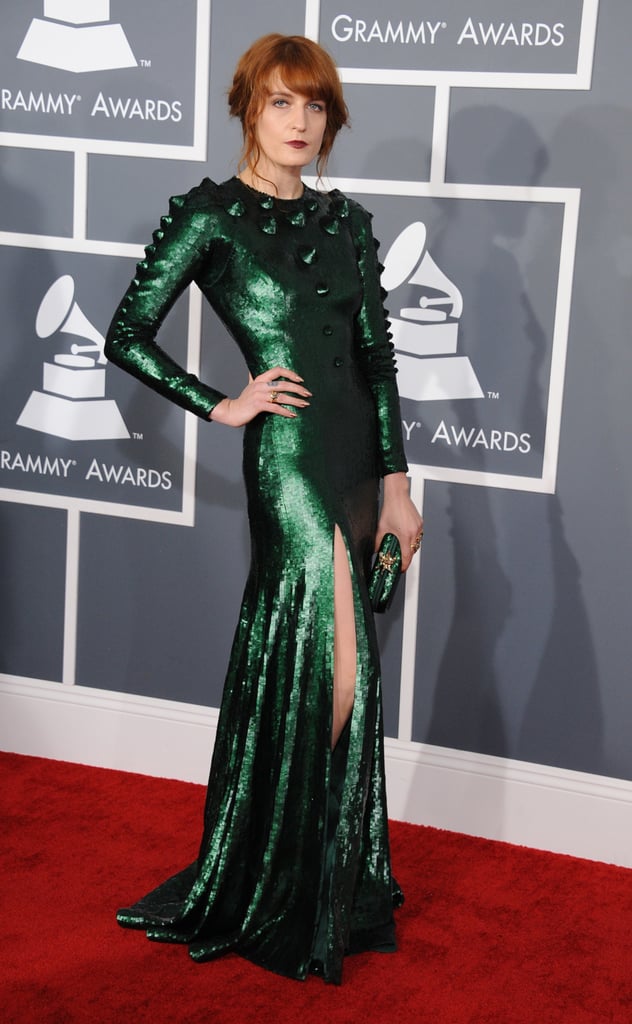 Though she didn't wear a headdress, Florence Welch was armed just as well in Givenchy's spiked, reptilian-green gown at the Grammys.
Rooney Mara at the London Premiere of The Girl With the Dragon Tattoo
Did somebody say reptiles? The Girl With the Dragon Tattoo became a Tisci muse when the film's star arrived for several stops on the film's tour in the label's edgier fare. And even though our first glimpse at Rooney Mara's red carpet style was a white gown, it was clear that this duo had gone to the dark side.
Cate Blanchett at the 2011 Academy Awards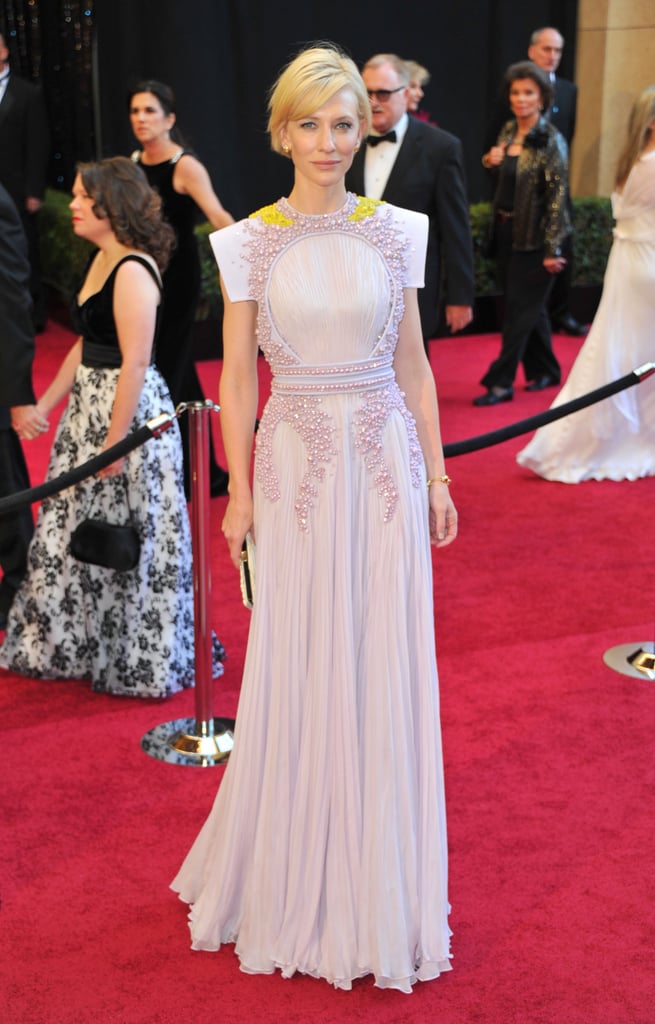 The perfect dress for the perfect star! Statuesque Cate Blanchett [15] made red carpet magic in her unique lavender Givenchy design at the 2011 Oscars.