Style Saint Allison Beal Interview
Want to Know About Our New Under $100 Online Go-To?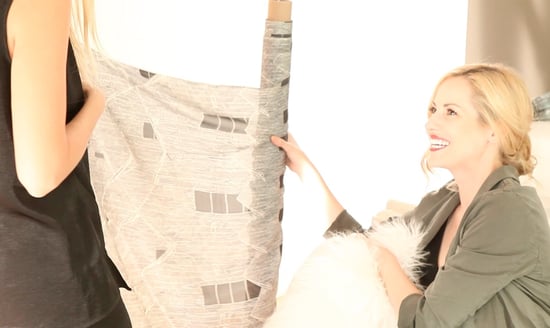 On-trend clothing that will last past the season and doesn't cost an arm and a leg? And is made in the USA? Sounds like a lot to ask for (especially the part where it's almost all under $150), but that's exactly what StyleSaint is doing. Standout pieces include a perfect silk camisole ($42), a little lace mini ($74), and a cool girl army jacket ($98). We chatted with überstylish founder Allison Beal about why she decided to go into direct to consumer ecommerce and that elusive LA style.
POPSUGAR: What inspired you to start StyleSaint?
Allison Beal: Over the course of 10+ years working at traditional fashion companies, I kept a list of items that would comprise the perfect brand. That list took the best parts of the fashion industry — high-quality, luxe textiles that make you feel gorgeous, handcrafted artisanship, impeccable design, dressing women for their daily lives, and living up to the challenge of being deserving of every day wear. However, it also removed the worst parts — the lack of quality control in manufacturing, the exceptionally long lead time of designing around buying seasons, and, most of all, the huge retail prices that are needed to deliver the type of clothing described above.
That was the inspiration behind StyleSaint — how can we disrupt the way this industry has been run for hundreds of years in an effort to build an entirely new kind of fashion, one that's born online, empowered by technology, and built with real women in mind?
PS: What is the key tenet of the line?
AB: I believe in nondisposable fashion; in high-quality, versatile essentials that can remain at the core of your closet forever. I aim to dress the everyday woman whose life is filled with everyday extraordinary moments, and I see a huge need for quality, easy-to-wear pieces that take you from day to night looking put together yet still perfectly undone.
PS: What does it mean to you to produce locally?
AB: Producing locally creates a direct connection between me and the production team. This ensures an ethical work environment, supports our economy by creating jobs, and reduces the carbon footprint of transporting those goods all the way across the world. Production is typically spread across multiple continents and passes through many hands, and the farther it's spread the less control and insight you have into the quality. By producing locally we have daily insight into the garments with an incredible control over quality — the fewer hands and distance involved in the creation of a product, the less diluted it becomes from concept to execution.

PS: How do you work with the feedback from customers? Do you actively incorporate it into your designs?
AB: One of my favorite elements of technology is how it enables a direct connection between people. Technology is what empowers us to be a truly responsive design house. A perfect example of this concerns the very first dress we created, the Saint Augustine. We received feedback from customers that the dress fit perfectly everywhere except that the straps and hem were too long. After talking to each customer and seeing that even the taller girls had the same feedback, I immediately took action. I grabbed all of the current Augustine dresses ($158, above) in inventory and headed to our production facility. Within 48 hours, all of the straps were raised 3/4" and the hem was shortened 2", fitting customers perfectly. This could never happen without our direct connection to our customers and our close proximity to production, which allows us to rapidly respond to customer feedback.
PS: How would you define LA style? Do you think the line fits within that?
AB: I think LA has a laid-back elegance that's very on-brand with StyleSaint. Since our city is so spread out, it's almost imperative to get dressed in the morning for the entire day — you need to be able to go to work, run errands, take a coffee meeting, head to dinner, and then meet your friends for a drink. Since it takes an hour to get anywhere in this city, there is no way you're going home in between all of that. The StyleSaint day-to-night look, with the change of lipstick color and the heels you keep in your trunk, is very suiting to Los Angeles.