Style.com Will Have a Competitor in Vogue.com, But It's Not Going Away
Style.com Will Have a Competitor in Vogue.com, But It's Not Going Away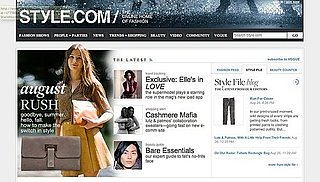 >> Instead of shuttering Style.com, as many speculated would happen after Vogue.com's big relaunch — which comes right after Labor Day — Drew Schutte, SVP and chief revenue officer for Conde Nast Digital, is ready for the two to take over the web together: "In my mind, why not have two of the leading brands in the online space? There's lots of competition coming up, so instead of letting someone else become the number-two competitor, I'd like to make one ourselves and have the number one and two in the space."
Style.com was once the online home of both W and Vogue, but all three are now entirely separate — no pooling of resources. Style.com will send its own reviewers (Tim Blanks, Nicole Phelps, Meenal Mistry) to the upcoming fashion shows, as will Vogue.com (Jessica Kerwin, former Style contributor Sarah Mower, as well as Vogue senior staffers Mark Holgate, Hamish Bowles, and others).
There's good reason to keep Style around »
While Vogue.com will debut with five exclusive advertisers, all signed through the end of the year, Style.com has ten years worth of web traffic already built up: it currently averages two million unique visitors — which spend an average of thirteen minutes each on the site — a month. Last show season in February, Style's traffic spiked up to 169.7 million pageviews. And Schutte noted that Style.com has the highest visitor return rate of any of the 26 Conde Nast web sites.
Besides, Schutte adds, the two don't completely overlap in subject matter: "In broad strokes, Vogue sees the world — including politics, Hollywood, culture, the home — through the lens of fashion and it's kind of the final word, if you will. And Style is fashion, fashion, fashion — that's all it is. I think they'll complement each other."
Style.com is celebrating its 10th anniversary during New York Fashion Week with a party, an iPad app, and $45 limited edition T-shirts (with graphics by fashion houses like Lanvin, Calvin Klein, and Prada), which will be sold from a branded Airstream trailer on Sept. 15. They'll be available on the website the following day.