Grab your sis, hold her tight, and maybe even take her out to brunch — it's National Sisters Day! We're celebrating the sweet holiday by paying homage to some of our favorite style-setting sisters. Nothing can compare to the unbreakable bond of having one, and whether they're models, actresses, designers, or even royalty [1], we're willing to bet that these famous family members don't let anything come between them — especially style. Click through now to see all the sets of our favorite fashionable sisters.
— Additional reporting by Randy Miller
Poppy and Cara Delevingne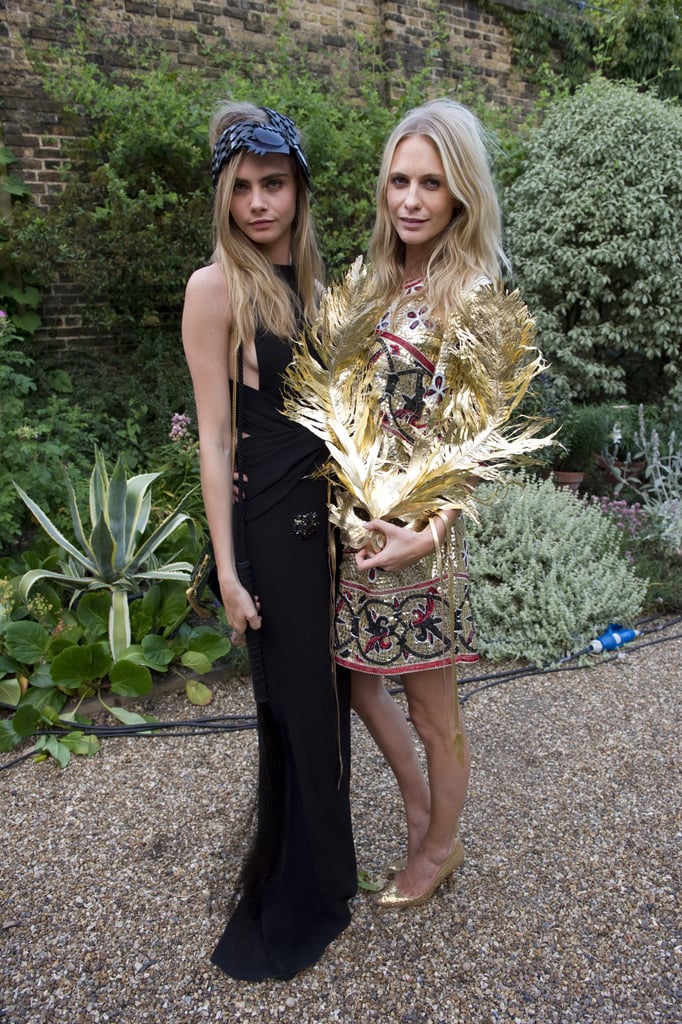 Who they are: The Delevingne girls are model citizens in every sense of the word. Poppy has posed for Marc Jacobs and Louis Vuitton and has served as a young ambassador for the British Fashion Council as well as a Chanel brand ambassador. Cara has walked for just about every major designer and in addition to modeling, she's also working on a budding acting career.
Both Cara and Poppy are London Fashion Week fixtures and are always dressed to perfection in brands like Burberry, Mary Katrantzou, Givenchy, and Matthew Williamson. We love their offbeat, bohemian brand of signature cool.
Cara Delevingne, Poppy Delevingne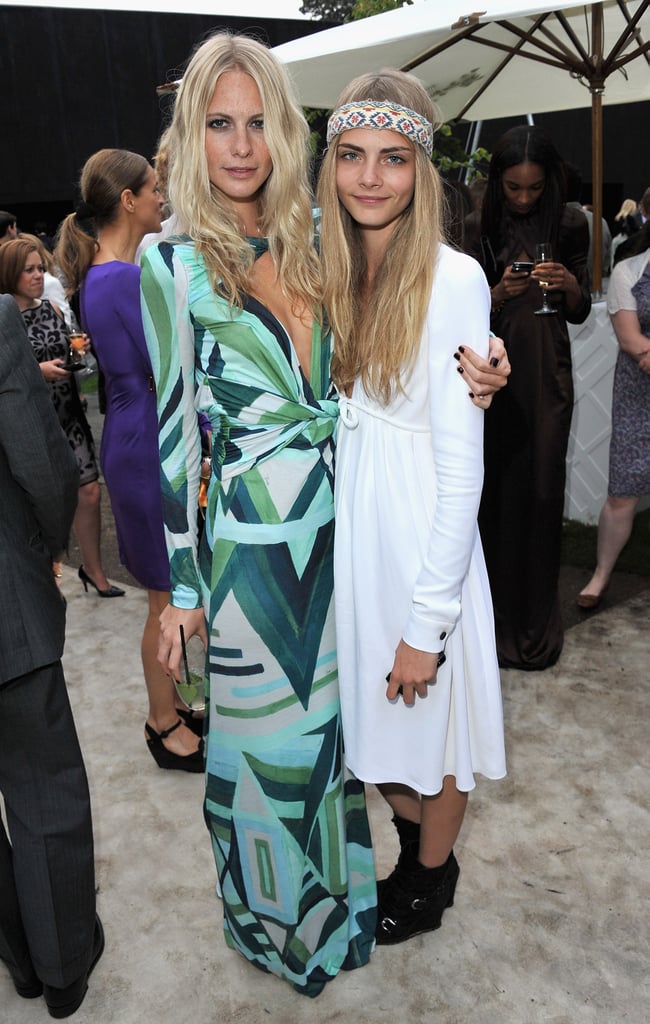 Poppy and Cara looked irresistibly boho chic at the Serpentine Gallery Summer Party in June 2011.
Mary-Kate, Ashley, and Elizabeth Olsen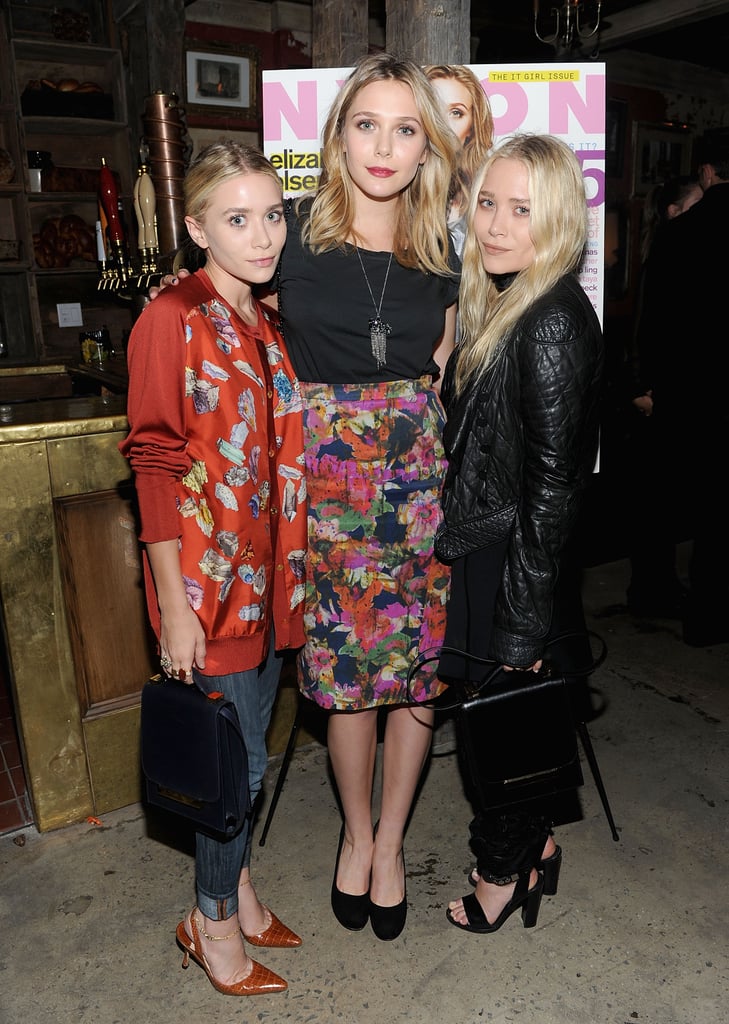 Who they are: Mary-Kate and Ashley Olsen [2] are the pint-size actresses who got their start as infants on Full House and became two of the wealthiest women in entertainment. They are now esteemed womenswear designers for The Row, Elizabeth and James, TEXTILE, and StyleMint.
Elizabeth Olsen is an actress and style setter, best known for her roles in Martha Marcy May Marlene and Silent House. She often wears pieces from her older sisters' collections on the red carpet and has said that they tell her "to always feel comfortable [3]."
Mary-Kate, Ashley, and Elizabeth Olsen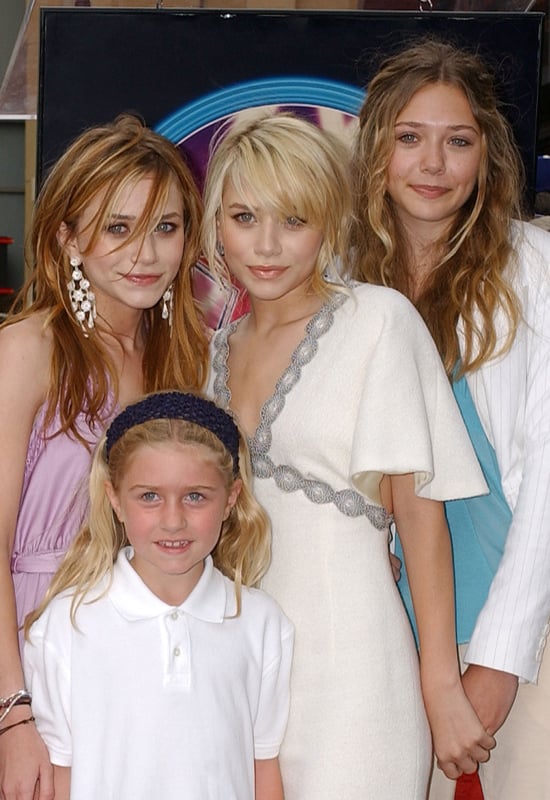 When Mary-Kate Olsen [4] and Ashley were honored with a star on the Hollywood Walk of Fame in 2004, little sister Elizabeth was there to cheer them on.
Laura and Kate Mulleavy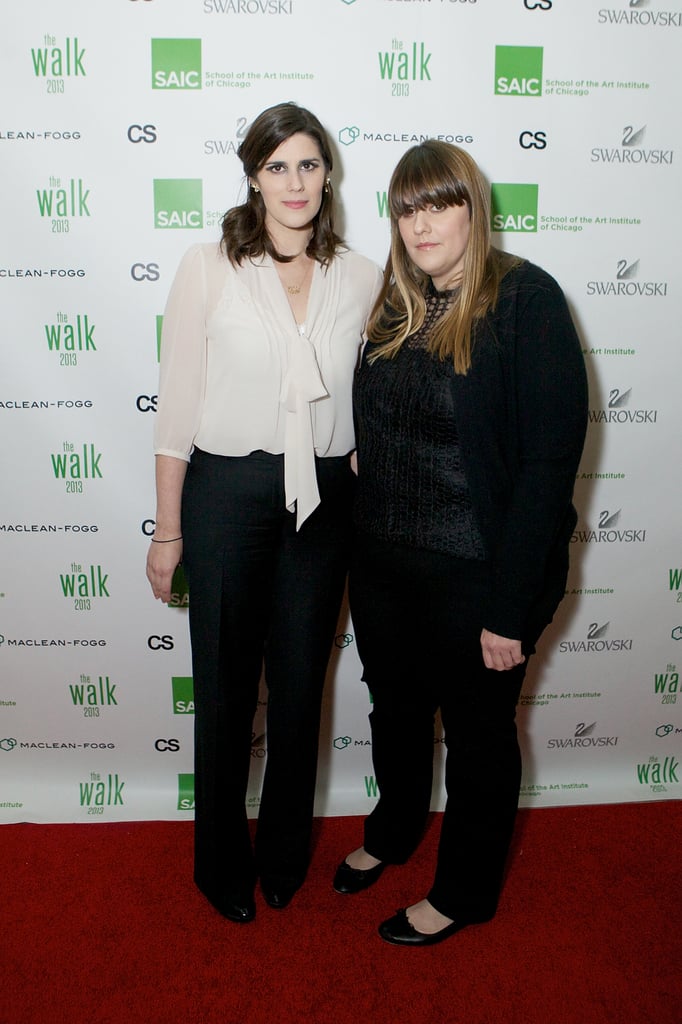 Who they are: The soft-spoken sisters behind Rodarte have been labeled [5] everything from "shy [and] awkward," to "geeks." Their clothing is anything but!
Rejecting the idea of commercialization, these California-bred CFDA/Vogue Fashion Fund runners up have said, "In the beginning, we didn't quite understand that our path was different . . . Slowly and naturally, it became apparent that our vision was not only different but also was becoming more so as each season passes."
Laura and Kate Mulleavy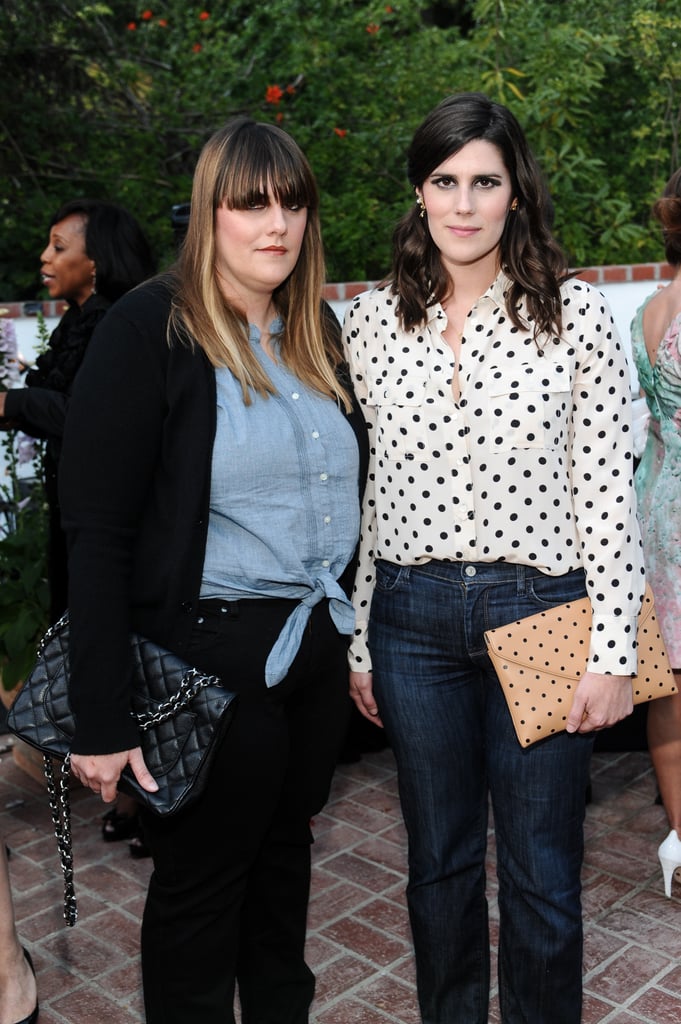 The duo celebrated the Los Angeles Dance Project at the 2013 benefit gala.
Penélope and Mónica Cruz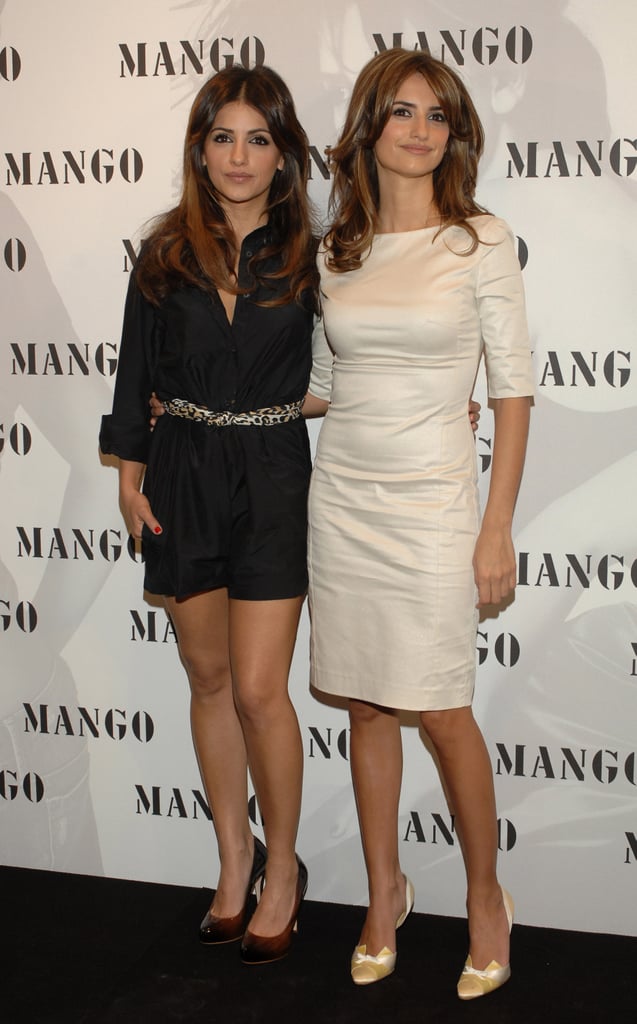 Who they are: Penélope is one of the biggest A-list actresses in the world and has starred in films like Volver, Blow, and Vanilla Sky. Mónica is also a Spanish actress and dancer and even stood in as a body double for her pregnant sister during filming for Pirates of the Caribbean: On Stranger Tides in 2010.
The Spanish beauties have designed and served as the faces of Mango. Penélope has spoken about their closeness many times in interviews and has gone so far as to say [6] that her sister is "much, much more beautiful [than me], and so very talented."
Penélope and Mónica Cruz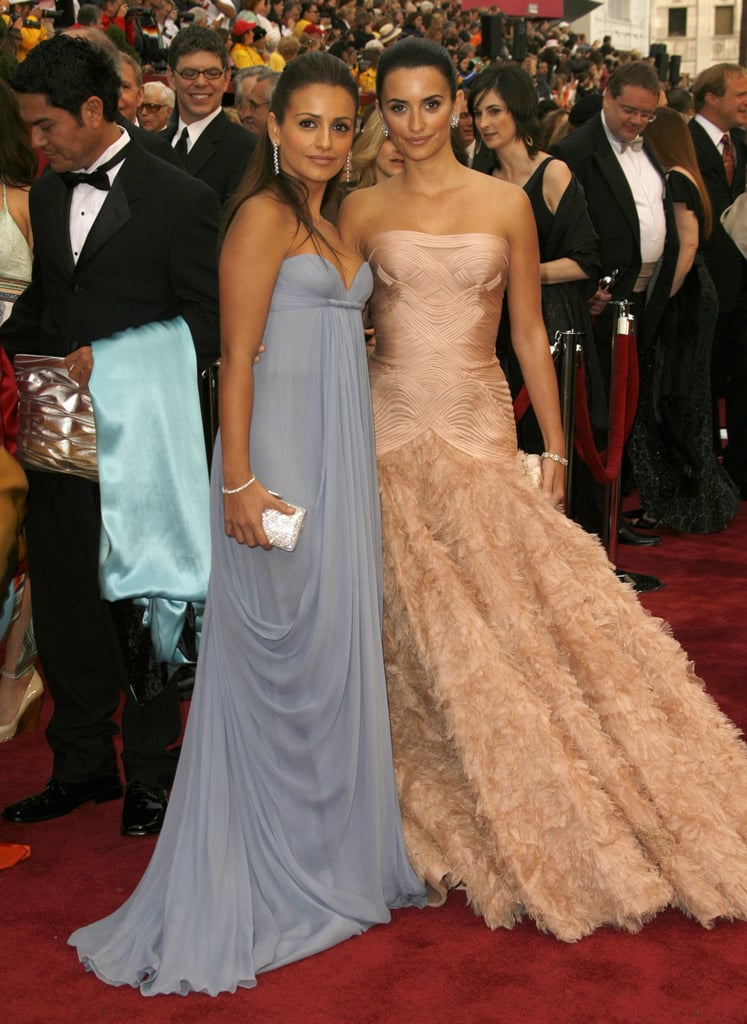 Penélope took Mónica as her date to the Oscars in 2007.
Rashida and Kidada Jones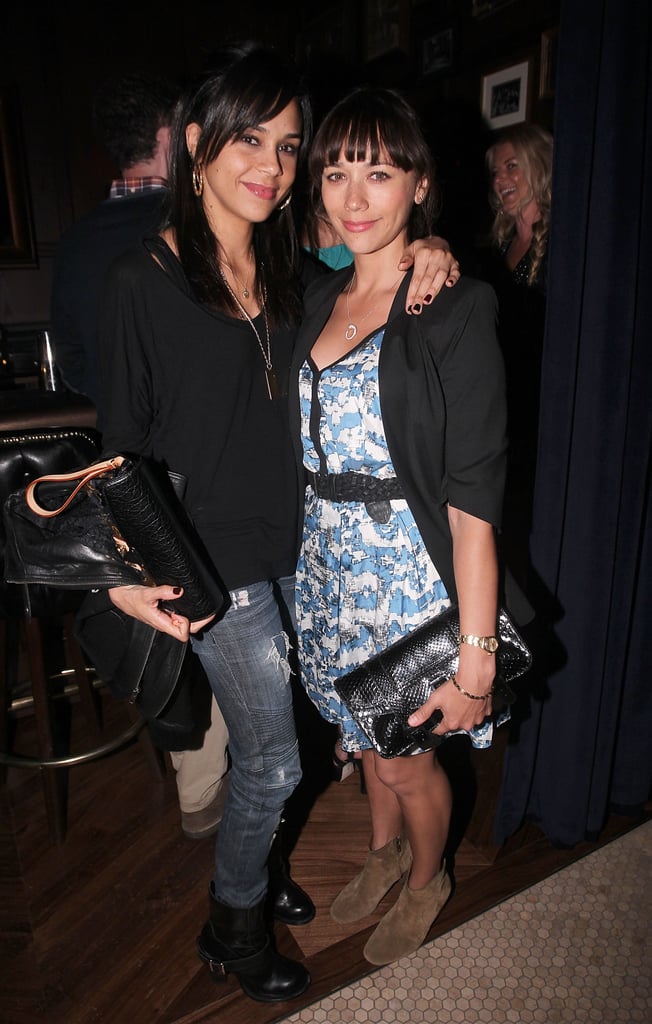 Who they are: Being the offspring of '70s TV star Peggy Lipton and musical genius Quincy Jones obviously comes with its advantages; aside from being super talented, Rashida and Kidada are gorgeous and stylish, too. Rashida is a TV and movie actress with starring roles in Parks and Recreation and Celeste and Jesse Forever. Her big sister Kidada is also an actress, as well as a fashion designer and stylist.
Kidada gained fame for her styling prowess and eventually became a muse for Tommy Hilfiger. She also cobranded her own line of jewelry for Disney. Rashida's red-carpet style has evolved from cool and casual to contemporary and chic. She is often seen wearing designers like Altuzarra, Thakoon, Tory Burch, and Marni and effortlessly mixes high and low pieces for a look that's all her own.
Rashida and Kidada Jones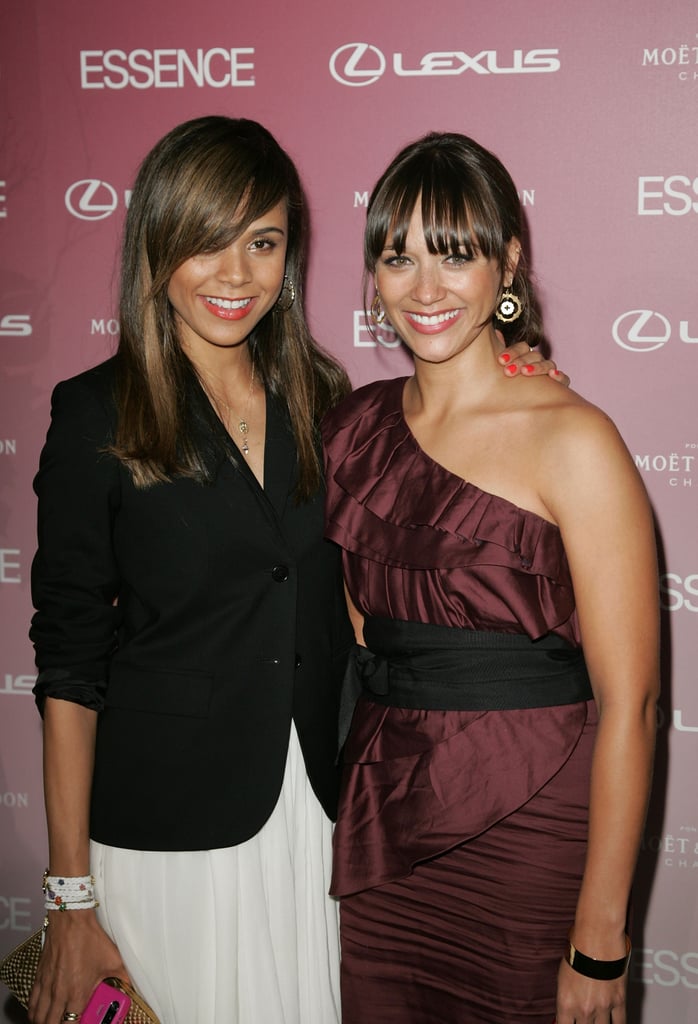 Kidada and Rashida stuck close on the red carpet at the Essence Black Women in Hollywood luncheon in 2008.
Jenna, Virginie, Claire, and Prisca Courtin-Clarins
Who they are: The definition of fashion royalty, the Courtin-Clarins sisters (from left: Claire, Prisca, Jenna, and Virginie) are the granddaughters of Jacques Courtin-Clarins, who founded the Clarins skin care company. They also own the Thierry Mugler brand.
Sisters Claire and Virginie have model-like looks, mile-long legs, and eyes you could swim in. Their cousins, twins Prisca and Jenna, are the daughters of the managing director of the company and are equally gorgeous. They can be seen hoofing it from show to show during New York Fashion Week and are collective fans of designers like Proenza Schouler, Alexander Wang, Thakoon, and Rodarte.
Jenna, Virginie, Claire, and Prisca Courtin-Clarins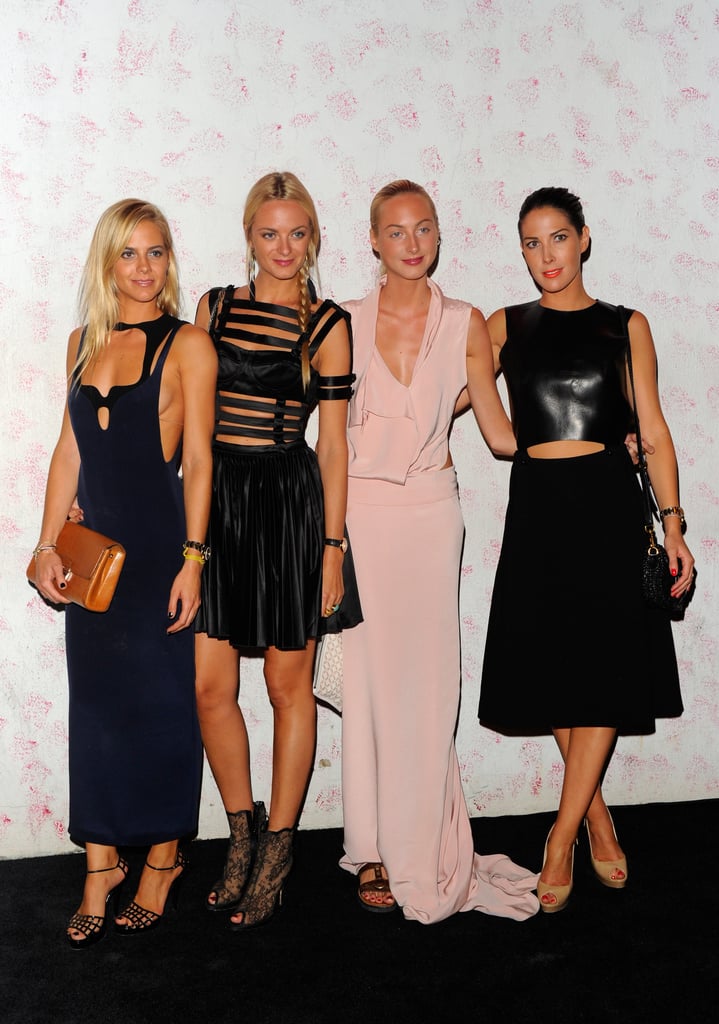 The ladies went sexy and sleek for Barneys's Carine Roitfeld event.
Kate and Pippa Middleton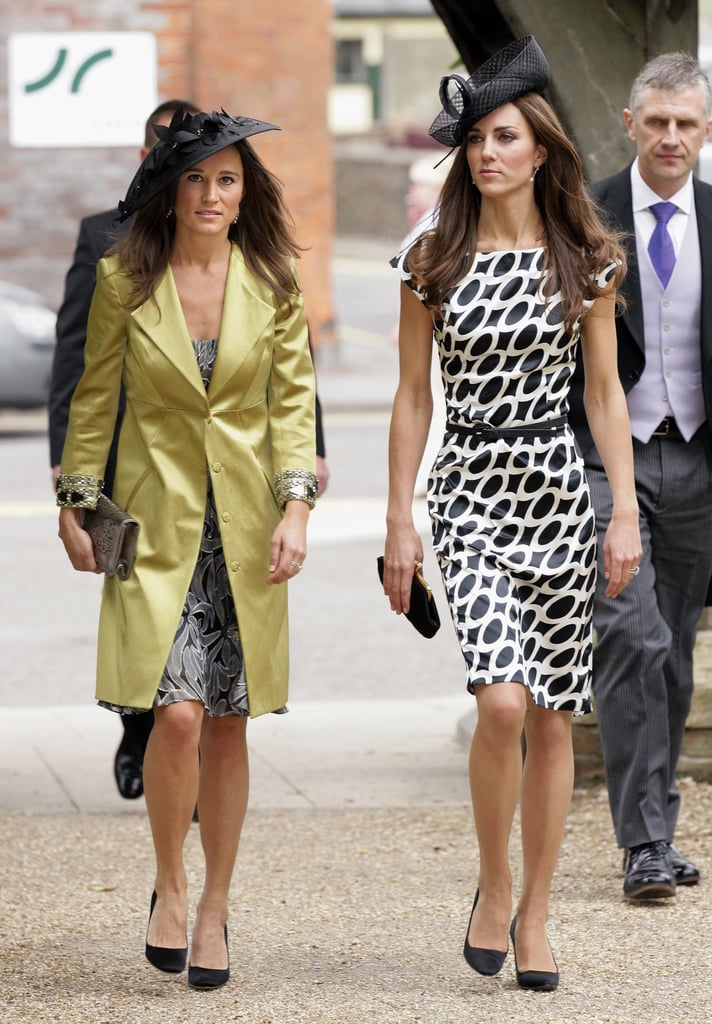 Who they are: Do we even have to explain? Kate is the very stylish Duchess of Cambridge, and her younger sister, Pippa, gained worldwide notoriety as quite possibly the hottest maid of honor in history.
Pippa's style is infinitely more laid-back than Kate's (understandable; Kate does have a few more people to impress), but both sisters share a taste for clean lines and impeccable tailoring. For a June 2011 wedding [7] in England, the sisters arrived clad in knee-length sheath dresses with matching black pumps and fascinators.
Kate and Pippa Middleton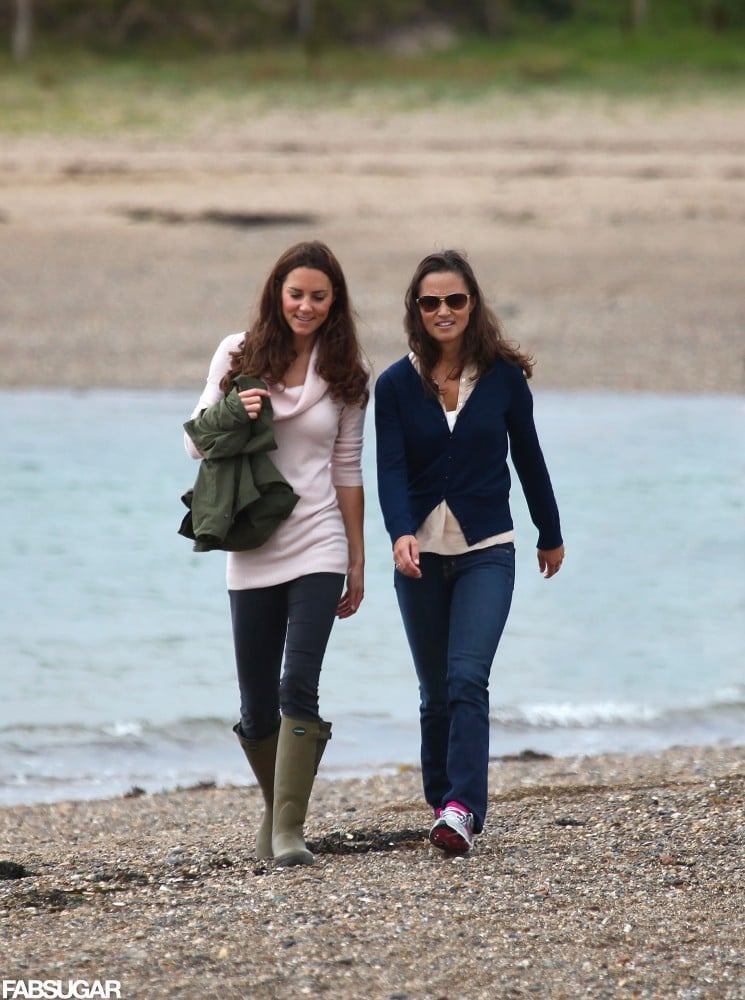 Kate and Pippa enjoyed a walk around Llanddwyn Island together in August 2011.
Beyoncé and Solange Knowles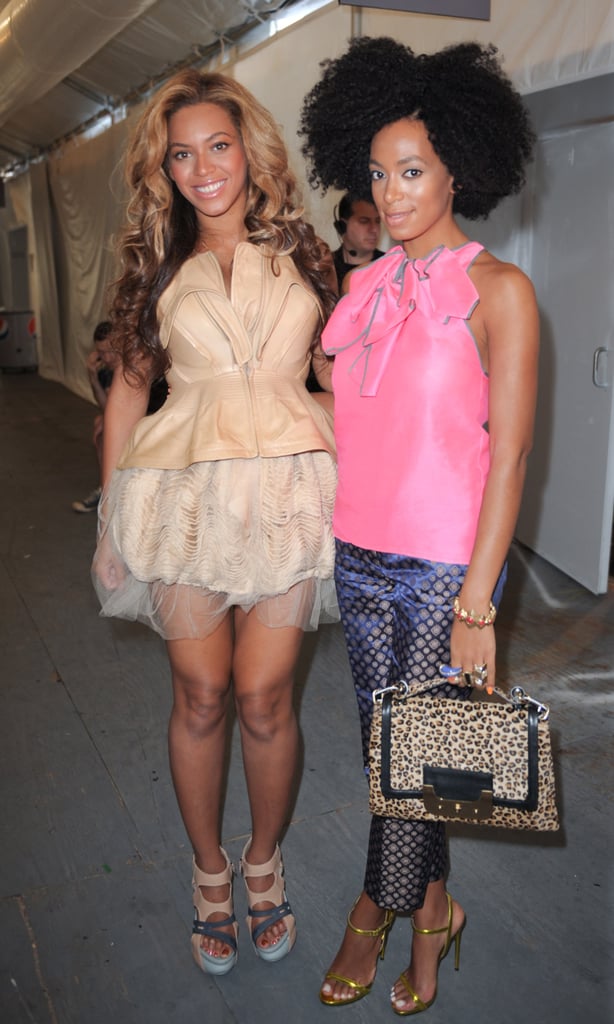 Who they are: Like Kate and Pippa, there's really no point in reminding you who these beauties are, and there's no doubt that this pair is a sartorial source to be reckoned with. Beyoncé and little sister Solange never fail to look amazing, whether on stage, on the red carpet, or sitting courtside at a basketball game.
We've grown fond of both sisters' use of bold color, vibrant prints, and standout accessories like headwraps and oversized earrings. From award shows to everyday life, these two make getting glam look so easy.
Beyoncé and Solange Knowles
Beyoncé came out to support Solange as she DJed for a Haiti relief party in 2010.
Charlotte Gainsbourg and Lou Doillon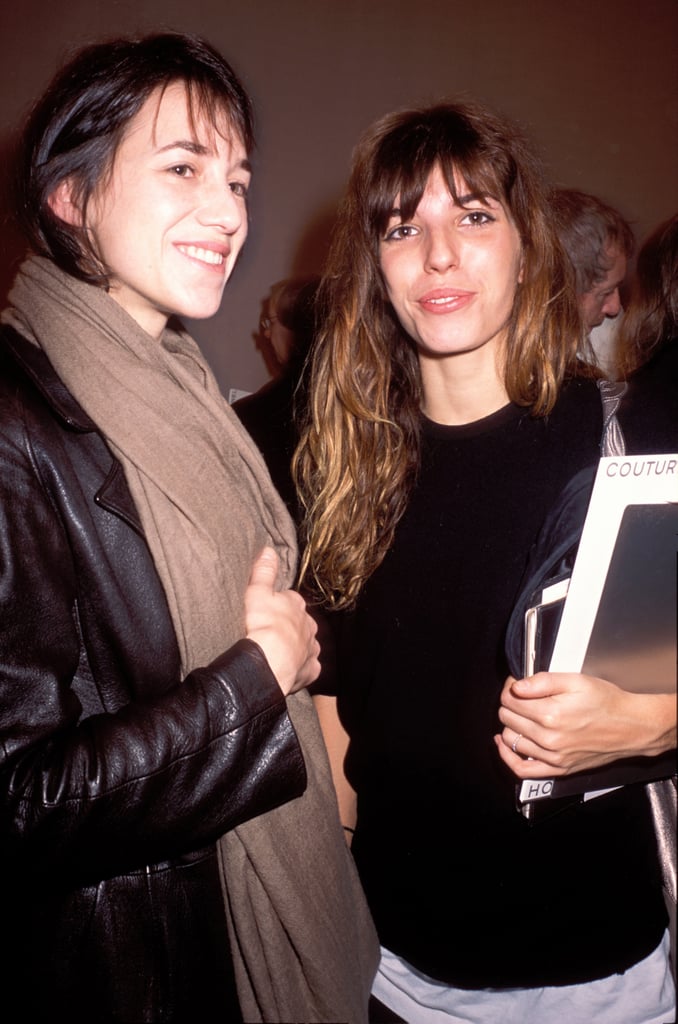 Who they are: If you checked out our profile on French style icons [8], you'll know that these two share remarkably stylish genes: both Charlotte and Lou are the daughters of actress and singer Jane Birkin and are successful in their own right.
Charlotte is an actress and singer, as well as the longtime muse of Balenciaga designer Nicolas Ghesquière. Younger half-sister Lou has posed for Gap and serves as a muse for Givenchy, Burberry, and Vanessa Bruno. She also modeled for the Pirelli calendar in 2007.
Charlotte Gainsbourg and Lou Doillon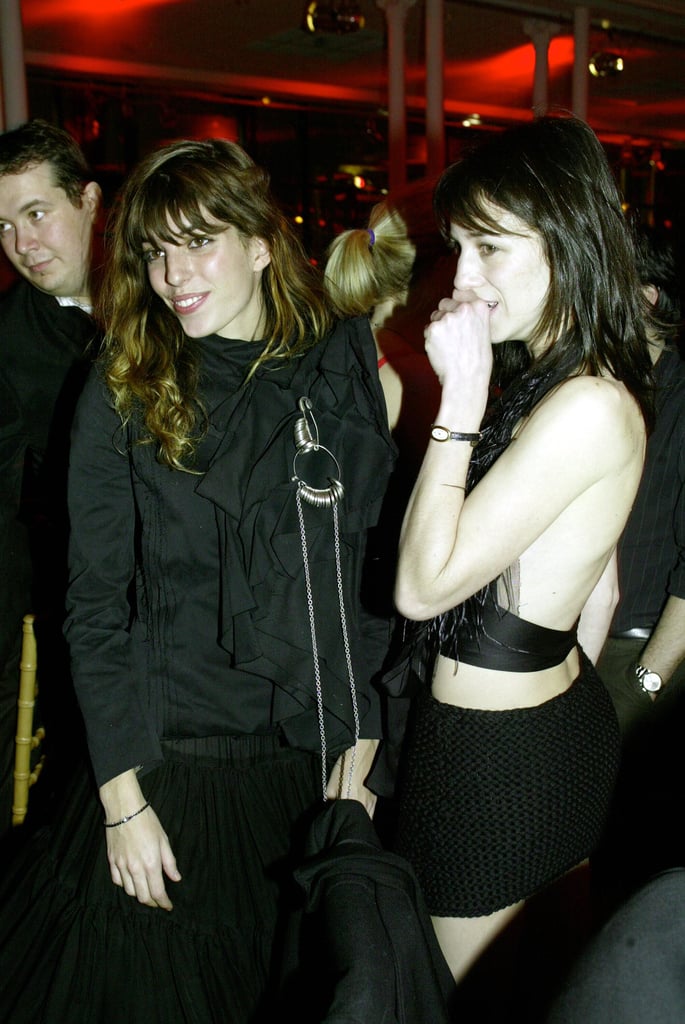 The ever-stylish sisters stuck close while at a Paris gala in 2004.
Dakota and Elle Fanning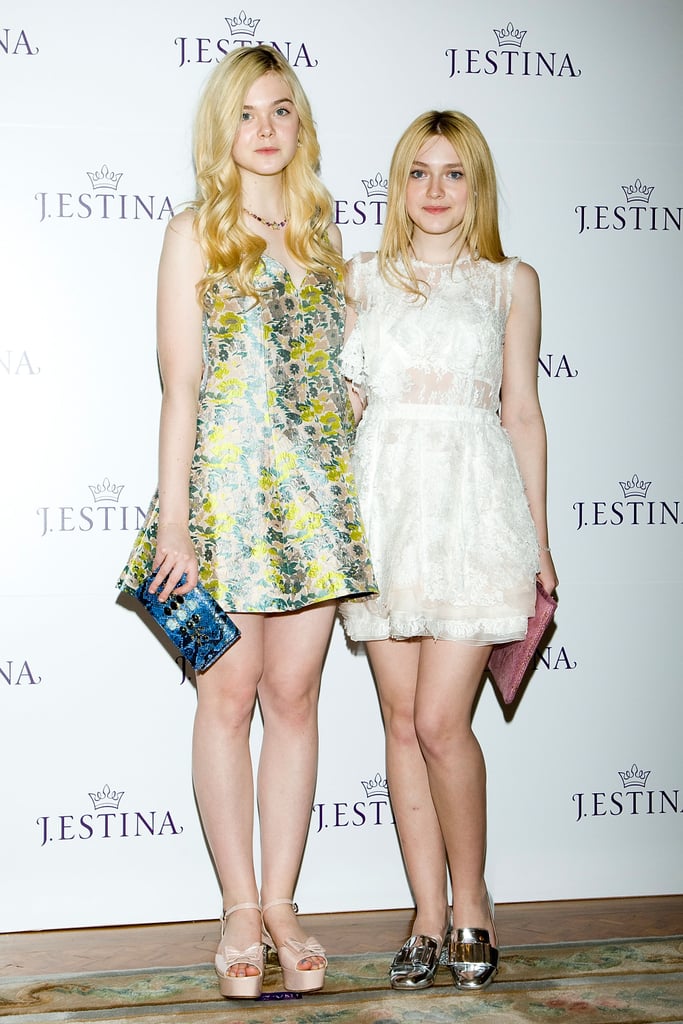 Who they are: These blond beauties have been acting and modeling since they were able to walk. Dakota has starred in over 30 films, including Man on Fire, The Runaways, and the Twilight saga. Elle is hot on her heels.
The Fanning sisters have garnered tons of praise for their high-fashion sensibilities and have become well-known for their sartorial choices. They've worn everything from Marchesa to Rodarte to Marc Jacobs and always look gorgeous and ethereal. It was recently reported that John Galliano creative director Bill Gaytten's ultrafeminine Resort 2013 designs were inspired by the fashionable siblings.
Dakota and Elle Fanning
The front row favorites made an appearance at Rodarte for the Spring 2012 show to support another sister act!
Rooney and Kate Mara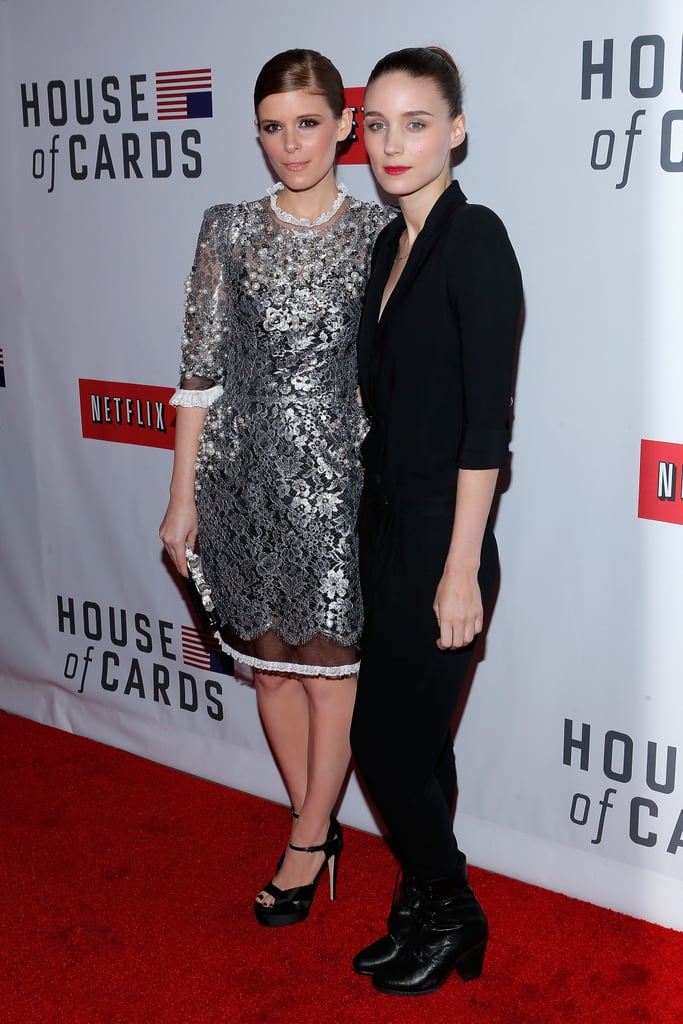 Who they are: Both TV and film actresses, Kate and her younger sister, Rooney, are equal parts incredibly talented and impeccably chic. Kate has been on the small screen in House of Cards and in films like Brokeback Mountain and 127 Hours. Rooney is best known for her roles in The Social Network and as Lisbeth Salander in the big-screen adaptation of The Girl With the Dragon Tattoo.
Rooney's now-infamous transformation from sweet girl-next-door to a tattooed, pierced punk solidified her place in the fashion industry. Calvin Klein designer Francisco Costa was inspired by her look for the brand's Fall 2012 collection, sending models down the runway with dark hair, pale skin, and black sheath dresses. Kate's style, on the other hand, is a bit more lighthearted but still stylish nonetheless. She even told us in early 2012 [9] that she and her little sister share lots of clothes and shoes since they're "relatively the same size."
Rooney and Kate Mara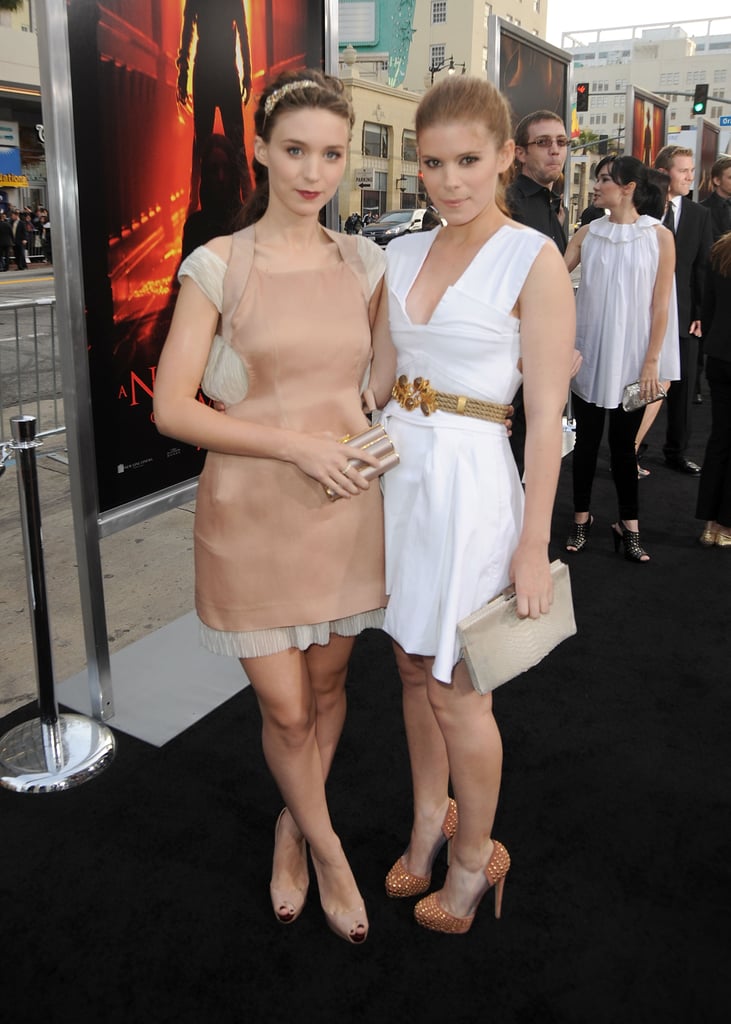 The two looked scary good for the LA premiere of A Nightmare on Elm Street.
Bianca and Coco Brandolini D'Adda
Who they are: Born into a noble Italian family, these two stunning sisters have supermodel looks, are featured regularly in Vogue, and sit front row at Fashion Week — do you hate them yet?
Bianca is a model and socialite. Her fearless style caught the eye of Vogue Paris, who dedicated her "une fille un style" in September 2008. She is the girlfriend of Fiat heir Lapo Elkann. Coco studied at Central St. Martins and is a fashion consultant for Alberta Ferretti and Adam Lippes. Their boho-chic, aristocratic style is a constant source of inspiration.
Bianca and Coco Brandolini D'Adda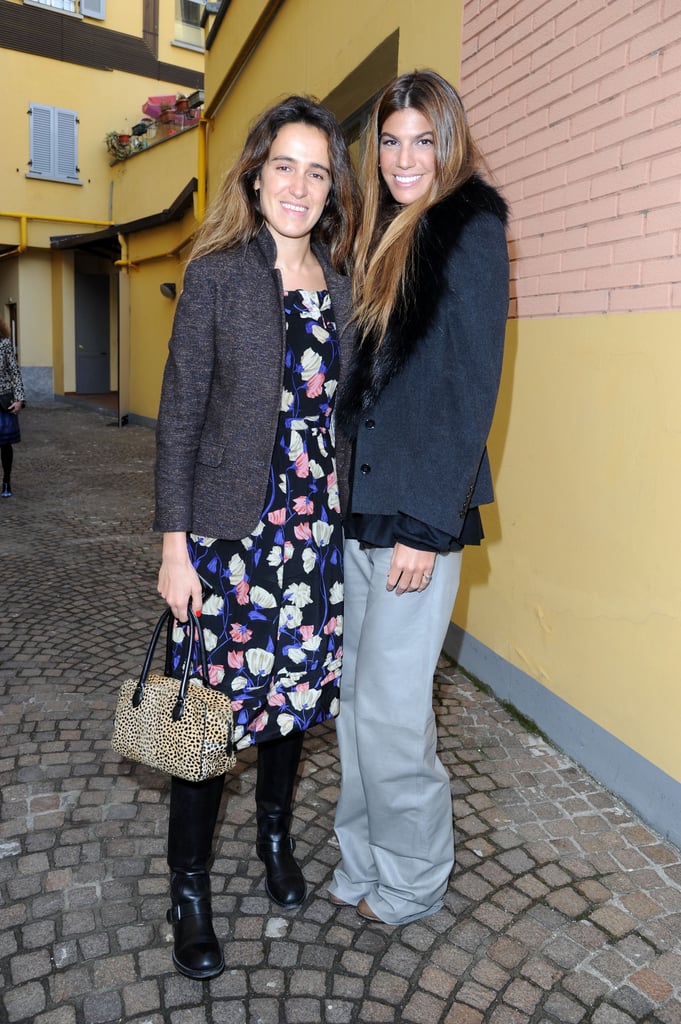 Coco and Bianca posed for photos during Milan Fashion Week in 2012.
Sienna and Savannah Miller
Who they are: Sienna is an actress best known for her roles in Layer Cake and Factory Girl. Savannah is a Central St. Martins graduate and designer. The two joined forces in 2007 to create their line, Twenty8Twelve, but stepped down from the label in 2012.
Sienna counts designers like Matthew Williamson, Christopher Bailey, and Stella McCartney as close friends and is often wearing their designs on the red carpet. She can probably be credited with single-handedly bringing the "boho-chic" aesthetic to the general public. Savannah has previously worked for Alexander McQueen and is currently working on launching her own label, Savannah.
Sienna and Savannah Miller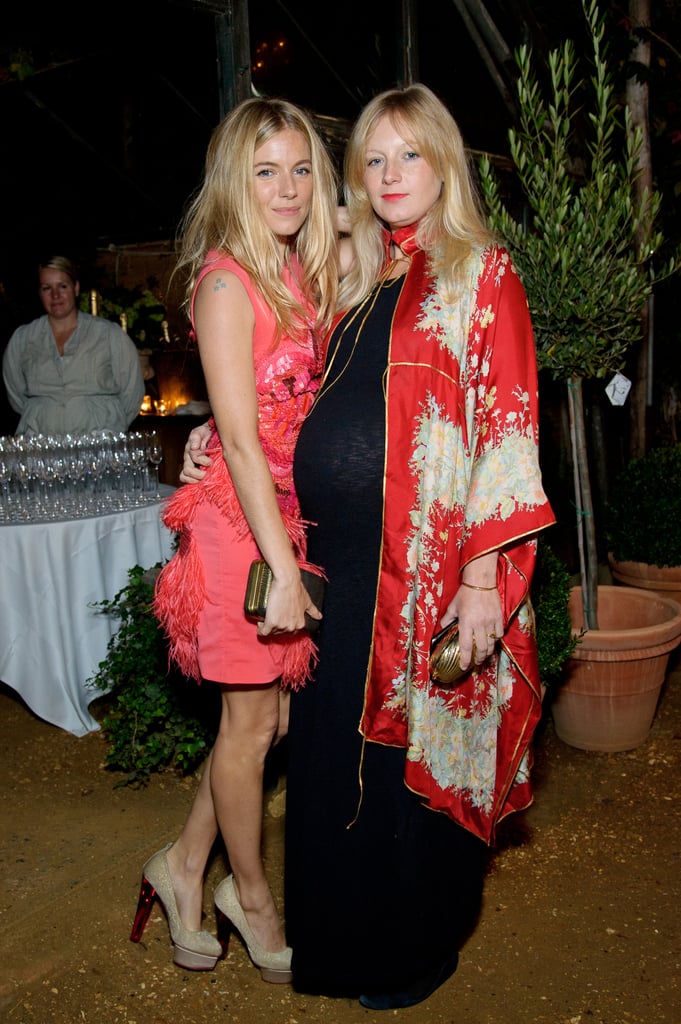 Sienna and a pregnant Savannah attended an event for All Saints in October 2011.
Zooey and Emily Deschanel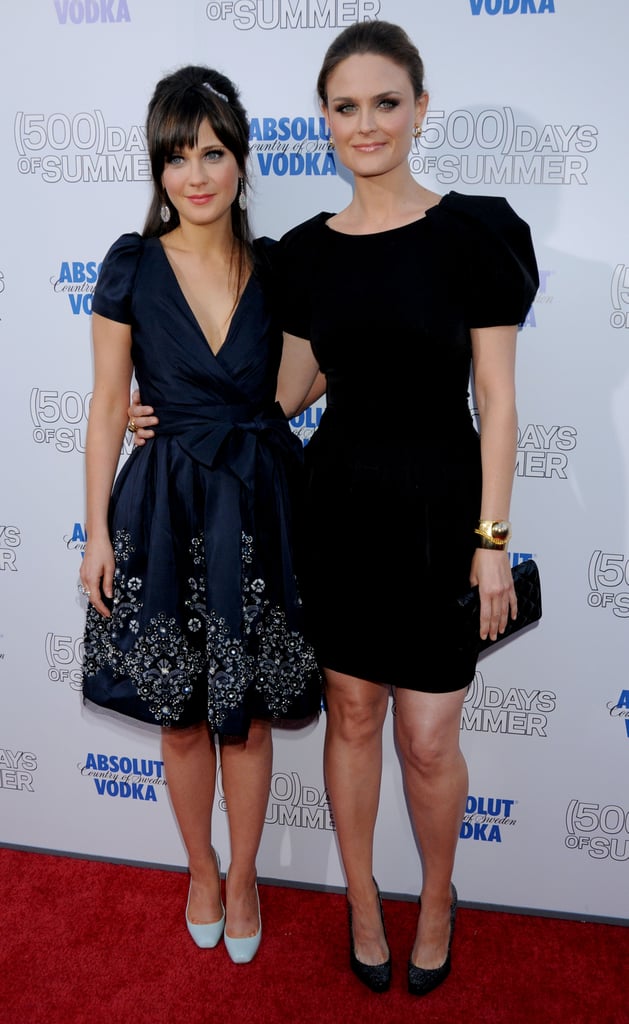 Who they are: Zooey is an actress and singer-songwriter who currently stars on the small screen in New Girl but is best known for her roles in Almost Famous and (500) Days of Summer. She performs with M. Ward in the folk duo She & Him and often sings in her films. Older sister Emily is the star of Bones.
The fair-skinned, raven-haired duo opt for quirky, offbeat designs and often complement each other on the red carpet. Zooey especially stays true to her signature style, sporting tea-length dresses, '60s-chic beehive hairstyles with bangs, and thick eyeliner.
Zooey and Emily Deschanel
Sporting metallics and leopard prints at a press event in 2006.