Summertime Tees, Reinvented!
Aimee Song, author of the popular blog Song of Style, is the newest Piperlime guest editor in partnership with POPSUGAR. She will be sharing her favorite trends, style tips, Piperlime picks, and how-tos right here on POPSUGAR Fashion.
Effortless and as stylish as ever, tees are no longer a basic but now a staple for any Summer wardrobe. I've created three looks based on my favorite Piperlime tees and trends!
Shortcut #1: A Graphic Tee and a Blazer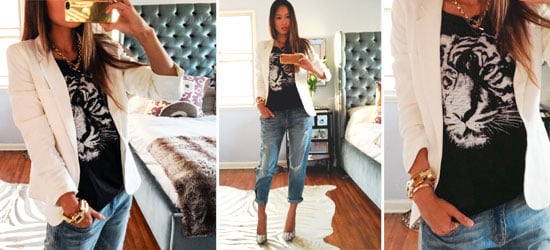 Graphic tees have been huge for the past few seasons and are still some of my favorites. I paired this tiger face tee with my Joie blazer to instantly elevate the look. I kept it casual chic with these Current/Elliott boyfriend jeans and went with chunky gold accessories — a Michael Kors bracelet and Marc by Marc Jacobs necklace. To make it super edgy, I'd style it with leather pants. Reptile-print pumps were the final animal-inspired addition.
Shortcut #2: A White Tee and a Mini
I've always been a sucker for plain white tees. They are so easy to style and go with almost anything in my closet! I like to style this Nation LTD tee with something fancier like a miniskirt from Clover Canyon. To rock during the day, I tuck it in for a feminine, effortless look — especially when paired with flats. Since the skirt is fun and colorful, I brought out the yellow from the skirt with these yellow flats. For chillier days, throw on an oversize military jacket. I love this one from Rhyme with embroidered trimming.
Shortcut #3: A Striped Tee and Florals
Mixing patterns can be difficult to pull off, but I assure you, you can't go wrong by pairing stripes with florals! Floral jeans are such a fun, flirty take on plain, old denim, and black and white striped tees are so universal. Keep the floral subtle in these Free People jeans and you can still achieve the same look. I brought in some color with a floral necklace and topped it off with my favorite Sam Edelman strappy sandals.