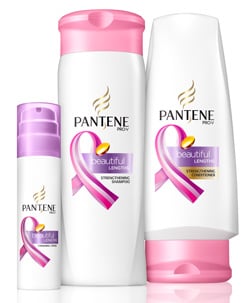 Ever wonder why Rapunzel had it so easy? Sure, she did a little hard time locked up in that tower, but her own locks were the stuff of, well…fairy tales: long, lovely, and ever-flowing, not to mention resilient enough to be climbed like a mountain!
For those of us who inhabit the real world, growing strong, healthy hair—and keeping it that way—can be a challenge. Fortunately, our hero can be found at the nearest local (or online) drugstore.
Pantene's Beautiful Lengths collection is designed to strengthen hair against breakage, split ends, and frizz so you can grow your hair as long as you like. With a gentle formula that works on relaxed or natural hair, Beautiful Lengths Shampoo and Conditioner cleans and fortifies hair against the damage that prevents growth, while Beautiful Lengths Replenishing Treatment restores moisture to protect against future breakage and split ends. And for a frizz-free, smooth look every day, try Beautiful Lengths Smoothing Balm to battle the effects of heat and humidity. Make the collection part of your routine and get ready for some happily-ever-after hair of your own!