TOMS Launches One For One in the U.S.
For the First Time Ever, Shopping TOMS Could Help a Kid in the US
TOMS founder Blake Mycoskie built a business on the one-for-one initiative, which quickly became a global movement, with a total of over 10 million (and counting!) shoes handed out to children in need since the company began in 2006. Now, he's taking his mission closer to home. On the heels of TOMS's success delivering shoes to children in need in 60 countries and helping to also restore eyesight in 13 countries outside the US, his next step is applying the same strategy right here. That means that your TOMS purchase could be going toward getting a child in one of 35 states a new pair of shoes or helping to improve a child's eyesight in one of 13 states by the end of this year. If you needed any excuse to shop, this one is ironclad. We've rounded up a few of our favorite styles right here, but be sure to check out all the styles (translation: all the ways you can help!) at TOMS.com.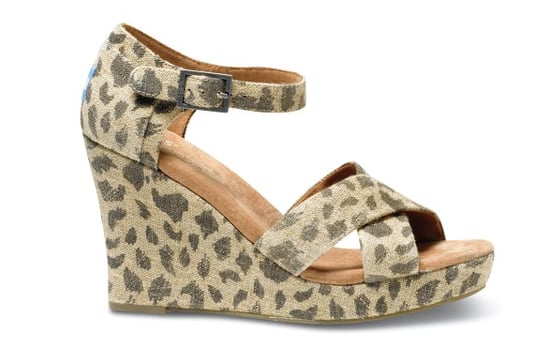 Leopard Burlap Women's Strappy Wedges ($69)
Just click to keep shopping!

Washed Camo Canvas Women's Classic ($54)

Burgundy Suede Women's Cordones ($84)

Natural Hemp Polka Dots Women's Classic ($54)