Tailoring Words to Know | Glossary
Tailoring Talk: The 11 Most-Used Terms to Add to Your Fashion Vocab
It's safe to say most occupations employ a vernacular all their own — fashion speak, legalese, and medical jargon immediately come to mind — so it goes without saying that heading to the tailor requires a certain level of terminology know-how too. That is, unless you want your pant leg to be darted instead of hemmed. No need to be embarrassed about your current tailor-talk knowledge: this is a glossary safe zone. Is there a difference between bespoke and custom pieces? What is a vent? No, it's not an air filter we're referring to. When do you "take something in" as opposed to requesting darts — or do you do both? Is a cutter something scary? Read on for tailoring-term enlightenment and insurance against any further miscommunications.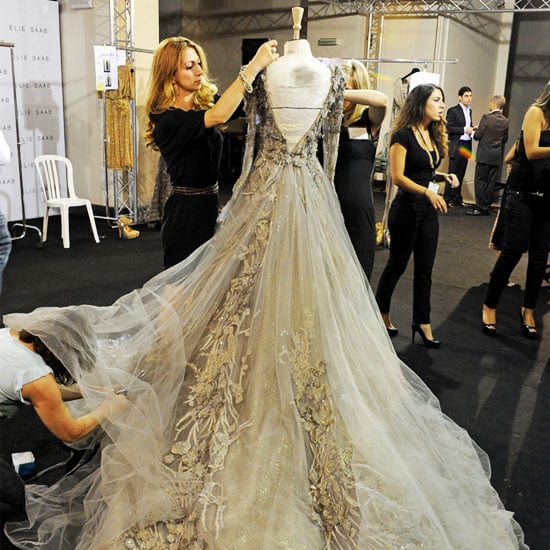 Baste — Basting is kind of like the bread and butter of tailoring and altering a piece of clothing. It describes the action of sewing long, easily removable stitches that are used to mock up a fitting, hold into a zipper into place, and keep slippery fabrics from moving. The next time your tailor is stitching you into something, chances are they're basting.
Bespoke — A bespoke piece of clothing refers to a garment made from scratch to fit a customer's specific measurements and requirements. Its origin dates back to the days of London's Savile Row, when a customer ordering a garment would select and reserve a cloth or fabric, which automatically made it "bespoken" or "spoken for." Thus, there's no difference between bespoke and custom wares, as both speak to a totally personalized experience. More often, people get confused between bespoke and made-to-measure goods. Made-to-measure pieces are tailored from a standard-sized pattern mold; while the end result can be tailored to fit your body, the initial piece of fabric was not made especially for you.
Cutter — Contrary to the sound of it, a cutter is the person who measures and fits the customer. From there, he or she makes a pattern from the measurements and observations of the customer's figure and posture. We'd say that's a pretty big job.
More tailor talk after the break.
Darning — In its simplest form, darning is a sewing technique specifically used to repair holes or worn areas in fabric by using only thread and needle. It's rare to darn with a sewing machine, but it can be done. It's a traditional method for mending holes and rips that don't run along a seam or where patching is impractical.
Darts — Darts are folds sewn into fabric expressly used to enhance the wearer's shape. Most commonly, you can expect to see darts in women's blouses and dresses (in either a vertical dart or bust dart formation) at the bust line to help give life to the figure.
Hems — A hem refers to the edge of a piece of fabric that needs to be sewn to prevent it from unraveling. Easy enough. If your pant legs are too long, you can get them hemmed to perfect the length. Thus, it becomes a tool to accurately curate a silhouette. Last (but certainly not least), if your jean hems are frayed, having them hemmed can clean them up nicely. Remember to ask your tailor to let down the extra fabric hidden within the pant leg. That way, you can preserve the original fabric.
Inseam — The inseam is the seam that binds the length of the inner pant leg, and it measures the distance from the bottom crotch to the lower ankle.
Taper — Instead of getting wider, the fabric narrows, and usually tapering describes a narrowing of the pant leg.
Vent — The vent refers to the slit located near the tail of the jacket. It was originally created to make horseriding easier, but it's become all but a mainstay in modern tailoring.
Warp — The effect of vertical threads of a woven fabric.
Weft — The effect of horizontal threads of a woven fabric.