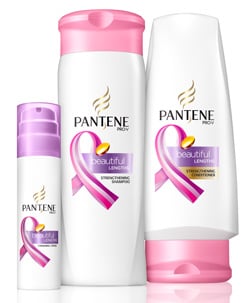 American women are being diagnosed with cancer every day. That's why Pantene and the American Cancer Society teamed up in 2006 to donate real-hair wigs to women fighting cancer with the Beautiful Lengths Program.
So far, Pantene has donated 24,000 free real-hair wigs, but since it takes roughly six ponytails to create one wig, each ponytail only goes so far. That's where you come in. If you're coming up short of an 8-inch ponytail, Pantene's Beautiful Lengths products are here to grow your hair long and strong in no time. This line of shampoos, conditioners, finishing crèmes, and hydrating masques combats breakage and strengthens your tresses, so that when you're ready to donate your ponytail, your hair will be in perfect shape to create a gorgeous, silky real-hair wig.
What lengths would you go to if you could restore confidence to the life of a woman fighting cancer?