Taylor Swift and Keds Collaboration
Taylor Swift Inks Deal With Keds
Keds are often the finishing touch on Taylor Swift's many cute, classic looks, so it comes as no surprise that she's inked a three-year collaboration with the iconic sneaker company. Swift told WWD, "I've been a fan of Keds for years, because they have two of my favorite elements of great style — they're classic and effortless. I remember wearing Keds as a little kid, while riding my bike around the farm."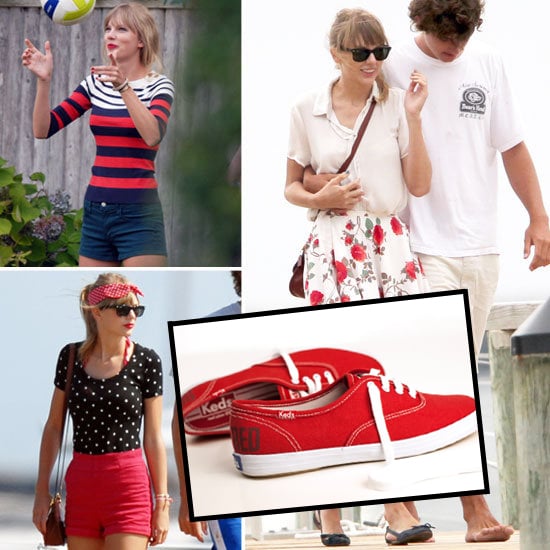 She may have worn them as a little kid, but it's the way she wears them now that caught the company's eye. Taylor's style is classic and feminine with a healthy dose of prep, and the country pop star has been spotted numerous times wearing Keds. If Keds is a classic American sneaker brand, it doesn't get more classic American than Swift this Summer, spotted hanging out in Cape Cod with boyfriend Conor Kennedy. Keds brand president Rick Blackshaw said, "Taylor is a shining example of what can happen when you set your mind to something," and he continued to explain that the brand resonates with "bold, unique girls who are brave enough to be themselves." According to WWD, signing Taylor is part of the company's larger brand strategy to expand their women's line, including apparel. Might we see Taylor's influence in clothing, too — perhaps some of her sweet, feminine dresses?
The first sneaker to be unveiled from the collaboration is a limited-edition red champion style, which is no surprise considering the champion is the first sneaker Keds introduced in 1916 — my, my, such an old sneaker can feel so young — and Swift's latest album is titled Red.