Tim Gunn Project Runway Season 12 Interview
Tim Gunn on Why He'd Never Compete on Project Runway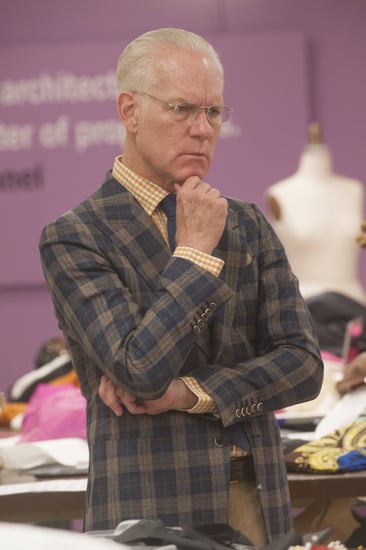 It's definitely cliché after 11 seasons, but for Project Runway's 12th run, the Lifetime series is having a major "make it work" moment. No, there's no trouble in reality show paradise. In fact, when it premieres this Thursday, viewers will be seeing a lot more of their favorite mentor, Tim Gunn.
The show's latest formula (who can forget last season's polarizing "teams" edition?) lets Tim sit with the judges during each episode's runway show to answer questions and give his perspective from being inside the workroom. He'll also have veto power — he can save one designer from elimination.
Intrigued, we got on the phone with Tim to talk about his new role and how he'll make it work. (Sorry, we couldn't help ourselves.) For all that, plus some stern words for Christian Lacroix and his own thoughts on the Project Runway billboard controversy, read on.
On his expanded role: "In the past seasons, it's literally been the separation of church and state. I do not interact with them. I mean, I would — generally speaking — I would say hello to them. But I usually wouldn't say goodbye because I'm mad. But, this season, I sit with the judges for the runway . . . [Also] I come out with the models and descend the steps of the runway to the judges. We actually go up to their chairs. And, one by one, the models are presented by me to the judges. The judges look at the garments very closely and personally. And I have an opportunity to have my day in court. I can tell them things that I believe are important for them to know in terms of their decision-making. It may be something that happened in the workroom. It may be a particular aspect of the garment that they are looking at . . . I ended up loving it. I just loved being able to share that additional dimension with them."
On what kind of competitor he'd be: "I would run for the hills before I'd be on Project Runway. I'm so in awe of these designers and the fact that they're willing to put themselves out in this way and — it's — there's — it's so — I mean, just listen to me. I'm stuttering and stammering. The whole process is so daunting . . . I don't know what would happen to my characteristics if I were actually on the show. They may all just dissolve and I become some fire-breathing dragon."
On the judge he agrees with most: "I don't know whether there is more of a spiritual connection between Heidi and me, owing to the fact that we do interact in other capacities off camera. But for instance, my relationship with Nina — and I have the utmost respect for her and love and adore her — it's really just in this capacity as mentor to judge. And, with Heidi, I have a much more extensive relationship. I tend to agree with her more. . . . And we need a man. I say that because we need a judge who is not going to wear the clothes. When the judging conversation erodes into Heidi and Nina asking each other, 'Would you wear it?' 'I don't know. Would you wear it?' Well, the designers didn't create it for either of you. You're not the client. I don't care what you'd wear!"
On designers needing to be more adaptable: "Any of my students, regardless of their aesthetic should still be able to channel that aesthetic into a particular design equation. To say, 'Oh, I don't do that' — well, you're not going to have a business or you'll have such a rarefied business that you won't be able to make a living. I mean, it's sort of like Christian Lacroix only doing couture. Well, after 25 years, what happens? The French government is seriously talking
about bailing him out. How ridiculous. You know, do a ready-to-wear line, for goodness sake. So anyone, in fact, should be able to handle it. And, quite frankly, if they can't, maybe they shouldn't be in this industry."
On the banned billboard: "I mean, to be honest with you, consider who these comments are coming from — a dusty old scale-covered fart, me — I find nothing about this to be offensive or tasteless. I don't get it. I really don't. I think of Los Angeles as being much more permissive than New York. And the image is up all over New York City and then it's banned in LA? I find it crazy. It just seems ridiculous."