Tinsley Mortimer Southern Charm
Tinsley Mortimer's Style: The Socialite Chats Her New Designer Obsession and How to Nail Her Girlie Look
Socialite Tinsley Mortimer has been on a nationwide book tour promoting her novel Southern Charm about a Charleston girl who moves to NYC. Last night's stop was the Trina Turk boutique in LA, where we caught up with Tinsley and chatted all about personal style, favorite designers, and how to get her girlie Southern look. Hear what she had to say, then shop the widget below to nail Tinsley's flirty look.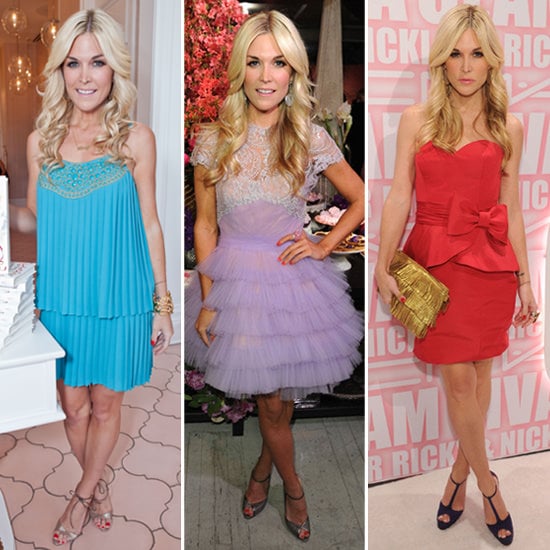 CelebStyle: How would you describe your personal style?
Tinsley Mortimer: I'm a girlie girl. I love to wear very girlie, overly feminine stuff. I love to wear dresses. I love anything that has ruffles and bows. And I love to wear color. Southern girls love color. When I moved to New York, everyone was not much makeup and very black; it looked cool, but I just can't pull that off. I am better with curled hair and makeup and color and dresses. It's just more fun.
CS: Who are your favorite designers?
TM: For evening I love Oscar de la Renta and Carolina Herrera. There's this new designer I keep wearing to events, his name is Rafael Cennamo. It's gorgeous dresses. Marchesa I love, Versace, Valentino. I also love Alice + Olivia, Trina Turk, Tibi, Milly and all those, too.
To hear more from Tinsley and to shop her look,
CS: For someone who wants to re-create the girlie Southern-girl look, what essential pieces do they need?
TM: You need colorful sundresses, you need a great big sunglass, and a big hat. I would say get a curling iron, hairspray, and don't be afraid of makeup. A colorful lip is important, too. Tons of jewelry, pile it on. A great wedge shoe for the Summer is very Southern. And a colorful bag. In the South, a pink bag would be a staple bag, not just something you would barely wear.
Source: Getty and Tiffany Rose