Tommy Hilfiger Launches Prep World
Tommy Hilfiger Launches Prep World; Shares His 5 Preppy Summer Essentials
In the middle of Manhattan's Meatpacking District, Tommy Hilfiger launched his 60-piece Prep World capsule collection inside a Cape Cod-inspired beach house that had been specially built solely to serve as the Prep World pop-up shop. We caught up with the designer inside the beach house and got his tips for crisp Summer style, and learned about his not so preppy past.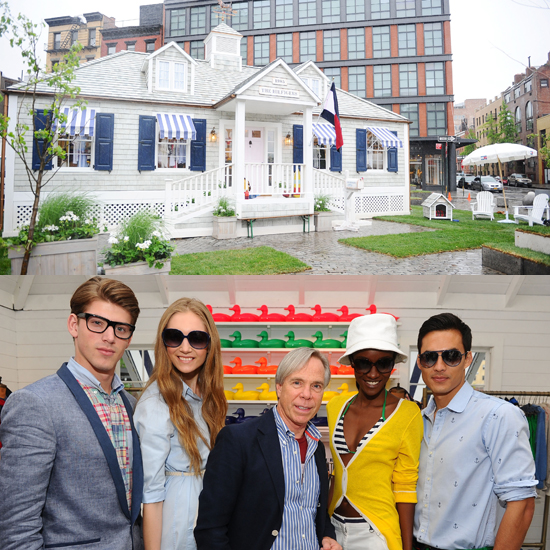 FabSugar: I love your outfit. Were you always this classic, preppy guy?
Tommy Hilfiger: Well, no. I went through a hippie stage in the '70s: I had long hair and wore bell-bottoms. In the late '70s or early '80s, I went back to preppy because I was sick of the hippie stuff. I cut my hair short, and that's when I designed this line of cool, preppy clothes.
FS: Were you inspired by style icons at the time?
TH: James Dean, Robert Redford, you know, American Hollywood. And then there were the Kennedys. They've always been an inspiration.
FS: What are five basic Summer essentials every woman needs in her cool, preppy closet?
TH: A nautical stripe, navy-and-white long sleeve tee, colored chinos, madras shorts, a man-tailored navy blazer, and a ribbon belt. With some cool docksiders or flip-flops.
FS: What's your favorite piece from the Prep World collection?
TH: I love the men's tuxedo jacket.
FS: The pop-up house is only spending a few days in each city. Why such a short time?
TH: We picked the choicest locations in each city — LA, Paris, London, Madrid, Milan — and so there are limits to how much time we can spend there. Plus, it keeps it exciting. If it's in one place too long, people get tired of it.
FS: If you could put this beach house anywhere for one Summer, where it would be?
TH: Nantucket, on the beach.