Top Fashion Apps For iPads and iPhones
The Top 5 Fashion Apps You Should Download Now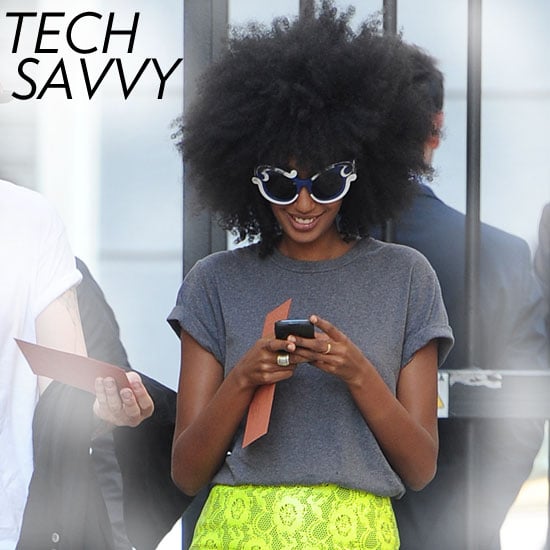 ShopStyle Mobile: We like to think of ShopStyle as our Google search engine for all things related to shopping, and it's not just because ShopStyle is a sister site in the Sugar Network! If you've ever wondered where we find all of those amazing shopping products for you, here it is. Not only does ShopStyle mobile cull clothing, shoes, and accessories from over 500 ecommerce sites — ranging from big retailers like Barneys to smaller boutiques — but this handy app also lets you put "sale alerts" on your favorite items and will let you know once the piece goes on sale. Pretty genius if you ask us.
Vera Wang on Weddings: Planning a wedding? Let Vera Wang provide inspiration for your big day via photo galleries of cakes, flowers, and real weddings along with style boards where you can see Vera's take on different bridal styles. Additionally, you can load images in the app from your own photo library and insert them in your own interactive inspiration board and share them with friends and family.
Click here to see three more amazing fashion apps.
Stylebook: Gone are the days of standing in front of your closet wondering what to wear. This cool fashion app lets you import pictures of your actual clothes and create outfit collages so you can plan your outfits ahead of time. It also comes with a calendar so you can track your "wardrobe history," a search tool where you can find items by color and style, and also a smart "Style Expert" section where you can get tips from a savvy stylist. It's wardrobe organization at its best.
The Cut on the Runway: If you're a serious fashion girl, this app will provide you with the quickest and easiest source for the latest runway shows. Not only will you find the latest runway shows just hours after they appear on the catwalk, but this handy app also lets you search by clothing type, color, trend, designer, season, and model.
ChicFeed: If you love street style as much as we do, check out ChicFeed. This app pulls photos from the the top street-style blogs into one convenient place so you can flip through photos without having to go to different sites. Photo quality is gorgeous, and it currently pulls images from The Sartorialist, Face Hunter, Jak & Jil Blog, Cherry Blossom Girl, LookBook, and Altamira. We promise you will find some inspiring looks.