Tracy Reese Pink Lace Dress
Fashion 911 — Help, How Do I Accessorize This Dress?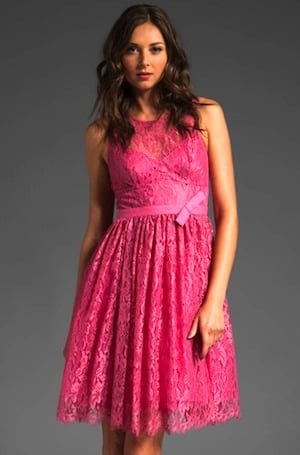 Fashion conundrum? No fear, we're here to answer all of your real-life style questions at Fab. That's right, from what to wear with metallic shoes to finding the perfect pair of Fall tights, we're helping to solve every one of your sartorial questions. Our first inquiry comes from Frances Kim — read all about her fashion dilemma below, then if you have your own question for us to answer, leave them in the comments section!
Dear FabSugar editors,
I'm attending an evening, semi-black-tie wedding next week and would love help styling this Tracy Reese frock. With its bright hue and intricate lace, I'm not sure how to accessorize it such that it still looks modern and sophisticated, and not too '50s retro or frou frou.
Would love your help — Frances


Look at what we whipped up for Frances now.
We love your lace Tracy Reese dress, Frances! We suggest letting the dress do all the talking by accessorizing your look with neutral — but far from boring — accompaniments. Since the wedding is black tie, we suggest you elevate the look with these beautiful rhinestone beaded sandals, spike stud earrings for a modern touch, and a gorgeous metallic hard clutch. Not only are these pieces stunning in their own right, but still demure enough to pair with your gorgeous pink dress. Hope you like our picks!


Left to right: Tracy Reese dress, Diane von Furstenberg clutch ($295), Fallon Classique Micro Spike Studs ($105), and ASOS Collection Diamonte Sandals ($85)