Trends For Fall 2012
The Trends You Should Keep — and Stash — For the Season Ahead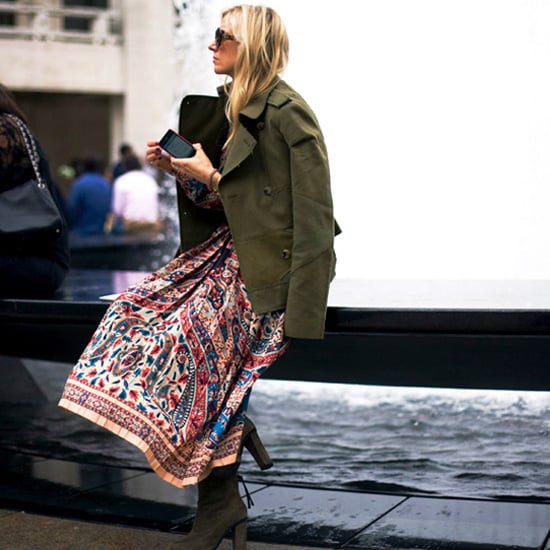 With a new season comes a fresh crop of clothing and accessories to lust after — but what if your budget doesn't allow for a closet full of brand-new Proenza, Dolce, and (Vera or Alexander) Wang? Luckily, there are many items in your current wardrobe that can transition seamlessly into the new season with a few simple tweaks. Adding layers like chunky sweaters, textured tights, and a wool or leather jacket can easily turn your Summer favorites into Fall staples. Here are the trends you should think about keeping (or stashing) for the seasonal shift.
Keep:
Colored and printed jeans. Spring 2012 may have ushered in the patterned denim trend, but it's not going anywhere for Fall. The trick is to pair your bright pants with darker hues and Fall-ready fabrics like leather, wool, and cashmere. Prints like paisley, polka dots, and vintage florals will look great for the season — we're especially loving the Looker Magical Forest Skinny Jeans by Mother Denim ($295) — as will colored jeans in rich shades like maroon, emerald, and cobalt blue.
Loafers. These menswear-inspired flats instantly give off a preppy-cool collegiate vibe, and a good sturdy pair will last you well throughout the season. We're feeling Rachel Comey's Admiral Loafers ($380) and these Suede Tassel Loafers ($40) from Gap.
Pleated skirts and maxis. Anything that covers your legs during the cold weather is a good piece to keep around. Even your frothy silk and chiffon skirts will look pretty when layered with long-sleeve tops and a leather jacket. Pleated skirts are always going to be sexy and schoolgirl-chic, so don't hesitate to pair yours with chunky sweaters and ankle boots. For chic examples, check out this J.Crew Collection Pleated Maxi Skirt ($198) and Topshop's Pleated Skirt ($30, originally $60).
See more of the trends you should keep this season (and the ones you should stash) when you keep reading.
Metallics. The shiny stuff is still going to be hot for Fall. From a metallic gold mini to a slick silver clutch, we're still lusting after glossy pieces like the ones we saw at Rebecca Minkoff, Michael Kors, and Prabal Gurung. For a starter piece, try the Elle Metallic Leather Mini Bag ($198) from Milly.
Ankle boots. Your favorite Summer ankle boots can be easily taken into Fall with a quick sartorial shift: swap out your bare legs for textured tights or knee-high socks, and continue wearing them throughout the cool-weather months with printed dresses, skirts, and jeans. The Petty Ankle Boots ($160) by Sam Edelman go with everything.
Stash:
Pastels. It goes without saying that pastels are much more fitting for the Spring and Summer months. Stow your light pinks and baby blues away until the Easter bunny comes around again.
Perspex. As much as we loved the influx of transparent accessories last season, it's time to stash your perspex pieces away in favor of Fall's neutral and jewel tone bags and shoes.
Crop tops. Fall's chilly weather is not the time to expose your belly. While it's a seriously cute look for Summer's music festivals and beach days, the upcoming season calls for something a bit less exposed. Stick with a slim-fitting pullover like this Striped Cashmere Sweater ($370) from Crumpet.
Eyelet. Trade out Spring's pretty eyelet pieces for Fall's moody lace pieces, like the ones we saw at Mulberry, Erdem, and Dolce & Gabbana. We're head over heels for Mango's Lace T-Shirt ($70).
Source: Phil Oh