True Blood Style
True Blood's Vamps Wear Footwear From Neiman Marcus . . . and Goodwill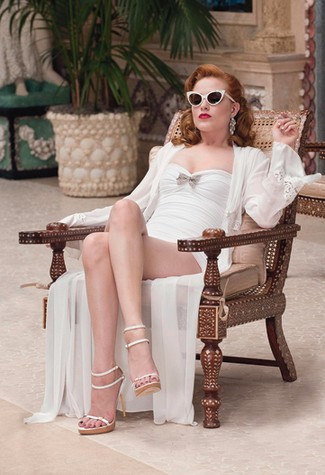 True Blood fans know that the style is succulent — especially The Queen's — and the footwear is no exception. Costume designer Audrey Fisher goes through great trouble hunting down those hot heels featured in the show. "I shop everywhere for our show, from Goodwill to Neiman Marcus," she said. So how much power do those vampire shoes have? "I became so obsessed with getting Pam the perfect hot shoe for her [ladylike] and vampy costumes that they started putting her fabulous footwear into the script, and her shoes started getting cameos."
Other favorite brands of Fisher's are Giuseppe Zanotti, Aldo, Bebe, Steve Madden, Pour La Victoire, Jeffrey Campbell, John Varvatos, and Target.

To hear more from Fisher's interview with WWD, read more.
Who makes the show's best-dressed list?
"The Queen (Evan Rachel Wood) has a 1940s vibe, but she's really quite a dominatrix. And happily, Wood adores beautiful, sky-high shoes, so I can really go nuts with her footwear. I put her in a gorgeous pair of DSquared heels with her white Norma Kamali swimsuit at the end of last season, and this season she rocked an even higher Bebe wooden platform sandal."
How tough is it to find blood-friendly footwear?
"We usually have to get the shoes appropriately 'rubbered' so the actor has good traction. And, of course, we often have to get multiples of the shoes because if there's blood involved we have to be ready with a backup."
What's been the most memorable style?
"An incredible pair of Giuseppe Zanotti bejeweled mules with a sexy, skinny wooden stacked heel. 
Lorena (Mariana Klaveno) wore [those] last season [when] she stomped on vampire Bill. Her wooden heel was like a mini-stake! That was really the only time I could buy such an expensive shoe, but it was a shoe and a weapon, so I had two budgets working in my favor."
To get a recap of last night's episode, visit BuzzSugar.