Searching for bridesmaid dresses can be tricky: you want something that fits your vision and your taste [1], but you also want your best friends to feel comfortable and happy (a satisfied bridesmaid is a helpful bridesmaid, right?). And while gorgeous gowns abound [2], there are so many more spots and stores to check out than the standard go-to list you've likely already been perusing. To help, we've rounded up fast-fashion chains whose evening selections might just surprise you, plus smaller, fashion-favorite brands that could have the style of your dreams ready and waiting. Scroll down to see if your search might just be done.
— Additional reporting by Marina Liao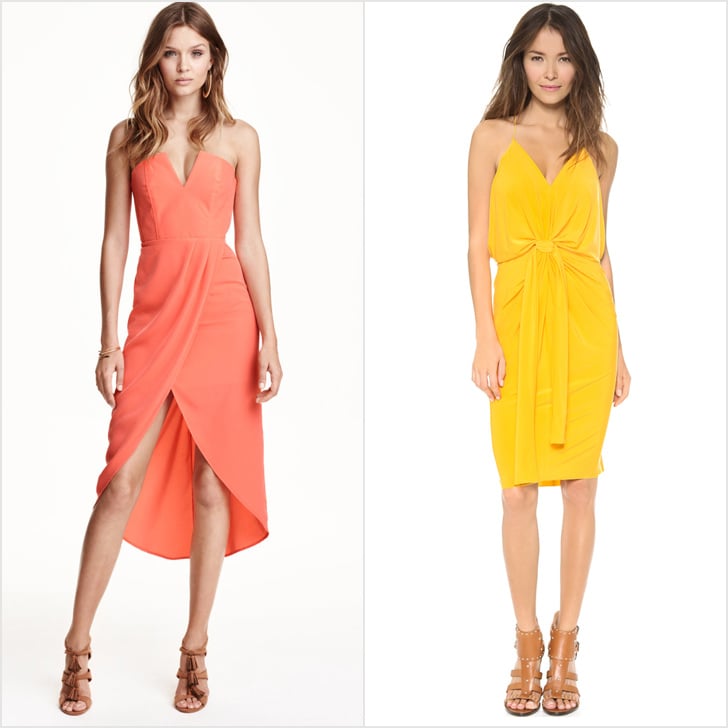 H&M We admit that pushing through the mall staple's overflowing racks and corners can be overwhelming in general and, at times, downright frustrating if you're looking for something very specific. For the low blood pressure, cruise to their site to see formal options (like the above strapless dress [3], $50).
Tibi The editor-favorite label is routinely counted on for simple-but-sophisticated tops and day dresses you could live in. Brides looking for a minimal style would do well to check out the silky dresses typically on tap here (like this baby blue pleated halter dress [4], $795).
T-Bags Known for comfortable jersey maxis that could easily become your Summer uniform, the length and bright hues (like the knee-length dress with knot details [5], $180) make them worth of a look if you're getting married on the beach or want a more casual feel.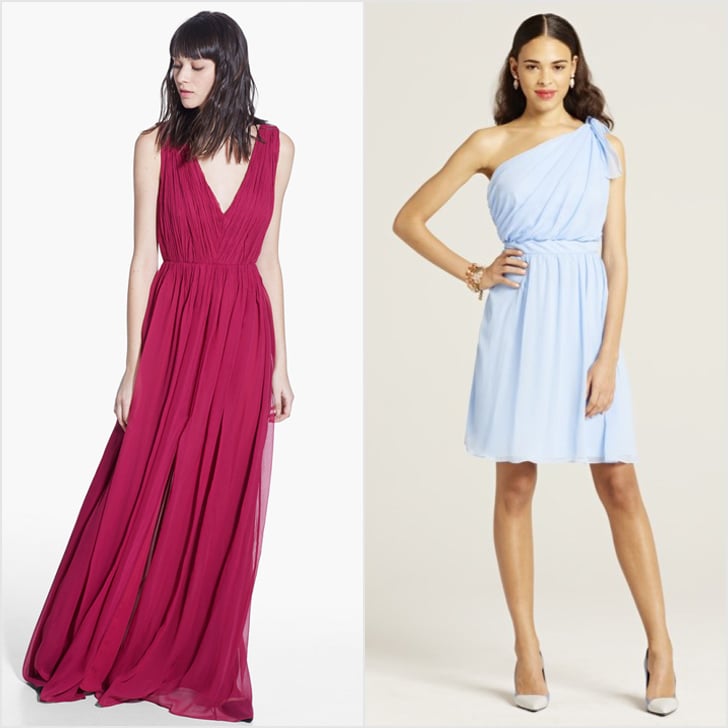 Mango Without a huge presence in the country's retail landscape, it can be easy to forget to check Mango when you're buzzing for a retail fix. Let this be a strong push to give it a look if you're after a formal bridesmaid dress (like this maxi [6], $230).
The Outnet Serious shoppers are likely familiar with this bargain-heaven URL, but mostly just for work clothing, bags, and designer shoes. The formal section is definitely worth your time, too, especially if your bridal party is small or willing to shell out more cash. Our eyes are currently on an embellished Marchesa number [7] ($278).
Little Borrowed Dress If the idea of renting bridesmaid dresses hasn't crossed your mind yet, fret not. Consider letting your ladies look at different styles in a range of colors, like this romantic one-shoulder dress [8] ($50), and simply rent and return, sparing the headache of shelling out a lot for a style they'll never wear again.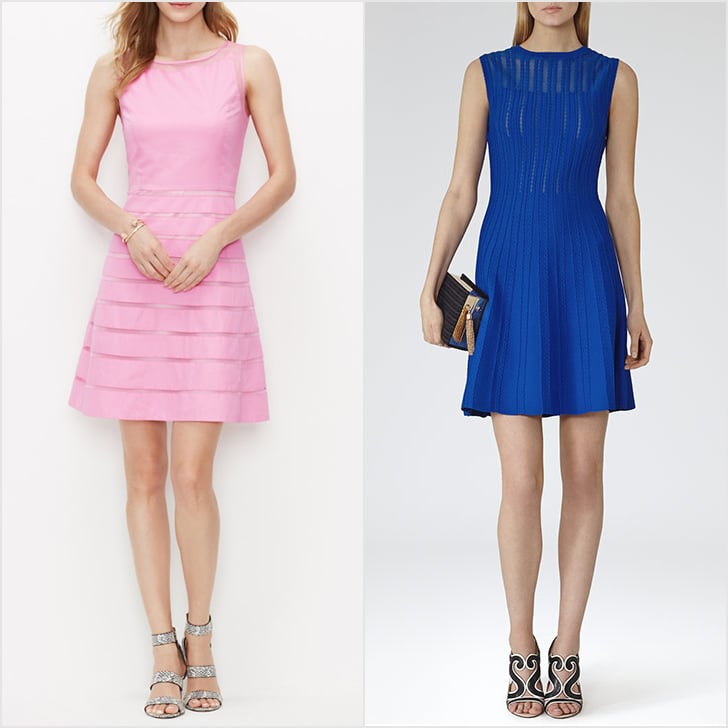 Ann Taylor

More people need to know that Ann Taylor, purveyor of 30-something-appropriate clothing that won't destroy your bank account, also has a bridesmaid dress section! Classic options that will still look as good in photos 20 years from now are a sure find (like the peony blossom flare dress above [9], $149).

Zara

We're a bit obsessed with Zara for nearly any event facing our closet, but if you scan the site (and brick and mortars) enough, you'll likely spot a gorgeous cocktail frock every now and then that would look totally comfortable when you walk down the aisle. Case in point? This strappy find [10] ($70).

Reiss

For simple sheaths and basic LBDs, you can't do much better than a Reiss sheer stripe dress [11] ($340). Don't expect anything overly girlie or romantic, but the sophistication of its basic dresses will make a certain type of bride very happy.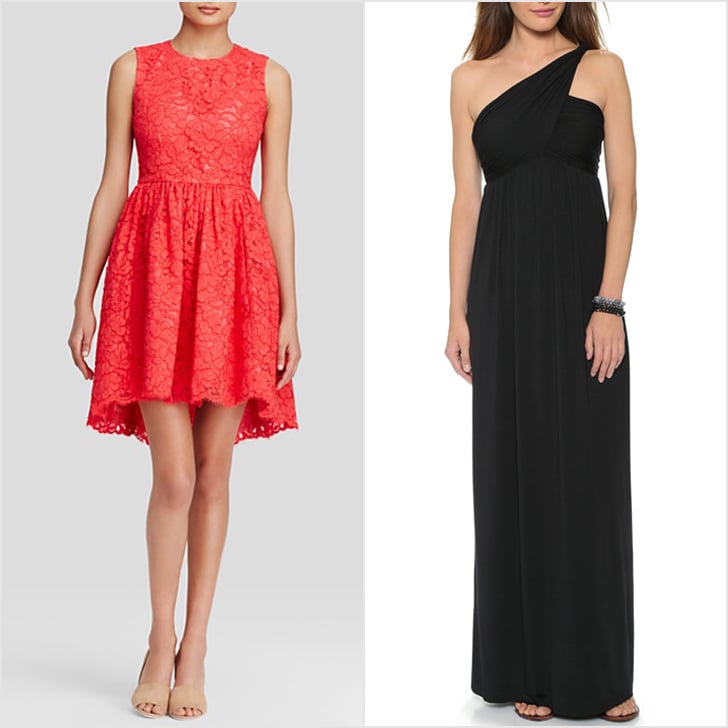 Kate Spade

New York Cheerful and always feminine, Kate Spade should be a go-to search if you want your bridal party in sweet, girlie brights. Expect classic silhouettes with embellishments that make all the difference (like the lace cutout back dress [12], $498).

Rachel Pally

For comfortable dresses that your ladies will surely live in after your nuptials, consider a Rachel Pally number like black twist one-shoulder dress [13] ($242).
Mod Cloth With a large inventory that's refreshed on (what feels like) a near-constant basis, bookmark this ecommerce destination [14] and check back frequently as you search. It could be your hero spot if you're searching for something unique with a Taylor Swift-twist.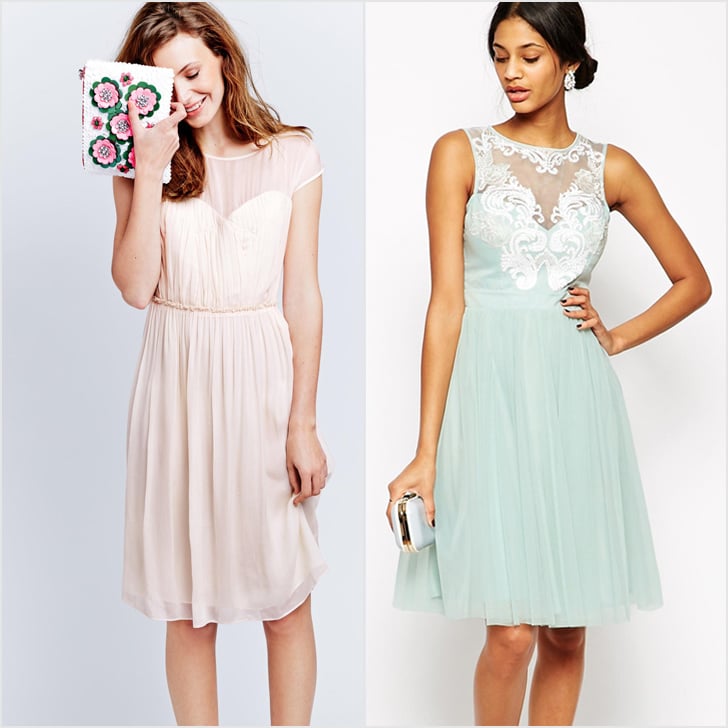 Boden While the label only has a few styles of bridesmaid dresses, they're good — and if they check all the boxes for what you're specifically searching for, it'll feel like a match made in heaven. This light and flowing style [15] ($158) comes in three colors.

ASOS

Whenever we're on the hunt for something specific, online giant ASOS is typically one of our first stops. With a merchandise range that's broader than broad, it makes sense that their cocktail dress section would include plenty of polished picks, like this elegant mint green number [16] ($217), that would work for a bridal party.
Target Out of our top five favorite stores in the world, Target has to rank right up there. It's typically got the solution to many a retail problem, and, happily, it now also stocks simple, wedding-worthy dresses in an online section totally dedicated to bridesmaids [17].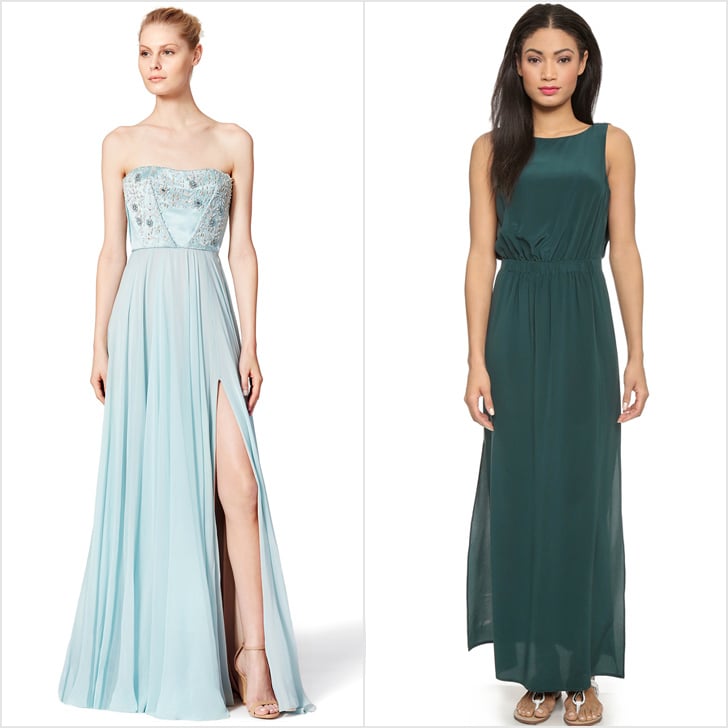 Ralph Lauren

Classic Ralph Lauren offers up a few simple but chic bridesmaid styles from its Lauren label, including a beaded one-shoulder gown [18] ($290).
Rent the Runway If you've got a gaggle of 10 maids, Rent the Runway might not quite work out. But just a few? Organize your girls and have them reserve dresses (like this embellished Reem Acra number [19] $800) far in advance to avoid any headache-inducing panics when a certain size is all booked up for the big weekend.
Club Monaco If 20-something sophistication is easy to achieve with a quick stop in this retailer, the same could be said for dresses that will easily transition to a party frock (in other words, don't expect a lot of floor sweepers).Our obsession is this beautiful silk maxi dress [20] ($289).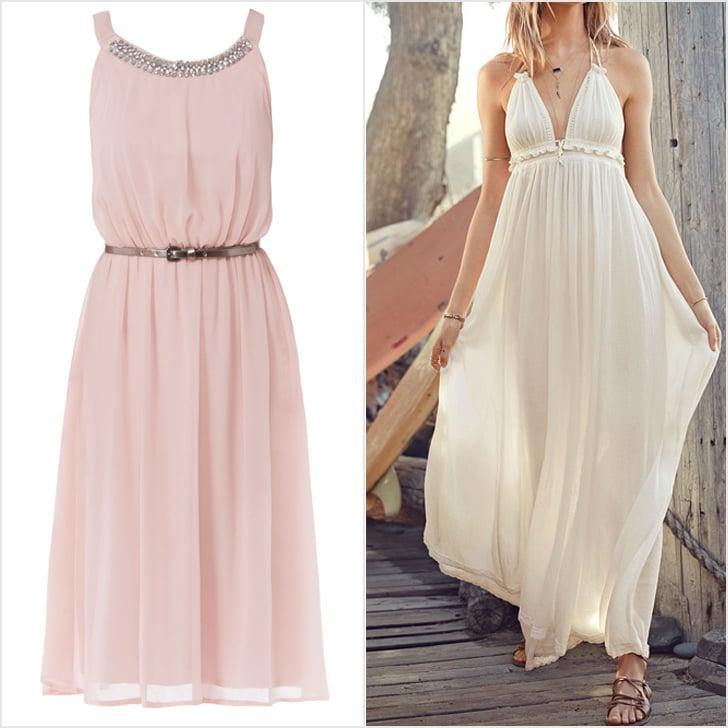 Dorothy Perkins Brides on a budget should familiarize themselves with this UK-based site that, blissfully, makes international shipping a breeze. The rule to shopping cheap, especially for such an important piece, is to keep it simple (like the grecian trim dress pictured here [21], $75). Excessive details and elaborate cuts can betray a garment's true price tag.
Zimmermann For pricier (but gorgeous) styles, check out this Aussie brand. It took over the headlines after Kate Middleton wore a white style seaside [22] to Wimbledon.
Victoria's Secret As perhaps the most unexpected entrant on our list, the lingerie giant has been beefing up its apparel offerings in recent years and, as such, has a few good maxis [23] that could work for a casual beach affair ($98).
Anthropologie

If you've ever gotten lost browsing in an Anthropologie, chances are you'll feel the same sense of happy wonder when checking out their more formal frocks online or in person. There aren't a ton of solid colors, but if prints or something unique are what you're after, consider this store. The detailed maxi dress above [24] ($878) is definitely different but so striking we'd remember it forever.
Reformation For indie-cool brides (or someone who simply wants something they haven't seen before), check out what this small fashion label [25] has to offer. Silhouettes and shapes are familiar yet just a touch different and would look at home with statement stilettos at a ceremony in the city or barefoot at a barn wedding [26].
Fame and Partners If you're ready to admit you're a touch demanding when it comes to getting what you want, this as-you-like-it site [27] might be the answer to your shopping issues. Ready-made styles are there for browsing but also available for tweaks to color or cut.
Rory Beca If you want your bridesmaids barefoot with tousled hair, you'll need a dress that matches. Long, silk dresses are the brand's speciality and it's easy to find a nonfussy style that'll definitely be worn after the bouquet's been tossed, just take a look at the gown above [28] ($282).