Valentino Retrospective and Interview | Nov. 28, 2012
Sound Off: Valentino Dishes on Jackie O., His Dream Client, and More
Valentino Garavani may have officially retired after showing his Spring 2008 Haute Couture collection in Paris, and yes, he may have just celebrated his 80th birthday, but none of that seems to have put the slightest damper on his presence and influence within the fashion industry. In September, the iconic designer walked the red carpet — with Anne Hathaway and Sarah Jessica Parker — at the NYC Ballet's annual Fall gala, an event for which he designed the costumes. Now he's putting the finishing touches on a work retrospective, titled Valentino: Master of Couture. The exhibit opens to the public tomorrow in London's Somerset House and will feature more than 130 gowns, including some you might recognize. Think Jackie Kennedy's ivory lace dress she wore to marry Greek shipping magnate Aristotle Onassis or Julia Roberts's black and white gown from the 2001 Oscars. Even if a quick trip across the pond isn't in the cards (we're right there with you), we've got all the highlights from WWD — the scoop on what Valentino has been up to, how he really feels about Jackie O., and which stylish lady he'd want to dress next.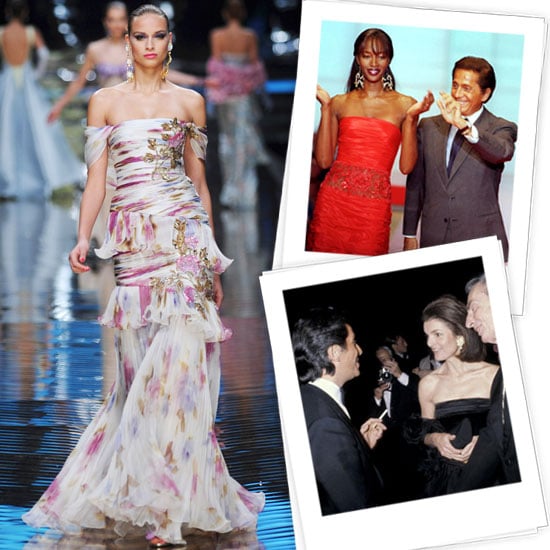 Clockwise from left: Haute Couture Spring 2008, walking the Fall 1999 runway with Naomi Campbell, and chatting with Jackie O. in December 1979
On timelessness: "I was looking at some of the 1960s clothes, and some of them could have been made today. Looking at these clothes doesn't take me back in time. In the '60s, women changed three times a day. Now, women with lots of money are working or involved with something — life has changed, and they dress differently. Right now, I think it's better if a woman is wearing a beautiful pair of trousers with a shirt or sweater."
On his "retirement": "After so many decades . . . I still have the same enthusiasm, I still do everything as if I were involved with design, with fittings every day. I love this job, I did it all my life, and it's going to die with me."
On who he'd like to dress: "The Duchess of Cambridge. I'd love to! She'd be so easy to dress, and she has a beautiful figure."
More Valentino soundbites and the ladies who love him — this way.

From left to right: Diane Kruger at the 2008 Venice Film Festival, Jennifer Aniston at the 2004 Golden Globe Awards, Keira Knightley at the 2006 Golden Globe Awards
On what he really thinks of Jackie O.: "Jackie was so important in my life — she made me so well known in the U.S. — and I have so many memories of her."
On designing Jackie O.'s wedding dress: "She had ordered her wardrobe from me in March of that year, and I knew that the wedding was close, but I didn't ask her when she was getting married — it was too intimate a question to ask — and I didn't know what she was going to wear."
On the difference between designers now and then: "Few people love and make beautiful clothes, clothes that are soft, smooth and elegant. And very few designers today design. It's very important to be able to do your own sketch on paper and then explain [your vision] to the fabric cutters. Instead, lots of designers drape — it's the new way."
For the full Valentino interview, plus a sneak peek at his London exhibit, click here.