Vera Wang Interview About CFDA Award | June 2013
Sound Off: Vera Wang Talks Red Carpets, Alexander Wang, and Twitter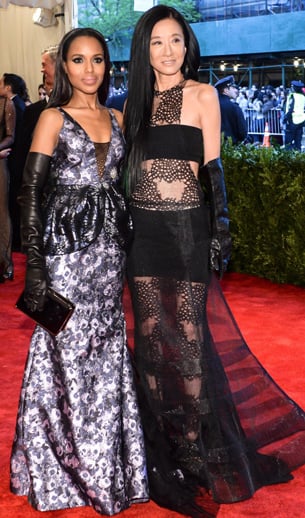 For Vera Wang, this year's CFDA Lifetime Achievement award recipient, it's all about the road traveled. In an interview with WWD, Wang revealed that she wants to "feel deserving" of the award, an honor that has prompted her to "look backwards." In fact, the designer opened up about much more than just her monumental award — the best bits below.
On pushing her own boundaries: "I've always tried to push myself technically and to push myself visually. That's been part of the journey. I make no secret that I don't have a big ready-to-wear business. That's not the point of the adventure or the trip or the learning curve. It's very important for my own growth as a person to keep going and to keep trying and to keep experimenting. . . . Part of not having a huge collection empire to run is that I'm able to try and create something that is more personal."
On her ideal celebrity bride: "Chelsea Clinton was very much a dream bride. She is a girl that, in her own humble way, and I mean with humility, embraces fashion. . . . Alicia Keys, on the same day, was totally a dream."
On Alexander Wang: "I really adore Alexander [Wang] because we're both Chinese and he calls me sort of his aunt. He's very, very respectful to me, and we have an inner dialogue about being Chinese. That's such a wonderful solidarity that I feel, in addition to all the Asian designers that exist now that are proliferating everywhere."
So, how does Vera Wang really feel about the red carpet? More here.
On dressing celebrities for the red carpet: "The worst is when someone is criticized. You take that very personally on behalf of the star. . . . The red carpet is a gamble of the highest order. It's Vegas and then some."
On what the Lifetime Achievement award means to her: "It's an unimaginable honor. To be respected by your peers — and I don't mean just the designers, but editors, retailers, everyone who votes — it was just overwhelming. At the same time, I want to feel deserving. That involved looking backwards at my work and my own personal journey, and hoping I haven't disappointed myself, of all people."
On the clothes she wears (besides her own): "At the top of my list would be Margiela and Rick Owens and Junya and Rei and Givenchy. . . . And Ann Demeulemeester. Always. Forever. Mixed with Prada. Mixed with Marni. It's always in the mix for me."
On what makes Vera Wang bridal so special: "I don't want this to sound egotistical, but I never had any rules for bridal. I came in with no predisposed notion of what bridal should be, if that makes any sense. . . . My father is really the one who pushed the agenda."
On Twitter: "I'm not a fanatical tweeter. I think that in this day of total access, a little bit of mystery isn't a terrible thing. . . .The journey of trying to be a designer and creator, and wear my other hats — I'm an owner, an operator, a CEO — to continue on the journey takes so much effort out of me. I love fashion, but it isn't easy."
8 more reasons why Vera Wang deserves her Lifetime Achievement award here.